New Osteoarthritis Genes Discovered
By Labmedica International staff writers
Posted on 04 Apr 2018
Almost nine million people in the UK suffer from osteoarthritis, a degenerative joint disease in which a person's joints become damaged, stop moving freely and become painful. Osteoarthritis is the most prevalent musculoskeletal disease and a leading cause of disability worldwide.
Osteoarthritis occurs when the cartilage that cushions the ends of bones in joints gradually deteriorates. Cartilage is a firm, slippery tissue that permits nearly frictionless joint motion. In osteoarthritis, the slick surface of the cartilage becomes rough. Eventually, if the cartilage wears down completely, all that is left is bone rubbing on bone.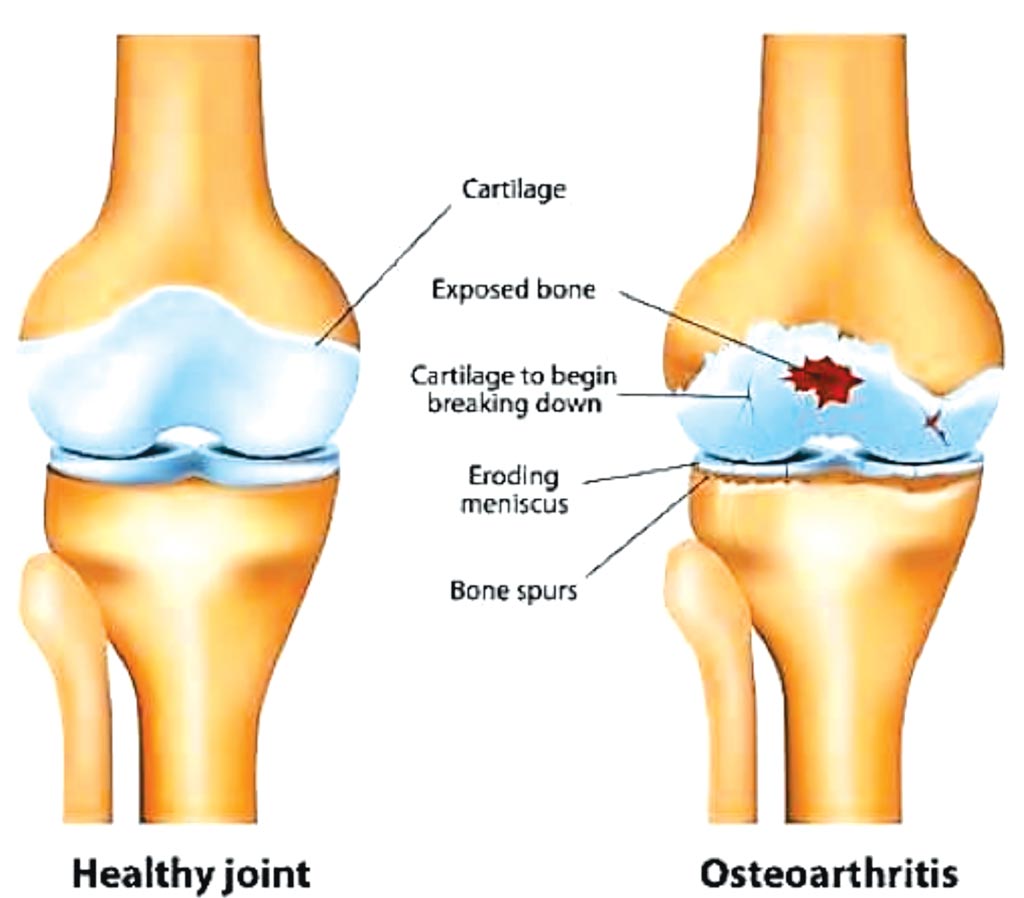 A large team of scientists collaborating with the Wellcome Trust Sanger Institute (Hinxton, UK) studied 16.5 million DNA variations from the UK Biobank resource. Following combined analysis in up to 30,727 people with osteoarthritis and nearly 300,000 people without osteoarthritis in total, scientists discovered nine new genes that were associated with osteoarthritis, a significant result for this disease. For three loci, they detected association with biologically relevant radiographic endophenotypes, and in five signals they identified genes that were differentially expressed in degraded compared with intact articular cartilage from patients with osteoarthritis.
The team then investigated the role of the nine new genes in osteoarthritis, by studying both normal cartilage and diseased cartilage from individuals who had a joint replacement. The team looked for genes that were active in the progression of the disease by extracting the relevant cells from healthy and diseased tissue, studying the levels of proteins in the tissue and sequencing the RNA, the messenger that carries instructions from DNA for controlling the production of proteins. Of the nine genes associated with osteoarthritis, the investigators identified five genes in particular that differed significantly in their expression in healthy and diseased tissue.
Within the limits of their study, the scientists discovered that type 2 diabetes and high levels of lipids in the blood do not have causal effects on osteoarthritis, but reaffirm that obesity does. Konstantinos Hatzikotoulas, PhD, a co-author of the study said, "Using genetic data, we have shown that type 2 diabetes and increased blood lipid levels do not appear to be on the causal path to osteoarthritis. We also reconfirmed that obesity is on the causal path to osteoarthritis." The study was published on March 20, 2018, in the journal Nature Genetics.
Related Links:
Wellcome Trust Sanger Institute

Latest Molecular Diagnostics News
Other channels