Preeclampsia Triggered By Gene Activity
By Labmedica International staff writers
Posted on 19 Oct 2017
Preeclampsia affects around 4% of all pregnancies and its main symptoms are high blood pressure and protein in the urine. If these symptoms reach dangerous levels, delivery must be induced prematurely.
Given the role of imprinted genes in human placentation and the vulnerability of imprinted genes to loss of imprinting changes, there has been extensive speculation, but no robust evidence, that imprinted genes are involved in preeclampsia (PE).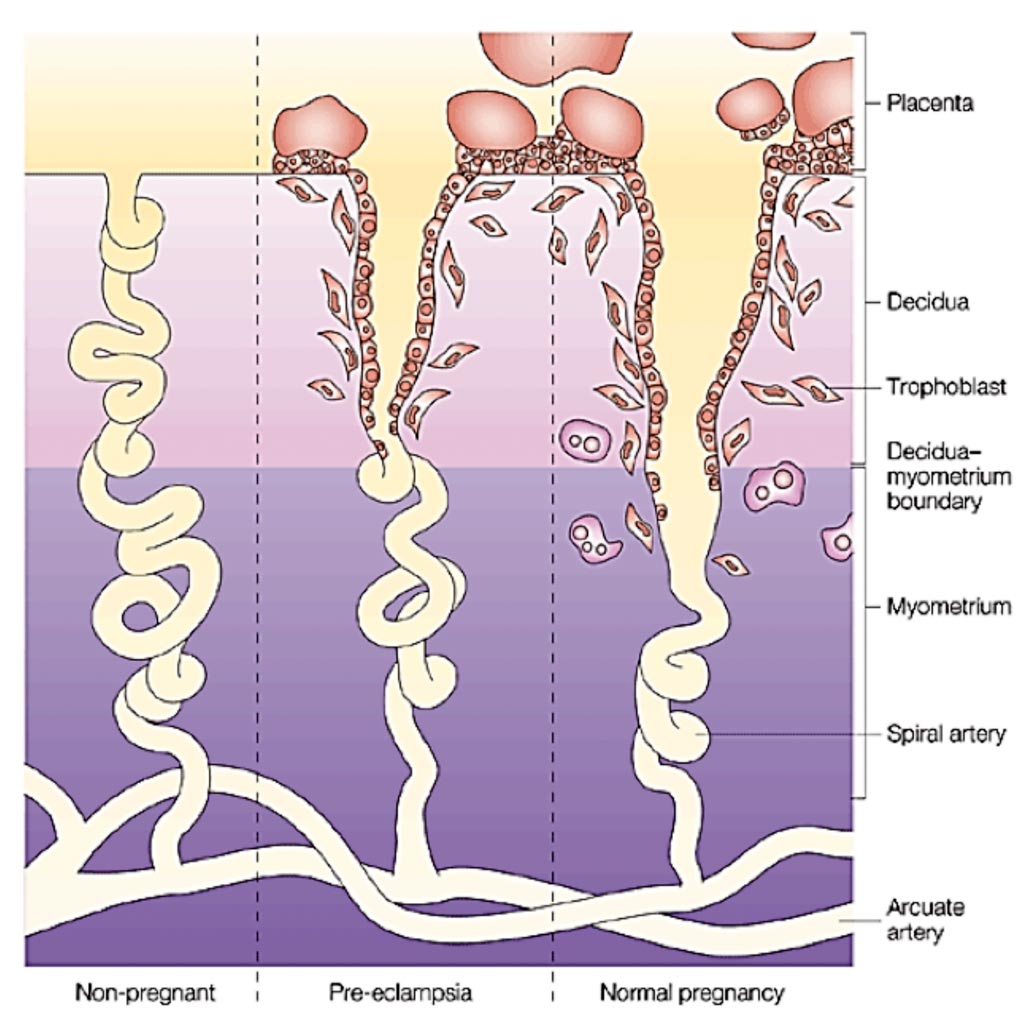 Scientists associated with the Max Delbrück Center for Molecular Medicine (Berlin, Germany) compared placental tissue samples and the genetic makeup of patients with pre-eclampsia with those of healthy women. The entirety of their genetic material was analyzed for genes that are differentially expressed in the pre-eclamptic versus healthy placentas and checked for disrupted genomic imprinting, which refers to certain genes that are "switched off" on either the paternal or maternal chromosome. They also developed an in vitro model of the disorder, which demonstrates the dysregulation of an important transcription factor.
The team found disturbed placental imprinting in PE and revealed potential candidates, including GATA Binding Protein 3 (GATA3) and Distal-Less Homeobox 5 (DLX5), with poorly explored imprinted status and no prior association with PE. Due to loss of imprinting DLX5 was upregulated in 69% of PE placentas. Levels of DLX5 correlated with classical PE marker. DLX5 is expressed in human, but not in murine trophoblast. This study is the first to demonstrate that a change in epigenetic gene regulation by imprinting can contribute to preeclampsia. The scientists also found three separate types of preeclampsia; supporting the view that preeclampsia is a complex disease.
The authors concluded that their analysis provides evidence of a true association between disturbed imprinting, gene expression and PE. Due to disturbed imprinting, the upregulated DLX5 affects trophoblast proliferation. The in vitro model they developed might fill a vital niche in PE studies. Human-specific regulatory circuitry of DLX5 might help to explain certain aspects of PE. The study was published on September 13, 2017, in the journal Circulation.
Related Links:
Max Delbrück Center for Molecular Medicine

Latest Molecular Diagnostics News
Other channels