Integrated Solution for Rapid AST Directly From Positive Blood Cultures to Combat Bloodstream Infection
By LabMedica International staff writers
Posted on 29 Sep 2023
The presence of living bacteria in the bloodstream, known as bacteremia, can lead to serious conditions like bloodstream infections (BSIs) and sepsis, which can often be fatal. Quickly prescribing the right antibiotics is crucial for reducing the risk of death in patients with BSIs. Traditional methods for antimicrobial susceptibility testing (AST) to guide these prescriptions can take a long time, leaving doctors to depend mostly on their own expertise. To tackle this issue, researchers have come up with a specialized microfluidic chip called the BSI-AST chip. This chip can extract bacteria and perform AST directly from positive blood cultures in under 3.5 hours, offering a faster and more effective approach to managing BSIs.
Existing AST techniques take a minimum of two days to provide results after a blood culture tests positive for bacteria. This delay pushes healthcare providers to prescribe broad-spectrum antibiotics without waiting for test results, which could worsen the patient's condition and contribute to antibiotic resistance. In response to this urgent need, a group of researchers, including scientists from the Chinese Academy of Sciences (CAS, Beijing, China), have developed the BSI-AST chip. This chip is capable of isolating bacteria from a positive blood culture in just 10 minutes, and completing the AST in an additional three hours. In a proof-of-concept experiment, the chip successfully performed AST on artificial positive blood cultures containing E. coli, and was tested against 18 different antibiotics, all within less than 3.5 hours.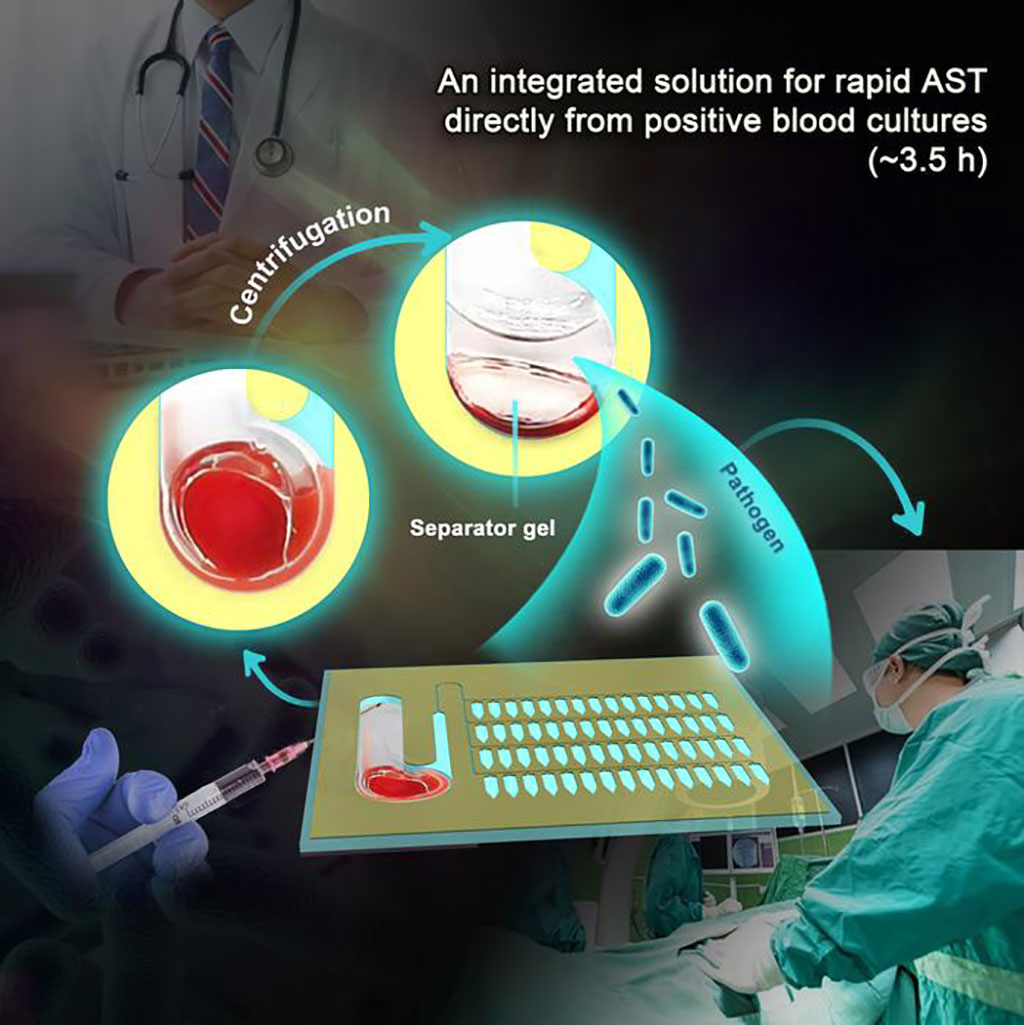 The BSI-AST chip was also tested with actual clinical positive blood cultures and showed a 93.3% agreement with conventional clinical testing methods. This chip's quick and reliable results demonstrate its immense potential for use in clinical settings. What sets this chip apart is that it can operate directly on positive blood cultures without needing an additional subculture step. This is achieved through the introduction of a separating gel into the microfluidic chip for the first time. Centrifugal microfluidic enrichment technology also played a key role. Additionally, the chip can perform multiple analyses simultaneously through antibiotic drying and parallel array techniques, helping doctors make better antibiotic choices for their BSI patients. The chip can also be easily integrated with Clinical Antimicrobial Susceptibility Test Ramanometry (CAST-R), another invention from the same team, to provide a streamlined solution for sample pretreatment.
"Rapid AST in blood culture is significant for patients with clinical sepsis and has the potential to save lives," said Prof. Cheng Yongqiang, the study's corresponding author, who also noted the role of such technology in combating the serious threat of microbial resistance to humanity.
Related Links:
CAS