Next Gen Human Gut Microbiome Tests Enable Comprehensive Gastrointestinal Testing
By LabMedica International staff writers
Posted on 14 Mar 2023
A new range of next-generation human gut microbiome tests provides diagnostic gastrointestinal health testing along with metagenomic gut microbiome analysis.
Microba Life Sciences Limited (Brisbane, Australia) has launched its next-generation testing product range, MetaXplore to healthcare professionals in Australia under a new brand, Co-Biome. The new MetaXplore range provides diagnostic gastrointestinal health testing along with metagenomic-driven gut microbiome analysis to deliver comprehensive gastrointestinal testing solutions for healthcare professionals. The range consists of three products MetaXplore, MetaXplore GI, and MetaXplore GI Plus.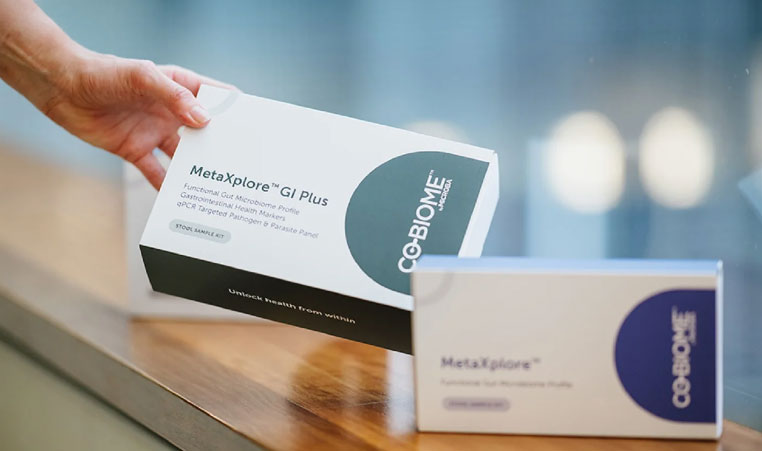 The tests are intended for the detection of diagnostic and investigative gastrointestinal health markers (fecal calprotectin, fecal occult blood, lactoferrin, pancreatic elastase, secretory IgA, Zonulin, Fecal pH), along with diagnostic pathogens and parasites (E.coli pathotypes, C.difficile pathotypes, Campylobacter spp., Yersinia enterocolitica, Vibrio spp., Aeromonas spp., Salmonella spp., Giardia lamblia, Entamoeba histolytica, Cryptosporidium spp., Dientamoeba fragilis, Cyclospora cayetanensis). The tests provide complete microbiome profiling (microbial diversity, richness, and profiling of over 28,000+ microbial species including bacteria, fungi, parasite, and archaea detection, along with parasite detection of Blastocystis subtypes 1-9 and other eukaryotes). The results are available in an easy-to-interpret report format that is designed to aid efficient patient consultation for healthcare professionals.
"The new MetaXplore test range delivers an important advancement in how microbiome test information can be applied in a healthcare setting," said Dr. Luke Reid, Microba's Chief Executive Officer. "We continue to make progress at the forefront of this field to advance the application of microbiome testing in a healthcare setting towards a future where it can be routine in health and disease management, much like a blood test is today."
"These new tests integrate traditional gastrointestinal pathology tools with Microba's next-generation microbiome testing technology and the latest global research to significantly advance the utility of microbiome testing in a healthcare setting. This test range is expected to significantly expand the total addressable market for Microba's testing products," added Assoc Prof. Lutz Krause, Microba's Chief Scientific Officer.
Related Links:
Microba Life Sciences Limited