Revolutionary Rapid Antibiotic Susceptibility Testing System Outsmarts Bacteria
By LabMedica International staff writers
Posted on 23 Jan 2023
The global health crisis of antimicrobial resistant infections is a complex and multidimensional problem. Bacteria have been evolving faster than science, creating resistance to lifesaving antibiotics. Antibiotic resistance is rising to dangerously high levels, becoming the next global health crisis. In order to maintain the lifesaving power of antibiotics for future generations, there is a need for faster diagnostic results, susceptibility testing on all sample types, testing against all commercially relevant antibiotics at one time, and a commitment to updated FDA and CLSI breakpoints. Now, a revolutionary antibiotic susceptibility testing (AST) system outsmarts bacteria by providing rapid AST on all sample types, in a single shift.
Selux Diagnostics (Charlestown, MA, USA) is redefining speed in rapid AST, with its proprietary Next Generation Phenotyping. The Selux NGP System is a single-platform technology capable of addressing speed to result, breadth of menu, and the high-throughput need by microbiology labs and integrated healthcare systems. The fast and accurate NGP AST platform breaks the speed versus accuracy trade-off, enabling laboratories to produce results in a single shift and allowing physicians to treat patients quickly and with personalized antimicrobial therapies. The Selux NGP System comes with the latest FDA and CLSI breakpoints along with a commitment from the company to keep them updated. In addition to producing rapid results, the Selux system does not require ID before initiating AST, thus enabling laboratories to process ID and AST simultaneously, saving hours, time, money and makes delivering same shift results a reality.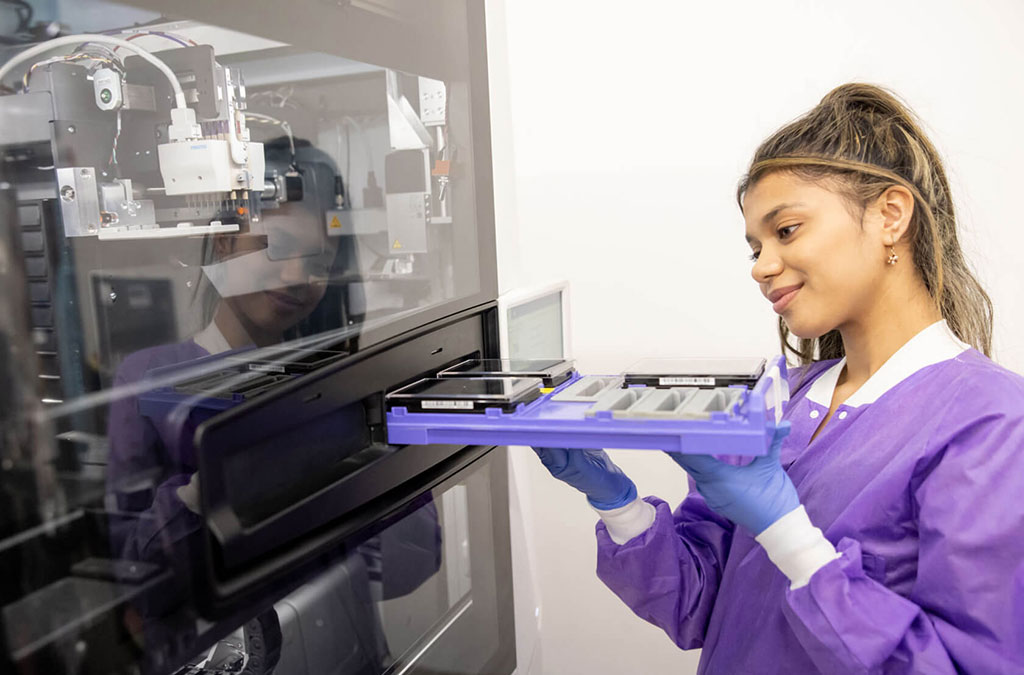 The Selux panels have one of the most extensive bug/drug combinations available. With a representative from each antibiotic class on one panel, the Selux NGP System saves laboratories time and money by avoiding the need to run multiple panels, and more importantly can reduce the amount of time a patient might be on the wrong treatment. The Selux panels comprise of a 384-well plate which was carefully created to deliver exact MICs, doubling dilutions, and the information needed to escalate or de-escalate. This allows clinicians to deliver personalized therapeutic treatment to patients and stay ahead of antibiotic resistant bacteria.
Selux has received 510(k) clearance from the U.S. Food and Drug Administration (FDA) for its rapid NGP AST System that provides targeted therapeutic results days faster than the current standard of care. The FDA clearance is for Selux's in vitro antimicrobial resistance test, which determines a bacteria's susceptibility to 14 specific antimicrobial agents on the Selux Gram-Positive Panel. Selux's NGP Gram-Negative panel is currently under review by the FDA.
"This clearance represents a significant advance in infectious disease care and the fight to address antibiotic resistance. Our groundbreaking Selux NGP System holds the potential to save lives and decrease overreliance on broad-spectrum antibiotics, a key factor contributing to the rise of superbugs," said Steve Lufkin, CEO of Selux Diagnostics.
Related Links:
Selux Diagnostics