Microbiological Features of Mucormycosis Determined in Critically Ill Patients
By LabMedica International staff writers
Posted on 08 Sep 2021
Mucormycosis is a rare invasive fungal infection with high mortality in patients with severe underlying predisposing factors causing immunosuppression. The exact incidence of mucormycosis and the optimal therapeutic approach is difficult to determine, especially in severe cases, due to the rarity of the disease.
The causative pathogens are fungi of the order Mucorales, mainly
Rhizopus
spp.,
Mucor
spp. and
Lichtheimia
spp., which are typically found on decaying organic material and soils. There are three ways humans can contract mucormycosis, by inhaling spores, by swallowing spores in food or medicines, or when spores contaminate wounds.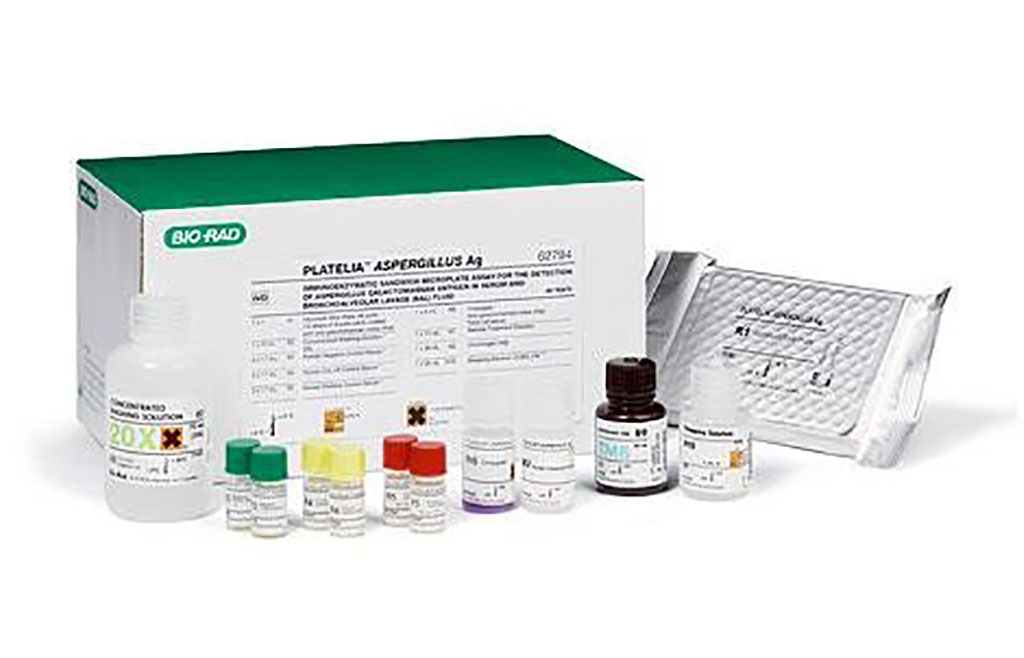 Medical Microbiologists at the Technical University of Munich, School of Medicine (Munich, Germany) conducted a retrospective analysis between February 2016 and February 2019. Patients were identified using the HyBase analysis system (epiNet AG, Bochum, Germany) and inclusion criteria were positive laboratory culture for Mucorales with consistent clinical presentation, intensive care treatment, and age >18 years. Proven mucormycosis was based on histopathological findings. Pulmonary mucormycosis was classified as probable as the diagnosis was mainly based on bronchoalveolar lavage (BAL) when patients did not undergo surgery.
All samples were collected using aseptic techniques. Primary microbiological cultures were performed on Columbia agar, Schaedler agar, chocolate agar (prepared culture media, Becton Dickinson, Sparks, MD, USA) and thioglycolate broth (Oxoid Thermo Fisher Scientific, Waltham, MA, USA). Colonies of Mucorales were subcultured on Sabouraud dextrose agar for macroscopic, microscopic and matrix-assisted laser desorption/ionization-time of flight (Bruker Daltronics GmbH, Leipzig, Germany) species identification. Molecular species identification via 28s rDNA polymerase chain reaction and sequencing was performed. Galactomannan detection (Platelia Aspergillus Ag, Bio-Rad Laboratories, Munich, Germany) was performed using BAL and serum samples.
The investigators reported that they had found 15 critically ill patients with Mucorales detected between 2016 and 2019 and the crude mortality rate was 100%. At the time of diagnosis of mucormycosis, 80% of subjects had relevant medical immunosuppression and 53.3% of subjects had neutropenia. Manifestation of mucormycosis was pulmonary in 53.3% of subjects, rhino-orbital in 20% of subjects and disseminated in 26.7% of subjects.
Rhizopus microsporus
was isolated in nine of 15 (60%) cases,
Lichtheimia corymbifera
in four of 15 (26.7%) cases and
Rhizopus arrhizus
in two of 15 (13.3%) cases. Galactomannan antigen testing (serum and BAL) was performed regularly to identify a differential diagnosis or mixed invasive fungal infection (13/15, 86.7%), and yielded positive results for two patients, one of whom also had detectable fungal growth of
Aspergillus fumigatus
in two consecutive BAL samples.
The authors concluded that for intensive care patients, the prognosis of mucormycosis was extremely poor. An aggressive strategy for diagnosis and treatment is essential for intensive care patients with mucormycosis. It should be noted that during the COVID-19 pandemic in India, the Indian government reported that more than 11,700 people were receiving care for mucormycosis as of 25 May 2021. The study was published on August 1, 2021 in the
International Journal of Infectious Diseases.
Related Links:

Technical University of Munich
epiNet AG
Becton Dickinson
Oxoid Thermo Fisher Scientific
Bruker Daltronics
Bio-Rad Laboratories