Pulse-Controlled Amplification Tested for Infectious Disease Diagnostics
By LabMedica International staff writers
Posted on 25 Feb 2021
Molecular diagnostics has become essential in the identification of many infectious and neglected diseases, and the detection of nucleic acids often serves as the gold standard technique for most infectious agents.
However, established techniques like polymerase chain reaction (PCR) are time-consuming laboratory-bound techniques while rapid tests such as Lateral Flow Immunochromatographic tests often lack the required sensitivity and/or specificity.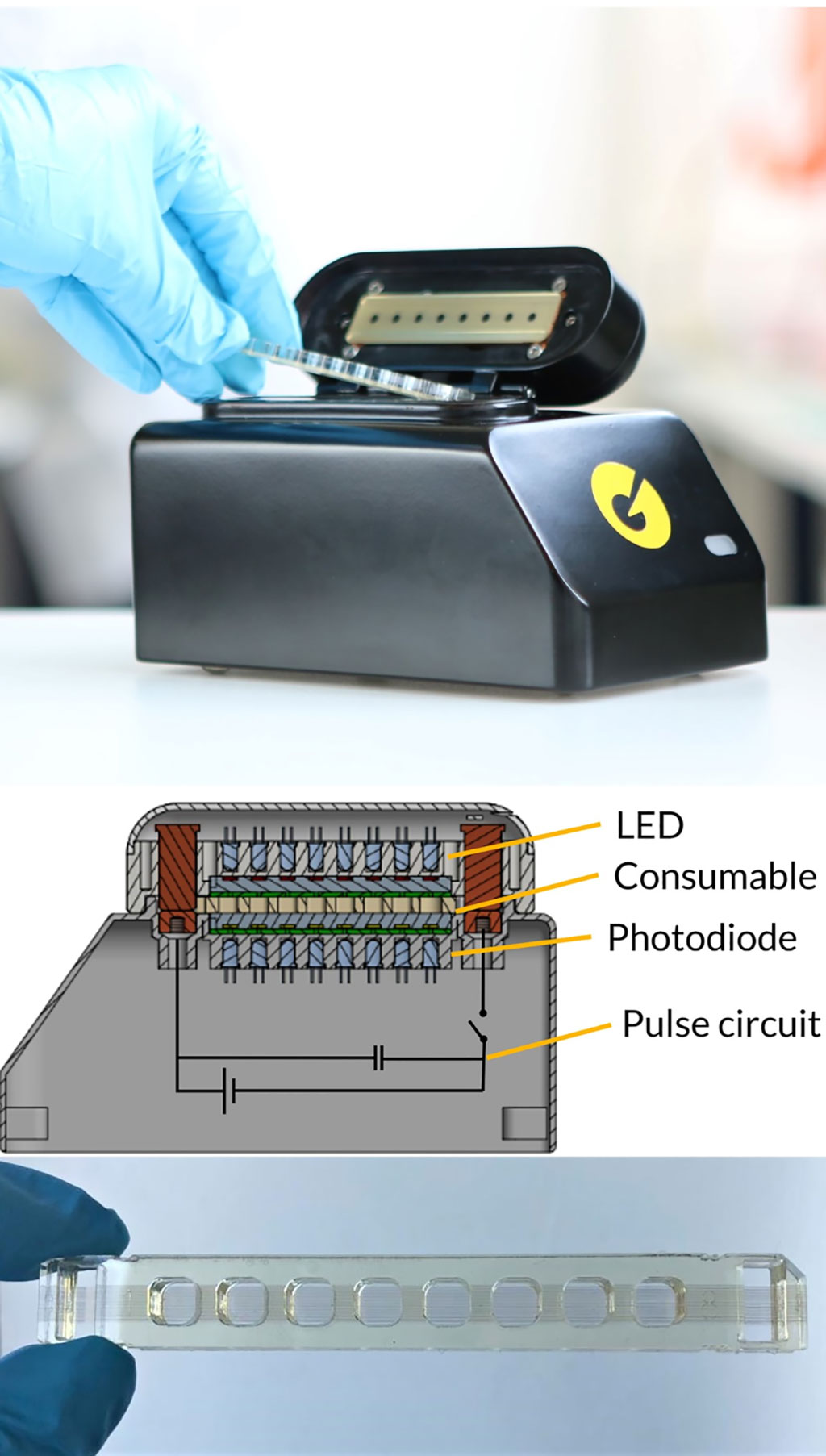 A team of medical microbiologists led by the Bundeswehr Institute of Microbiology (Munich, Germany) scientists developed an affordable, highly mobile alternative method for the rapid identification of infectious agents using pulse-controlled amplification (PCA). PCA is a next generation nucleic acid amplification technology that uses rapid energy pulses to heat microcyclers (micro-scale metal heating elements embedded directly in the amplification reaction) for a few microseconds, thus only heating a small fraction of the reaction volume. The heated microcyclers cool off nearly instantaneously, resulting in ultra-fast heating and cooling cycles during which classic amplification of a target sequence takes place. This reduces the overall amplification time by a factor of up to 10, enabling a sample-to-result workflow in just 15 minutes, while running on a small and portable prototype device.
The team used the Pharos Micro prototype (GNA Biosolutions, Martinsried, Germany) that consists of a 3D-printed housing and lid with a size of 100mm × 175 mm × 110 mm (W×D×H) and weighs 900 grams. The instrument is equipped with light-emitting diodes and filters for real-time fluorescence detection and electronic control modules. Two conventional heating blocks are set to a constant temperature at the bottom and the top of the chip to maintain the reaction volume at a constant temperature of 65 °C for annealing and elongation. The Pharos Micro prototype is battery-powered for field use (using a commercially available power bank) or can be connected to a power supply (230 V) in the stationary laboratory.
In this proof of principle study, the scientists designed a PCA-assay for the detection of
Yersinia pestis
to demonstrate the efficacy of this technology. The observed detection limits were 434 copies per reaction (purified DNA) and 35 cells per reaction (crude sample) respectively of
Y. pestis
. The team used the miPROTECT Plague (Miprolab, Göttingen, Germany) lateral flow assay as the standard reference method for the detection of
Y. pestis
in liquid culture under field conditions. Tests were performed and results were obtained after 20 minutes.
The authors concluded they had demonstrated a novel ultra-fast method for the amplification and detection of nucleic acid through Pulse Controlled Amplification (PCA). PCA combines the speed of LFAs or isothermal methods, with the simplicity of assay design of PCR, in a novel portable and battery operated system. The work successfully demonstrated example applications for PCA in the detection of
Y. pestis
, under laboratory, point-of-care and field conditions. It expands the use of molecular testing to extra-laboratory or non-traditional laboratory settings, as well as near-patient setting, and has the potential to become a powerful technology in nucleic acid detection for front-line and in-field applications. The study was published on January 29, 2021 in the journal
PLOS Neglected Tropical Diseases.
Related Links:

Bundeswehr Institute of Microbiology
GNA Biosolutions
Miprolab