Single-Molecule Tethering Detects Nucleic Acids and Microorganisms
By LabMedica International staff writers
Posted on 29 Oct 2020
Detection of microbial nucleic acids in body fluids has become the preferred method for rapid diagnosis of many infectious diseases. However, culture-based diagnostics that are time-consuming remain the gold standard approach in certain cases, such as sepsis.
The polymerase chain reaction (PCR) has enabled a revolution in
in vitro
diagnostics due to its sensitivity and specificity. However, polymerase-based methodologies require complex sample preparation steps to remove polymerase inhibitors in certain specimen types, and relatively expensive reagents and instrumentation.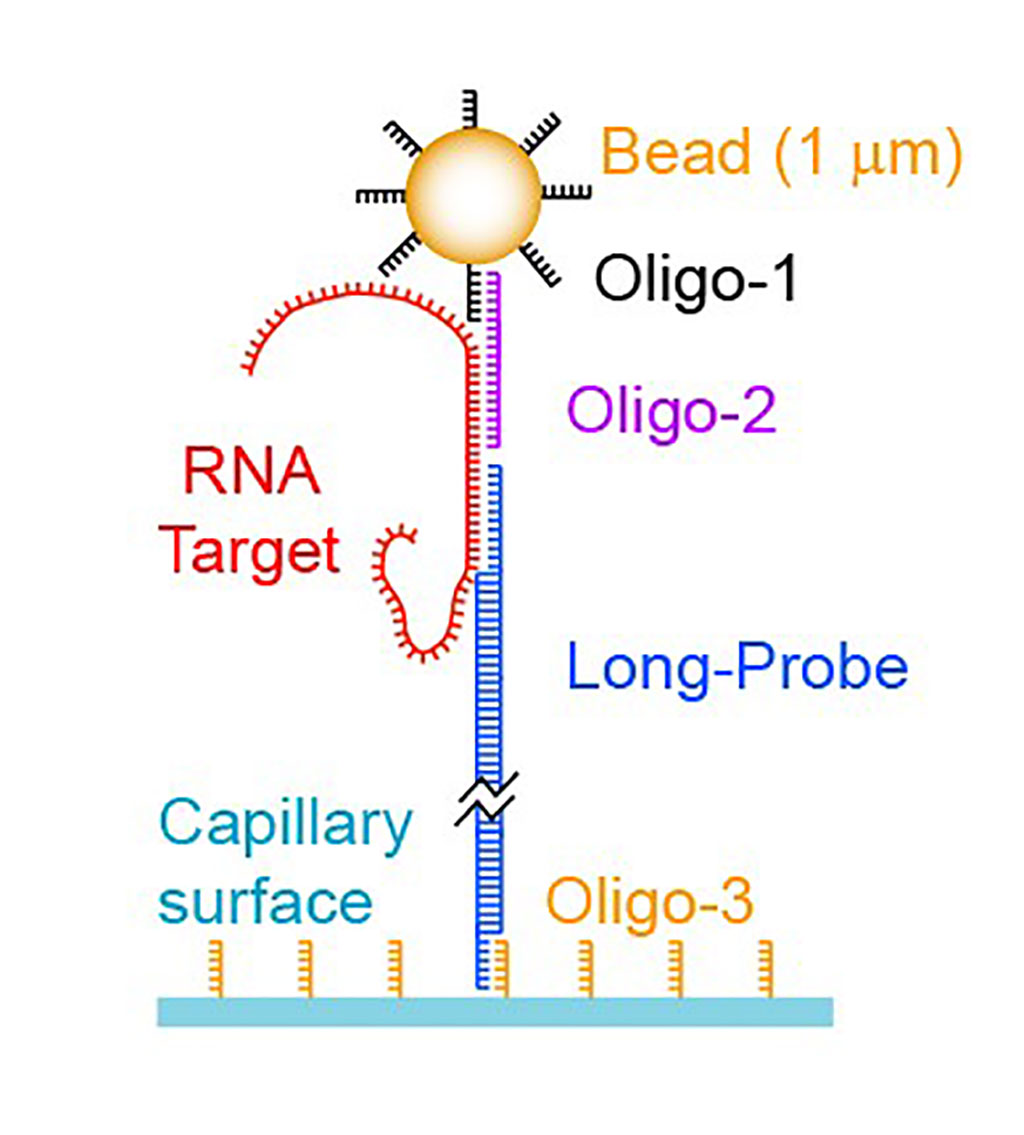 A team of scientists at the biotechnology company Scanogen (Windsor Mill, MD, USA) collected data from 200 tests run on normal samples spiked with known concentrations of pathogen. The team used a technology called single-molecule tethering (SMOLT) that generates a signal when micron-sized beads tethered by double-stranded DNA probes inside a capillary are displaced in the presence of a target pathogen.
Beads tethered by a probe can be differentiated from beads that are not specific to the target of interest because the long-probe tethered beads are displaced by a greater distance. The displacement is determined by processing images obtained with a low-magnification lens and a low-cost digital camera.
The team reported that SMOLT technology can detect RNA molecules in whole blood, urine, and sputum. The technology also detected
Candida
species and two bacterial species,
Staphylococcus aureus
and
Pseudomonas aeruginosa
, in whole blood. The limits of detection was between 1 and 3 colony forming unit per milliliter (CFU/mL), comparable to current PCR tests on the market. The technology also readily lends itself to multiplexing that would enable identification of up to 20 targets per test run.
The team showed that SMOLT detection of microbial ribosomal ribonucleic acid (rRNA) enables high sensitivity with a turnaround time from sample to results of 1.5 hours. They designed species-specific probes that targeted the rRNA of the two most prevalent sepsis-causing fungi,
Candida albicans
and
Candida glabrata
, as well as pan-fungal probes that targeted highly conserved regions in fungal rRNA using a local database of microbial and human rRNA sequences.
For clinical testing in a laboratory, the company envisions that its future customers will be able to stack testing modules on top of each other. An eight-module stack, with each module running tests for up to 20 pathogens, will cost about USD 50,000, Celedon said, adding that the price is significantly lower than the instruments with which it intends to complete.
Alfredo Celedon, the founder of Scanogen and CEO, said "The firm anticipates offering pricing to laboratories at between USD 20 and USD 50 per test, while competing multiplexed tests are priced at USD 200 or more per test. For clinical testing in a laboratory, the company envisions that its future customers will be able to stack testing modules on top of each other. The study was published on September 22, 2020 in the journal
Nature Communications.
Related Links:

Scanogen