New Diagnostic Tests for Rotavirus and Norovirus Infections Evaluated
By LabMedica International staff writers
Posted on 21 Oct 2020
Acute gastroenteritis is one of the most impactful and common infectious diseases, accounting for millions of deaths annually in young children. Rotavirus and norovirus are leading causes of acute viral gastroenteritis spread through fecal to oral transmission.
For appropriate treatment and infection control, accurate and timely identification of pathogens is necessary. Various diagnostic tools including electron microscopy, latex agglutination, immunochromatographic assay (ICA), enzyme immunoassays, and molecular assays have been developed.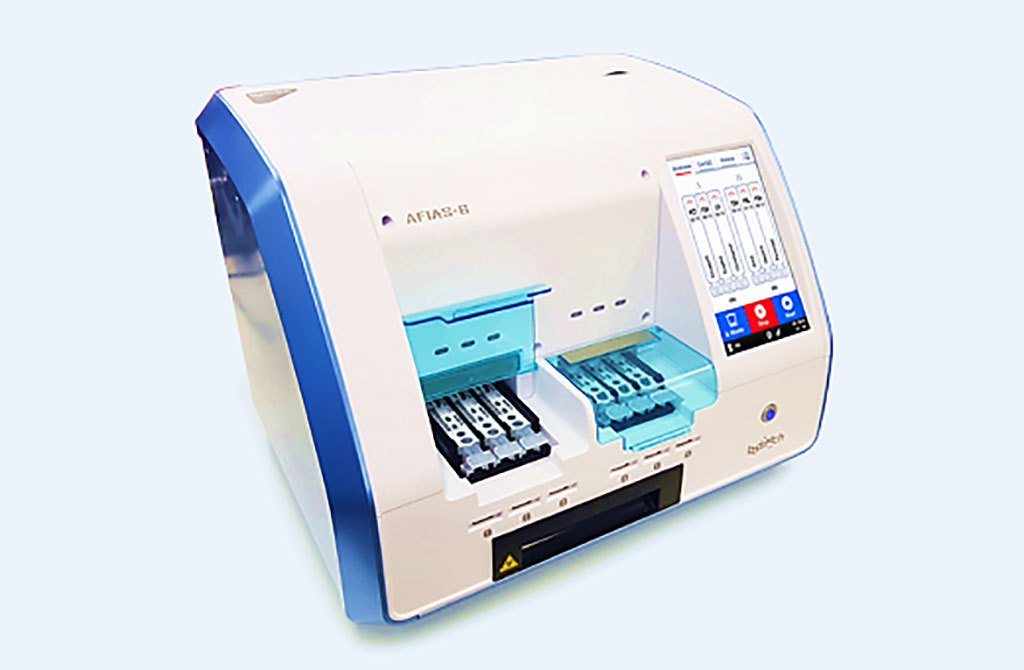 A team of Medical Laboratorians at the Samsung Medical Center (Seoul, Republic of Korea) used a total of 256 clinical stool samples submitted to the clinical microbiology laboratory at a tertiary referral hospital, from November 2018 to January 2019. After routine testing with multiplex real‐time RT‐PCR (rRT‐PCR), residual stool samples were stored at −70 °C prior to analysis.
The team evaluated the performance of Automated Fluorescent Immunoassay System ROTA (AFIAS‐Rota) and NORO (AFIAS‐Noro) assays (Boditech Med Inc, Chuncheon-si, Korea), newly developed automated fluorescent lateral flow immunoassays, in comparison with RIDASCREEN Rotavirus (RIDASCREEN‐Rota) and Norovirus (RIDASCREEN‐Noro) ELISA kits (R‐Biopharm, Darmstadt, Germany) for detection of rotavirus and norovirus. The Boditech assays were read after 12 minutes using that company's AFIAS‐6 scanner and for the R-Biopharm assays the fluorescence was analyzed using a GEMINI spectrofluorometer (STRATEC Biomedical AG, Birkenfeld, Germany).
The investigators reported AFIAS‐Rota and RIDASCREEN Rotavirus had almost perfect agreement and substantial agreement was observed between AFIAS‐Noro and RIDASCREEN Norovirus. For detection of rotavirus, AFIAS and RIDASCREEN assays showed satisfactory diagnostic sensitivity (100% and 97.8%, respectively) and specificity (99.5% and 99.1%). For detection of norovirus, the RIDASCREEN assay showed significantly higher sensitivity than the AFIAS‐Noro (86.0% and 66.0%, respectively). Analytic specificity of AFIAS‐Rota/Noro assays showed no cross‐reactivity against any other bacteria (14 strains) or viruses (two strains). Hands‐on time (six minutes) and turnaround time (26 minutes) required to perform AFIAS assays were much shorter than those required for RIDASCREEN assays (20 and 150 minutes, respectively).
The authors concluded that the AFIAS‐Rota/Noro assays showed overall excellent agreement with the RIDASCREEN assays. Although the AFIAS‐Noro assay exhibited lower sensitivity than the RIDASCREEN Norovirus assay for detection of norovirus, the AFIAS‐Rota/Noro assays could be useful as a rapid initial screening test in clinical laboratories due to its convenience and rapid turnaround time. The study was published on September 23, 2020 in the
Journal of Clinical Laboratory Analysis.
Related Links:

Samsung Medical Center
Boditech Med Inc
R‐Biopharm
STRATEC Biomedical AG