A Series of Sensitive and Specific DNA-Based Assays Detects and Differentiates Salmonella Serotypes
By LabMedica International staff writers
Posted on 07 May 2020
A team of Australian researchers developed a series of sensitive and specific assays to detect and identify different serotypes (serovars) of Salmonella, a common cause of bacterial foodborne disease worldwide.
Rapid, accurate, and sensitive identification of Salmonella serovars is vital for diagnosis and public health surveillance. In this regard, an isothermal amplification technique, called multiple cross-displacement amplification (MCDA), has been employed to detect Salmonella at the species level.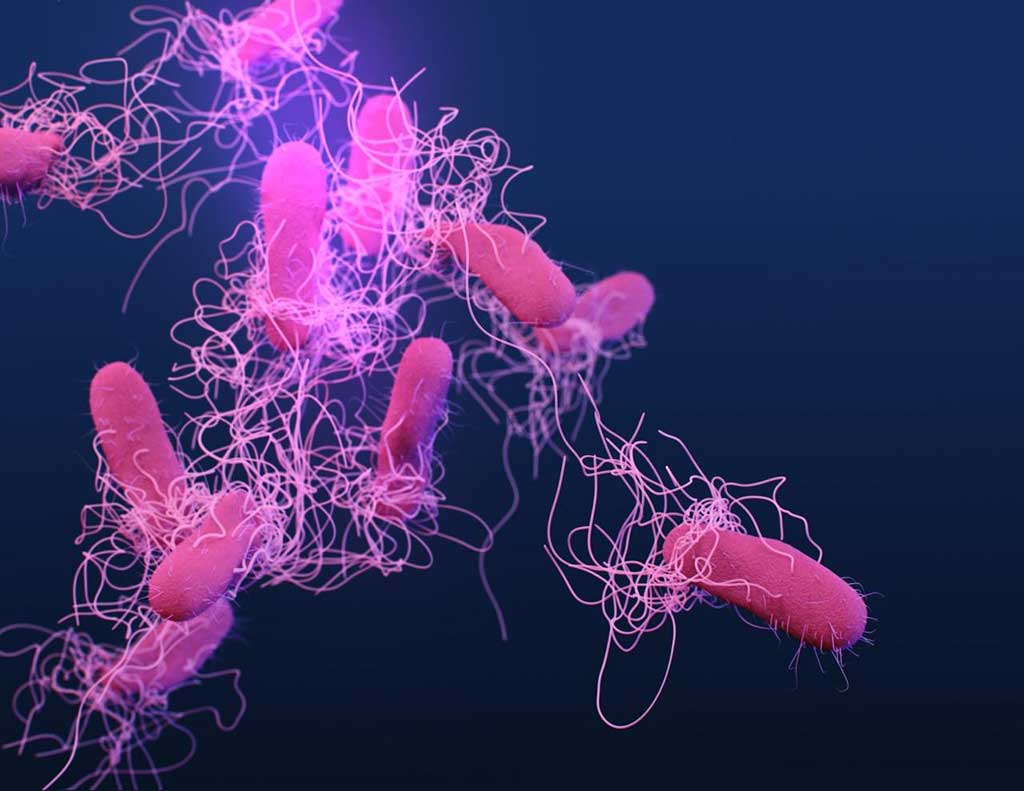 MCDA is a non-PCR based DNA amplification technique. This method can rapidly amplify minute amounts of DNA samples to a reasonable quantity for genomic analysis. The reaction starts by annealing random hexamer primers to the template: DNA synthesis is carried out by a high fidelity DNA polymerase enzyme at a constant temperature. Compared with conventional PCR amplification techniques, MCDA generates larger sized products with a lower error frequency. This method has been actively used in whole genome amplification (WGA) and is a promising method for application to single cell genome sequencing and sequencing-based genetic studies.
Investigators at the University of New South Wales (Sydney, Australia) developed seven MCDA assays and evaluated them for their capability to rapidly detect and differentiate the five most common Salmonella serovars in Australia: Typhimurium, Enteritidis, Virchow, Saintpaul, and Infantis. MCDA primer sets were designed by targeting seven serovar/lineage-specific gene markers identified through genomic comparisons. The sensitivity and specificity of the seven MCDA assays were evaluated using 79 target strains and 32 nontarget strains.
Results revealed that the assays were all highly sensitive and specific to target serovars, with the sensitivity ranging from 92.9% to 100% and the specificity from 93.3% to 100%. The limit of detection of the seven MCDA assays was 50 femtograms per reaction (10 copies) from pure DNA, and positive results were detected in as little as eight minutes.
"Salmonella in a clinical or food sample may be present in very small amounts and thus requires very sensitive methods to detect them. Multiple cross-displacement amplification (MCDA) is a method that can detect very small amounts of DNA rapidly and is also performed at a single constant temperature, in contrast to the cycling of temperatures required in other methods such as PCR. This makes it a good fit for a simple, rapid, and sensitive bacterial detection test. Although an MCDA test for any Salmonella already exists, it does not distinguish between different serotypes," said senior author Dr. Ruiting Lan, professor of biotechnology and biomolecular sciences at the University of New South Wales. "The assays developed in this study are unique because the gene markers used were selected based on analyzing thousands of genomes. Thus, these markers future proof Salmonella serotyping in the era of culture-independent diagnostic testing."
The Salmonella serovars assays were described in the April 28, 2020, online edition of
The Journal of Molecular Diagnostics.
Related Links:

University of New South Wales