Serial Procalcitonin Measurements Utilized in Hospitalized Community-Acquired Pneumonia
By LabMedica International staff writers
Posted on 19 Mar 2020
Community-acquired pneumonia (CAP) refers to pneumonia (any of several lung diseases) contracted by a person with little contact with the healthcare system. CAP, the most common type of pneumonia, is a leading cause of illness and death worldwide. Its causes include bacteria, viruses, fungi and parasites.
To improve the prognosis of CAP patients, assessment of its severity is important for selecting appropriate antimicrobial agents and site of treatment, whether as an outpatient or in hospital, including a general ward or intensive care unit (ICU). Either CURB-65 or the Pneumonia Severity Index (PSI) is often used to assess the severity of pneumonia because they have been validated to correlate well with prognosis.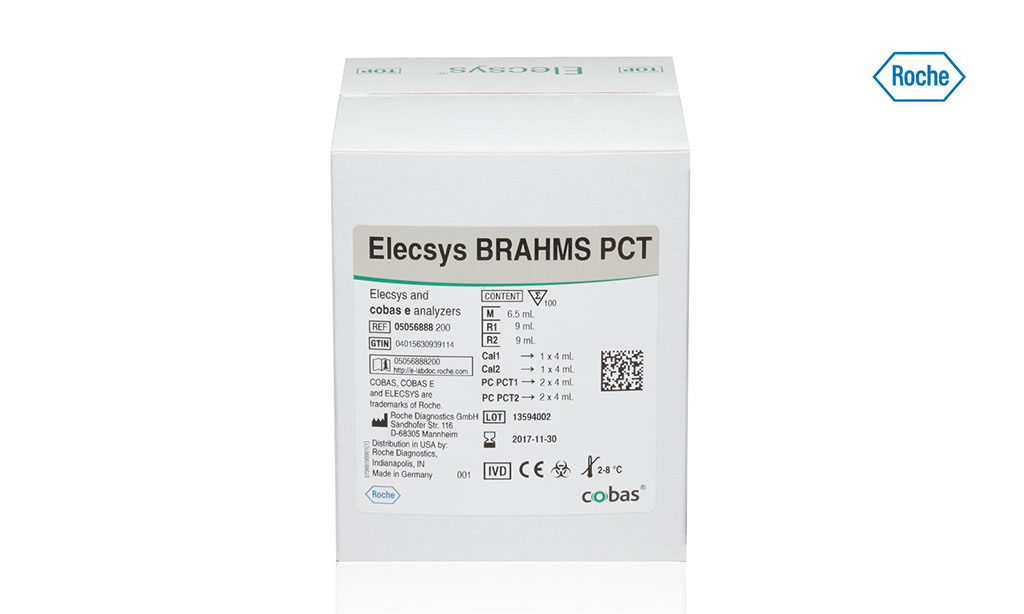 Scientists at the Kurashiki Central Hospital (Okayama, Japan) investigated the usefulness of serial procalcitonin (PCT) measurements for predicting the prognosis and treatment efficacy for hospitalized CAP patients. This prospective, multicenter, cohort study enrolled consecutive CAP patients who were hospitalized at 10 hospitals in western Japan from September 2013 to September 2016.
Sputum and blood for cultures and blood for measuring serum antibodies were collected on admission to detect the causative pathogens of CAP. In all hospitals, the serum PCT levels were measured by the Elecsys BRAHMS PCT automated immunoassay (Roche Diagnostics GmbH, Mannheim, Germany), which had a detection limit of 0.02 ng/mL.
The investigators reported that in the 710 patients, 366 microorganisms were identified. The most common causative microorganism was
Streptococcus pneumoniae
(22.2%), followed by
Haemophilus influenzae
(11.1%). Both PCT and CRP values on day 1 (D1), D3, and D7 were significantly higher in non-survivors than in survivors. From D1 to D3, the non-survivor group showed increased PCT (PCT D3/D1 > 1) more often than the survivor group, whereas the increase of CRP (CRP D3/D1 >1) was not significantly different. Compared with patients with treatment success, patients with early treatment failure showed significantly higher values of PCT D1, D3, and CRP D3, but similar CRP D1 values.
The authors concluded that to assess prognosis and treatment efficacy in CAP, it would be ideal to measure PCT serially, not only on admission, but again on day 3. If the values of PCT increase from admission to day 3, the antibiotics may need to be changed, or the patients who have deteriorated may require close monitoring. The study was published on March 1, 2020 in the
International Journal of Infectious Diseases.
Related Links:

Kurashiki Central Hospital
Roche Diagnostics GmbH