Immuno-Magnetic Agglutination Assay Detects Dengue Virus Antigen
By LabMedica International staff writers
Posted on 09 Mar 2020
Dengue virus (DENV) is the most important arbovirus worldwide, causing infections in endemic countries and returning travellers from these areas. Rapid diagnostic tests are needed to improve patient management and monitor local transmission. The detection of DENV non-structural protein 1 (NS1) is a useful tool for the diagnosis.
Immuno-magnetic agglutination (IMA) assays are newly developed methods that use magnetic particles coated with capture molecules (e.g. antibodies, ligands, nucleotides) that bind specifically to the target biomarker, forming clusters that enable the detection. Different assays have been developed for the detection of pathogens, small molecules and proteins.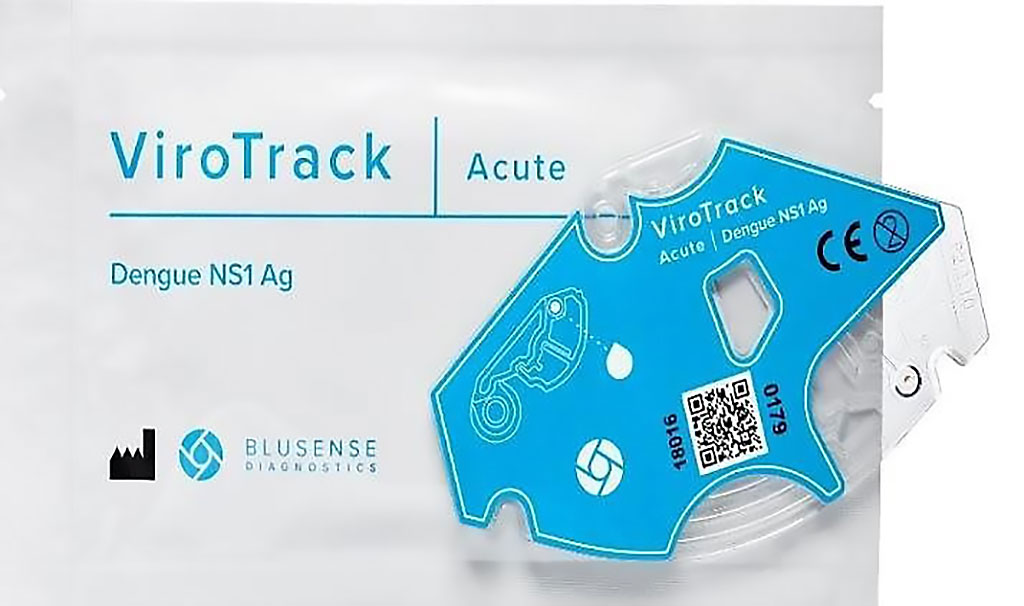 Clinical microbiologists at the Hospital Clinic of Barcelona (Barcelona, Spain) and their colleagues analyzed a panel of 135 serum samples from travelers returning from dengue endemic countries: 74 DENV positive samples including the four DENV serotypes, 26 Zika virus positive samples, 25 chikungunya virus positive samples, five malaria positive samples and five negative samples.
The team tested the samples by three different methods for detection of DENV NS1 antigen: SD Dengue NS1 Ag ELISA is an enzyme-linked immunosorbent assay for the qualitative detection of NS1 antigen in human serum (Standard Diagnostic Inc, Yongin, Korea), SD BIOLINE Dengue Duo is a rapid immunochromatographic test (ICT) that detects both DENV NS1 antigen and antibodies against DENV (IgM/IgG) in human serum, plasma or whole blood, and ViroTrack Dengue Acute, a rapid and semi-quantitative microfluidic DENV NS1 detection method based on IMA technology (BluSense Diagnostics, Copenhagen, Denmark).
The scientists reported that sensitivity values were higher with the ELISA (97.2%), followed by the IMA assay (91.9%) and the ICT (68.1%). Specificity was 100% for ELISA and ICT and 98.4% for the IMA test. One ZIKV positive sample tested positive in IMA assay. This sample was obtained two days after the onset of the symptoms and tested positive for ZIKV and negative for DENV and CHIKV by real-time RT-PCR. This apparent cross-reactivity was not observed in the other 25 ZIKV positive samples tested. All methods showed high specificity (98.4% for ViroTrack Dengue Acute and 100% for both SD Dengue NS1 Ag ELISA and SD BIOLINE Dengue Duo). SD Dengue NS1 Ag ELISA and ViroTrack Dengue Acute only failed to detect a samples positive for DENV-2.
The authors concluded that ViroTrack Dengue Acute is a sensitive and specific assay for DENV NS1 detection. It provides faster results than the ELISA method and a better performance than the rapid immunochromatographic tests. ViroTrack Dengue Acute could represent a valuable tool for rapid diagnosis of DENV infections in returning travellers from endemic countries. The study was published on February 18, 2020 in the journal
PLOS Neglected Tropical Diseases.
Related Links:

Hospital Clinic of Barcelona
Standard Diagnostic Inc
BluSense Diagnostics