Rapid Antigenic Diagnostic Test Validated for Ebola Virus Disease
By LabMedica International staff writers
Posted on 13 Feb 2020
Hemorrhagic fever outbreaks are difficult to diagnose and control in part because of a lack of low-cost and easily accessible diagnostic structures in countries where etiologic agents are present. Initial clinical symptoms are common and shared with other endemic diseases such as malaria or typhoid fever.
Current molecular diagnostic methods such as polymerase chain reaction require trained personnel and laboratory infrastructure, hindering diagnostics at the point of need, particularly in outbreak settings. Therefore, rapid diagnostic tests such as lateral flow can be broadly deployed and are typically well-suited to rapidly diagnose hemorrhagic fever viruses, such as Ebola virus (EBOV).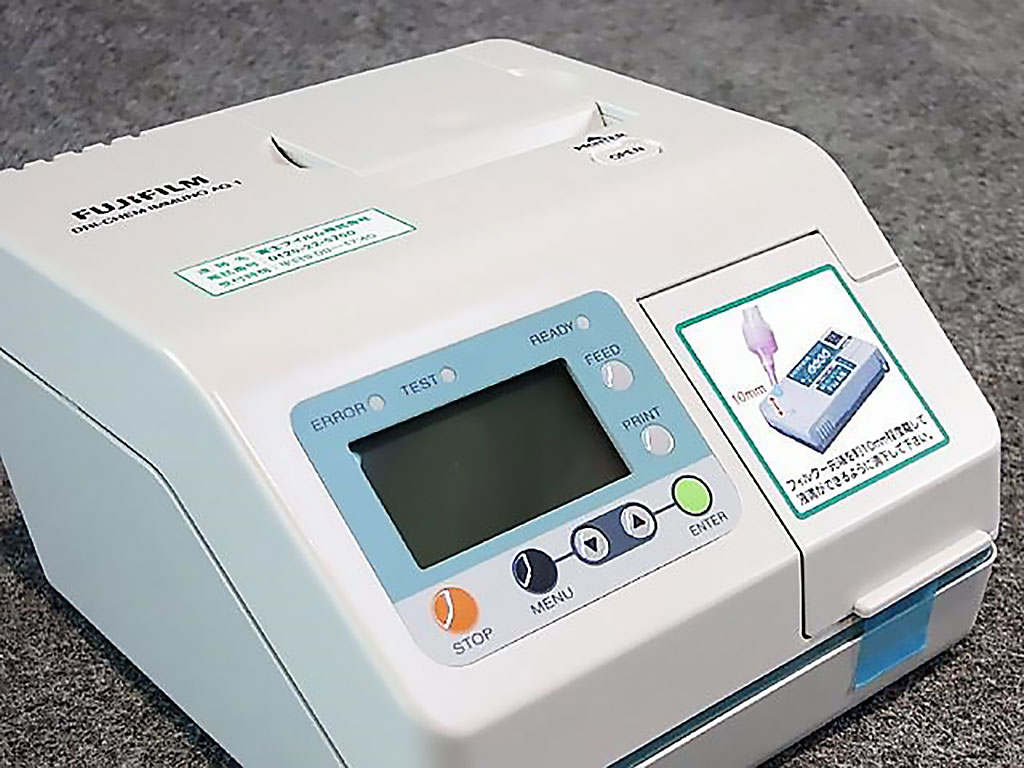 Scientists working for BIOASTER (Lyon, France) and their international colleagues developed and characterized an immunoassay test based on immunochromatography coupled to silver amplification technology to detect the secreted glycoprotein of EBOV. The glycoprotein is among the first viral proteins to be detected in blood. The investigators obtained blood samples from European volunteers, 70 healthy African volunteers (54 men and 16 women), and from Ebola infected patients used in the work were frozen leftovers from clinical study performed during 2014 outbreak.
The team developed Ebola non-structural secreted glycoproteins (sGP) Detection Kit with silver amplification immunochromatography technology. An anti-mouse immunoglobulin and EE8 antibody were immobilized onto nitrocellulose membranes to generate the control and test lines, respectively. A reagent pad containing XC2 monoclonal antibody (mAb) conjugated with colloidal gold (British Biocell International, Cardiff, UK) was placed between the sample application point and test line. The test strip was then placed in a FUJI DRI-CHEM IMMUNO AG cartridge (FUJIFILM, Tokyo, Japan). Results express as delta OD values were calculated by FUJI DRI-CHEM IMMUNO AG1 analyzer based on OD values before and after silver amplification reaction.
The scientists assessed Ebola sGP Detection Kit clinical sensitivity and specificity with plasma samples from infected individuals. Patients were included in the cohort based on quantitative Reverse Transcription Polymerase Reaction Chain (RT-qPCR) test positivity, i.e. when Ct values were inferior to 34 cycles. Out of 21 patients diagnosed by RT-qPCR, 18 patients were positive with the Ebola sGP detection Kit test, giving a sensitivity of 85.7%. Out of the three patients not detected by Ebola sGP Detection Kit, all are close to the RT-qPCR detection limits with Ct values of 31, 32 and 33 cycles. Positive and negative predicting value were 100% and 97,5% respectively, but further work is required to definitively define the clinical performances of the Ebola sGP detection Kit.
The authors concluded that the LFA developed together with the easy-to-use reader equipment gave highly specific and sensitive results that could be implemented in low-resource laboratories to help monitoring and diagnosing Zaire ebolavirus (ZEBOV) in countries where outbreaks could start. The study was published on January 20, 2020 in the journal
PLOS Neglected Tropical Diseases.
Related Links:

BIOASTER
British Biocell International
FUJIFILM