Drug-Resistant Strains of Salmonella Causing Bloodstream Infections
By LabMedica International staff writers
Posted on 03 Oct 2019
Salmonella enterica subspecies enterica serovar Typhimurium (known as S. typhimurium) and other non-typhoidal Salmonella are common causes of gastrointestinal infections in people living in industrialized countries.
However, in sub-Saharan Africa (SSA), invasive non-typhoidal Salmonella (iNTS) bloodstream infections are common, totaling around 3.4 million cases annually, with S. typhimurium being responsible for approximately two-thirds of these cases. Drug-resistance has increased in successive groups of S. typhimurium over time and the fatality rate in iNTS can be extremely high.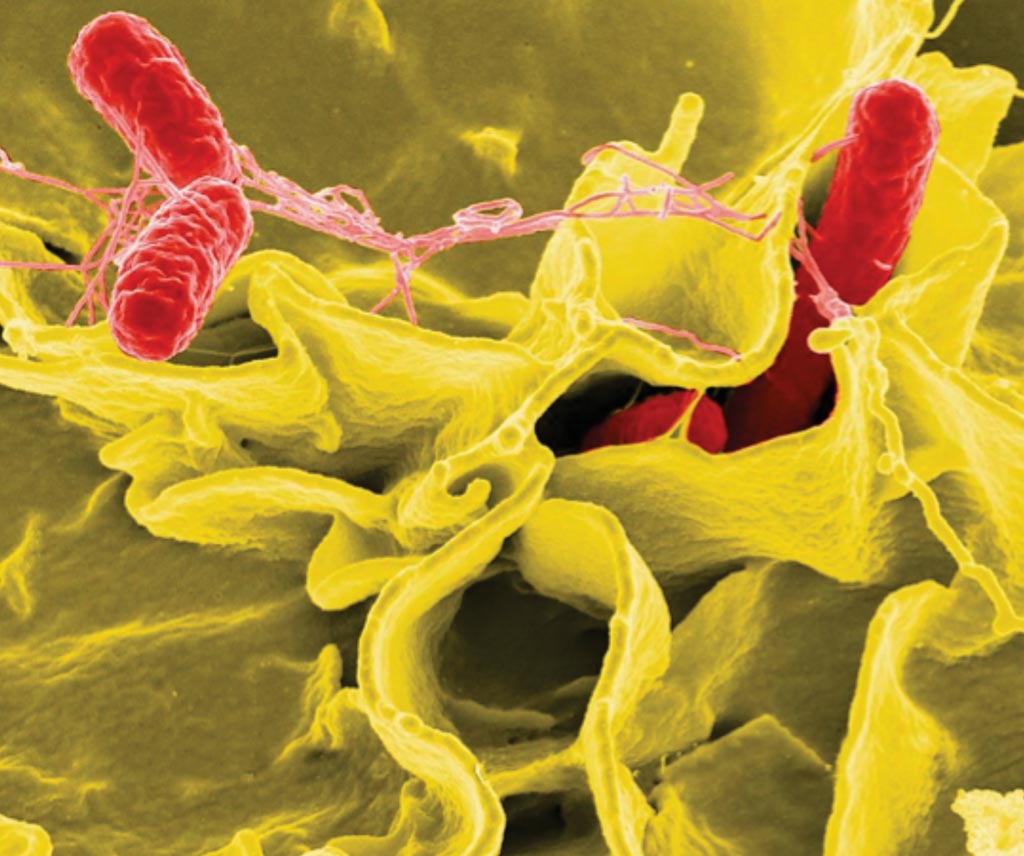 Scientists at the Institute of Tropical Medicine (Antwerp, Belgium) and their colleagues collected blood samples from people with suspected bloodstream infections from hospitals in the Democratic Republic of Congo. All available azithromycin (AZI) resistant S. typhimurium available to this study were included (n = 54). Samples of 27 representative non-AZI resistant S. typhimurium isolates were selected as controls for this analysis.
The isolates biochemically confirmed as Salmonella spp. were serotyped using commercial antisera. DNA from all 81 strains was purified using the Gentra PureGene Yeast/Bact Kit, following the manufacturer's guidelines and DNA was sequenced on an Illumina HiSeq platform. Illumina adapter content was removed from the reads using Trimmomatic v.0.33.
It is known that iNTS infections in sub-Saharan Africa are dominated by a type of S. typhimurium known as ST313, which is associated with antibiotic resistance. Two groups of ST313 (named lineage I and II) split off independently and subsequently spread over the African continent. Antibiotic resistance has been growing over time, with lineage II now the primary cause of iNTS infections. Analysis of these S. typhimurium genomes identified a new sub-group that is branching off from ST313, named lineage II.1. Estimated to have emerged in 2004, this new group exhibits extensive drug resistance (XDR).
Sandra Van Puyvelde, PhD, an assistant professor and the first author of the study, said, "All antibiotic resistance genes contributing to 'XDR' are present on the same plasmid. This is worrying because a plasmid is a mobile genetic element that could be transferred to other bacteria. While accumulating more antibiotic resistance, we discovered that the novel Salmonella typhimurium line is also showing further genetic and behavioral changes which suggest ongoing evolution of the bacteria towards bloodstream infections." The study was published on September 19, 2019, in the journal Nature Communications.
Related Links:
Institute of Tropical Medicine