Diagnostic Methods Compared for Soil-Transmitted Helminths
By Labmedica International staff writers
Posted on 22 Aug 2019
Soil-transmitted helminths (STHs) are a group of intestinal parasitic worms that excrete eggs through feces, which contaminate soil in areas where sanitation is poor and infect the human host orally or through skin contact.
The main STH species are the giant roundworm (Ascaris lumbricoides), the whipworm (Trichuris trichiura), and the two hookworms (Necator americanus and Ancylostoma duodenale). They affect one-fifth of the world population, mainly in sub-tropical and tropical regions, and are responsible for more than three million disability-adjusted life years.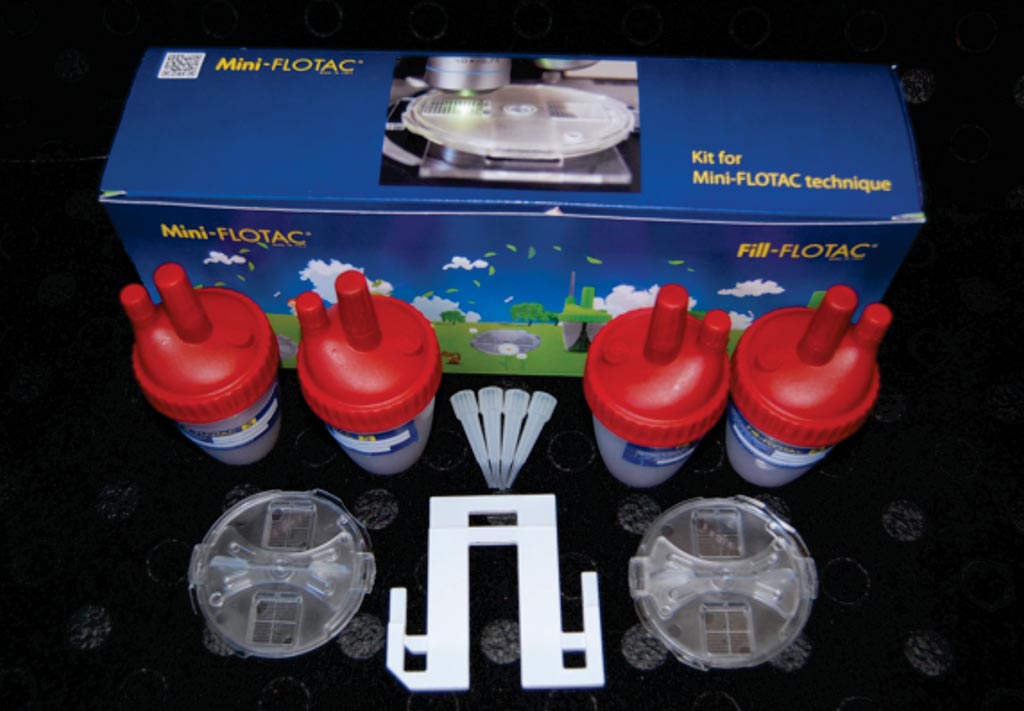 An international team of scientists working under the auspices of the Ghent University (Merelbeke, Belgium) designed as a series of drug efficacy trials in three STH endemic countries (Ethiopia, Lao PDR and Tanzania). The selection of these sites was based on their experience in assessing drug efficacy. The team evaluated the performance of diagnostic methods, the availability of well-equipped diagnostic facilities and skilled personnel, and preventive chemotherapy (PC) history.
The scientists compared the diagnostic performance of a single Kato-Katz (reference method) with that of other microscopy-based methods: duplicate Kato-Katz, Mini-FLOTAC and FECPAKG2 and one DNA-based method (qPCR) for the detection and quantification of STH infections in three drug efficacy trials in the three countries. Furthermore, they evaluated a selection of minimal diagnostic criteria of the target product profiles (TPPs).
The investigators reported that all diagnostic methods showed a clinical sensitivity of ≥90% for all STH infections of moderate-to-heavy intensities. For infections of very low intensity, only qPCR resulted in a sensitivity that was superior to a single Kato-Katz for all STHs. Compared to the reference method, both Mini-FLOTAC and FECPAKG2 resulted in significantly lower fecal egg counts for some STHs, leading to a substantial underestimation of the infection intensity. For qPCR, there was a positive significant correlation between the egg counts of a single Kato-Katz and the DNA concentration. The Mini-FLOTAC method had a slightly higher clinical sensitivity compared to a single Kato-Katz for T. trichiura and hookworm but had a significantly lower clinical sensitivity for A. lumbricoides.
The authors concluded that their results indicate that the diagnostic performance of a single Kato-Katz is underestimated by the community, and that diagnostic specific thresholds to classify intensity of infection are warranted for Mini-FLOTAC, FECPAKG2 and qPCR. When they strictly apply the TPPs, Kato-Katz is the only microscopy-based method that meets the minimal diagnostic criteria for application in the planning, monitoring and evaluation phase of an STH program. The polymerase chain reaction was the only method that could be considered in the phase that aims to seek confirmation for cessation of program. The study was published on August 1, 2019, in the journal PLOS Neglected Tropical Diseases.
Related Links:
Ghent University