Antibody Tests Recommended for Parasitic Infection Diagnosis
By Labmedica International staff writers
Posted on 17 Jul 2019
Pleural parasitic infestation (PPI) is a disease prevalent in certain parts of the world and it is frequently misdiagnosed due to its lack of standardized diagnostic criteria. The clinical manifestations are non-specific and many patients are initially treated for tuberculosis or misdiagnosed as lung cancer.
Consumption of raw or undercooked fresh water crab, or crayfish infected with Paragonimus metacercariae is the main source of infection in human. Trichomonad parasites probably enter the respiratory tract following aspiration of oropharyngeal secretions. However, due to the expansion of worldwide food trading and increasing number of travelers and immigrants, the exposure history of the infection in each individual person is becoming more abstruse.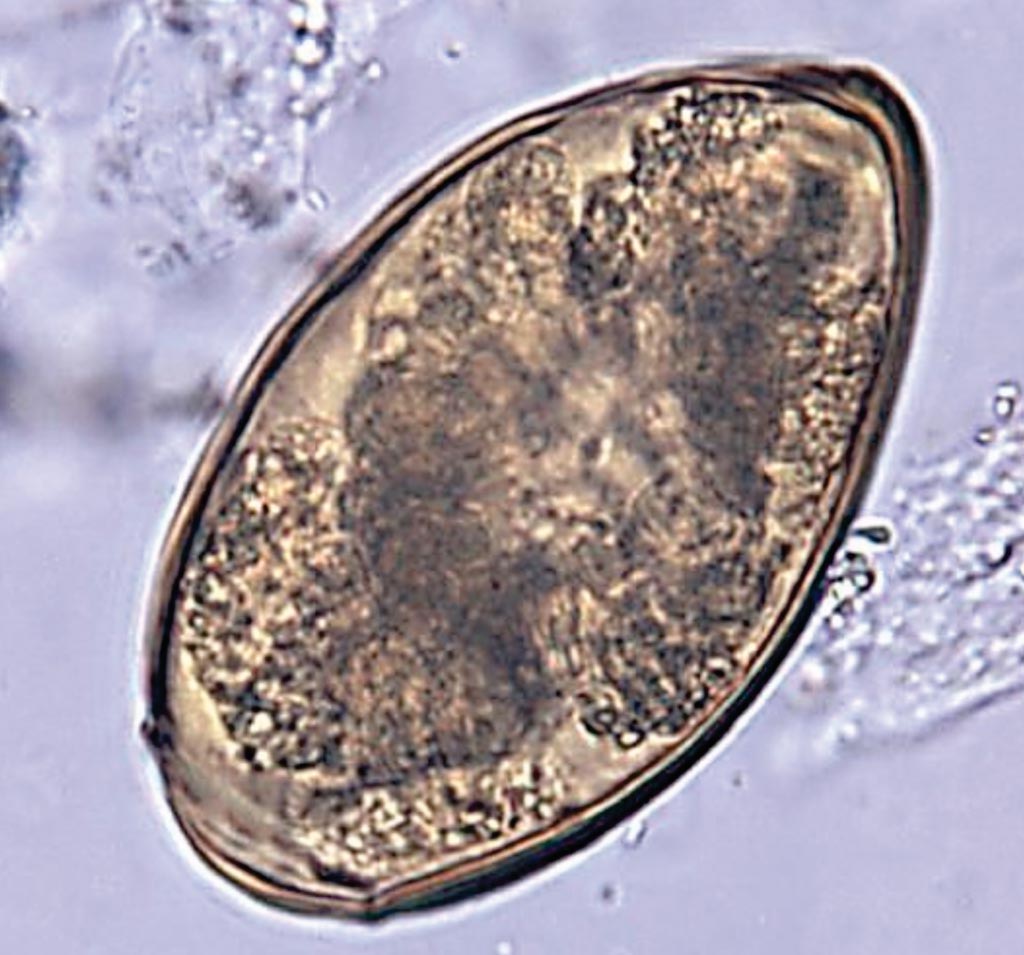 Scientists from Guangzhou Medical University (Guangzhou, China) retrospectively reviewed 11 patients admitted to the hospital due to respiratory symptoms and abnormal chest high-resolution computed tomography (HRCT) findings that revealed pleural effusion or pleural pulmonary involvement. All patients demonstrated respiratory symptoms, including shortness of breath, cough, fever, chest pain, excessive sputum and hemoptysis. A leukocytosis of greater than 10,000/μL and an eosinophilia greater than 500/μL of peripheral blood were present in 45.5% and 36.4% patients, respectively.
The enzyme-linked immunosorbent assay (ELISA) test for parasite-specific IgG antibodies was performed on serum from all patients and on pleural effusion from two patients. The parasite-specific IgG antibodies included the IgG antibodies of Taenia solium, Paragonimus westermani, and Spirometra spp., Clonorchis sinensis, Toxoplasma gondii and Echinococcus granulosus. Stool examinations for the detection of parasite eggs were performed in all patients.
The team reported that the mean concentrations of pleural effusion lactate dehydrogenase (LDH), adenosine deaminase (ADA), protein and carcinoembryonic antigen (CEA) were 338.2 U/L (range, 61–667 U/L), 11.6 U/L (range, 0.1–28.2 U/L), 43.7 g/dL (range, 21.9–88.1 g/dL), and 1.84 mg/mL (range, 0.28–4.8 mg/mL), respectively. The mean percentage of eosinophils in the pleural effusion was 19.5% (10.5–41%). Blood test was positive for parasite-specific IgG antibody in nine patients, including four for Paragonimus westermani, three for Taenia solium, one for Clonorchis sinensis and one for Echinococcus granulosus. Eggs of Clonorchis sinensis were detected in the stool of two patients. Sparganum was found in the pleural effusion of one patient. Respiratory symptoms and abnormal appearances in pulmonary radiographic examination were disappeared in all patients who received anti-parasitic treatment.
The authors concluded that in patients with unexplained pleural effusion, parasite-specific IgG antibody tests should be performed when pleural fluid testing shows eosinophilic pleural effusion. It is preferable to consider the diagnosis of PPI in clinical practice when serum parasite-specific IgG antibody test is positive. The study was published on July 4, 2019, in the journal BMC Infectious Diseases.
Related Links:
Guangzhou Medical University