Whole-Blood Testing Diagnoses Acute Zika Virus Infections
By Labmedica International staff writers
Posted on 04 Jul 2019
Zika virus infections are linked to congenital malformations in neonates from mothers infected during pregnancy and to neurologic disorders in adults. Reverse transcription polymerase chain reaction (RT-PCR) is the most reliable method for confirming Zika virus infections.
The stakes for an accurate diagnosis are high when congenital Zika syndrome might be involved, such as in diagnosis in pregnant women and their partners, because Zika virus infections can be sexually transmitted. Diagnostics are based on Zika virus RNA detection, detection of Zika virus–specific antibodies, or both.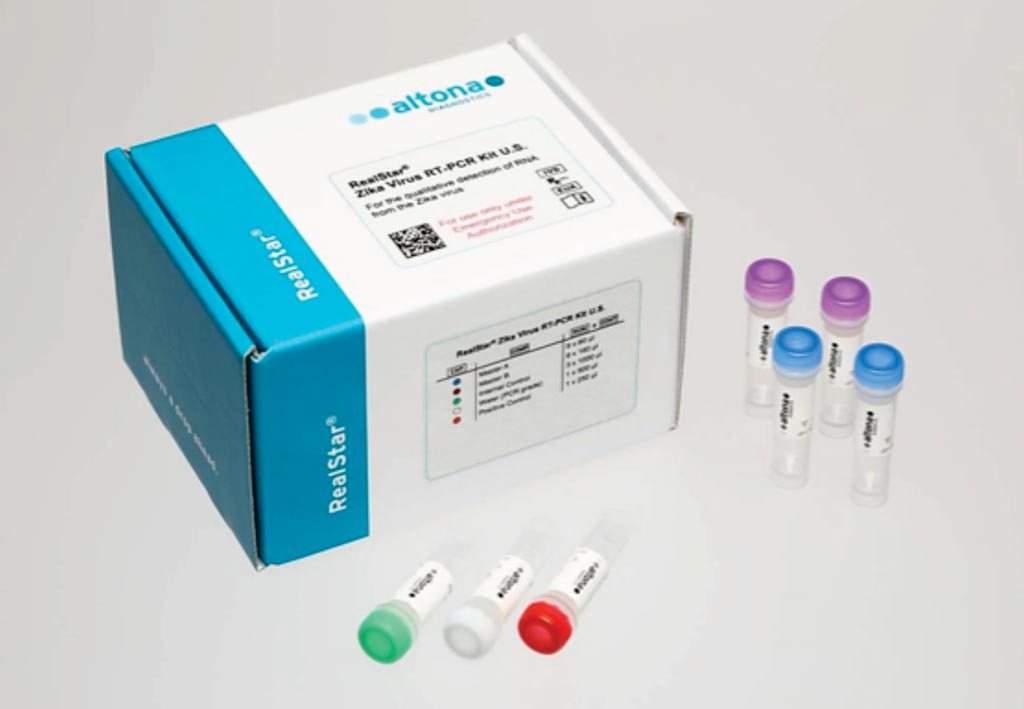 Scientists at the Erasmus Medical Center (Rotterdam, the Netherlands) compared Zika virus quantitative reverse transcription PCR (qRT-PCR) results for 249 EDTA–whole blood and EDTA–plasma pairs submitted for laboratory testing from 227 patients with suspected Zika virus infection during July 2016–May 2017.
For testing, they spiked the samples with an internal control and extracted total nucleic acids from a 500-μL sample in 100 μL of eluate using the MagNAPure 96 DNA and Viral NA large volume kit and Viral NA Universal LV 2.0 protocol. They confirmed all Zika virus RNA−positive samples using a commercial Zika virus qRT-PCR.
The team detected Zika virus RNA in 31 (12.4%) of 249 whole-blood samples and in 23 (74.2%) of the 31 corresponding plasma samples. The 31 positive whole-blood samples were collected from 31 individual patients. This comparison indicated that eight additional Zika virus–positive patients would have been identified if whole blood had been used routinely instead of plasma. This finding represented a 34% increase in confirmed cases of Zika virus infection.
The scientists tested urine and plasma by qRT-PCR and tested serum by ELISA for the presence of Zika virus–specific IgM and IgG. For three of the eight additional patients, Zika virus infection had already been confirmed on the basis of the presence of Zika virus RNA and IgM in an earlier plasma sample. For the remaining five patients, only a status of probable case was achieved without the whole blood testing.
The authors concluded that that individual patient care might benefit from whole-blood testing in a routine diagnostic laboratory setting, thereby possibly reducing the need for more specialized serology (i.e., comparative flavivirus neutralization tests) to confirm cases based on serology. Therefore, they have implemented whole blood RT-PCR testing for Zika virus diagnostic requests in our routine diagnostic setup. The study was published in the July 2019 issue if the journal Emerging Infectious Diseases.
Related Links:
Erasmus Medical Center