POC Urinalysis System Evaluated for Schistosomiasis
By Labmedica International staff writers
Posted on 03 Jul 2019
Schistosoma haematobium is one of the three main human species of digenetic trematodes, belonging to a group of blood flukes, and causes the urinary form of schistosomiasis and remains a significant public health problem worldwide, despite years of efforts to control it.
Hematuria is one of the notable indirect indicators of S. haematobium infection and is commonly assessed along with other routine screens using a urinary dipstick test. A portable "field friendly" electronic analyzer would offer an automated and thus more objective read-out compared to visual-read dipstick methods.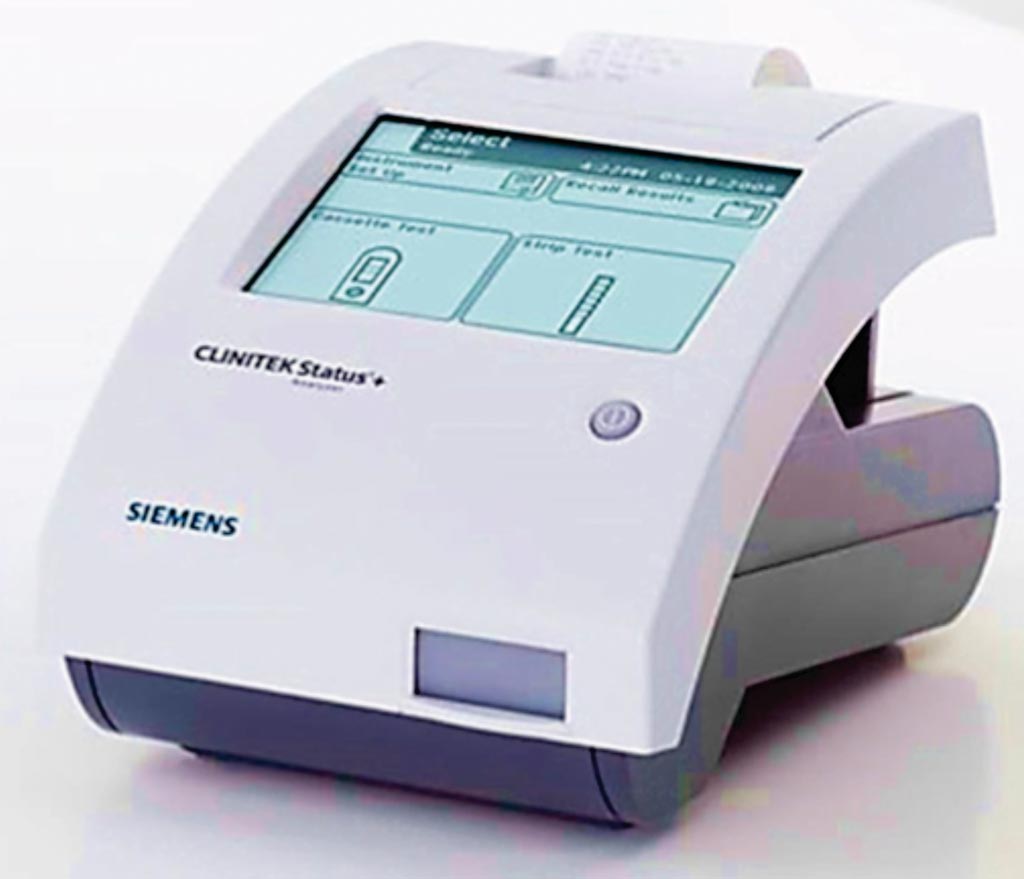 Medical scientist associated with the Swiss Tropical and Public Health Institute (Basel, Switzerland) collected urine samples as part of a Phase 2 dose-finding clinical trial with praziquantel in S. haematobium-infected children. Collectively, 174 school-aged and 170 preschool-aged children were enrolled in the trial, which took place in November 2015 in Côte d'Ivoire.
The team compared a visual-read of the urine dipstick strips Multistix PRO to the automated reader CLINITEK Status+ analyzer, also manufactured by Siemens Healthcare Diagnostics. For the leukocyte, urobilinogen, proteins, blood, ketone bodies and bilirubin parameters, findings were compared employing linear weighted Cohen's kappa (κ) coefficient statistic. Results were then also stratified according to infection intensity using WHO standards for S. haematobium infection intensity classification: egg count of 1 to 49 eggs per 10 mL urine was regarded as light; and egg count of ≥ 50 eggs/10 mL urine was regarded as heavy infection.
The team reported that the children harbored predominantly light intensity infections (83.7% of samples) and this was true for both pre-school-aged (90.5% of samples) and school-aged children (72.4% of samples). Of the children found to have eggs in their urine, hematuria was detected in 64.3% of their samples by visual read-out and in 63.0% of their samples by machine read-out. The observed agreement between the two techniques was fair for bilirubin and ketone bodies, moderate for urobilinogen and proteins, good for leukocytes, and very good for nitrites and hematuria.
The authors concluded that the agreement between visual and automated readout of the Multistix Pro urine dipsticks was fair to moderate for most parameters. However, a very good agreement was observed for hematuria and nitrites, two parameters in detecting S. haematobium as well as urinary tract infections, which are often associated with schistosomiasis. The findings reaffirm that, although hematuria might be a good indicator of morbidity due to urinary schistosomiasis, its utility as a diagnostic tool in areas of low-intensity infections is dubious, therefore underscoring the urgent need for more sensitive point-of-care diagnostic tools. The study was published on June 13, 2019, in the journal Parasites & Vectors.
Related Links:
Swiss Tropical and Public Health Institute