Serum HBV RNA Quantification Monitors Chronic Hepatitis B Infection
By LabMedica International staff writers
Posted on 15 May 2019
Chronic hepatitis B viral infection is a global health problem, especially in the Asian-Pacific region. Approximately 1.2 million people in the USA and 350 million people worldwide have Hepatitis B. and about 650,000 people die annually from HBV infection related liver failure, liver cirrhosis and liver cancer.
Drugs rarely lead to elimination of chronic HBV infection completely due to their little effect on covalently closed circular DNA, which is believed to be the main cause of viral persistence. As an alternative biomarker of intrahepatic covalently closed circular DNA (cccDNA) transcriptional activity, HBV RNA may evolve during long-lasting virus-host interactions during chronic hepatitis B viral infection.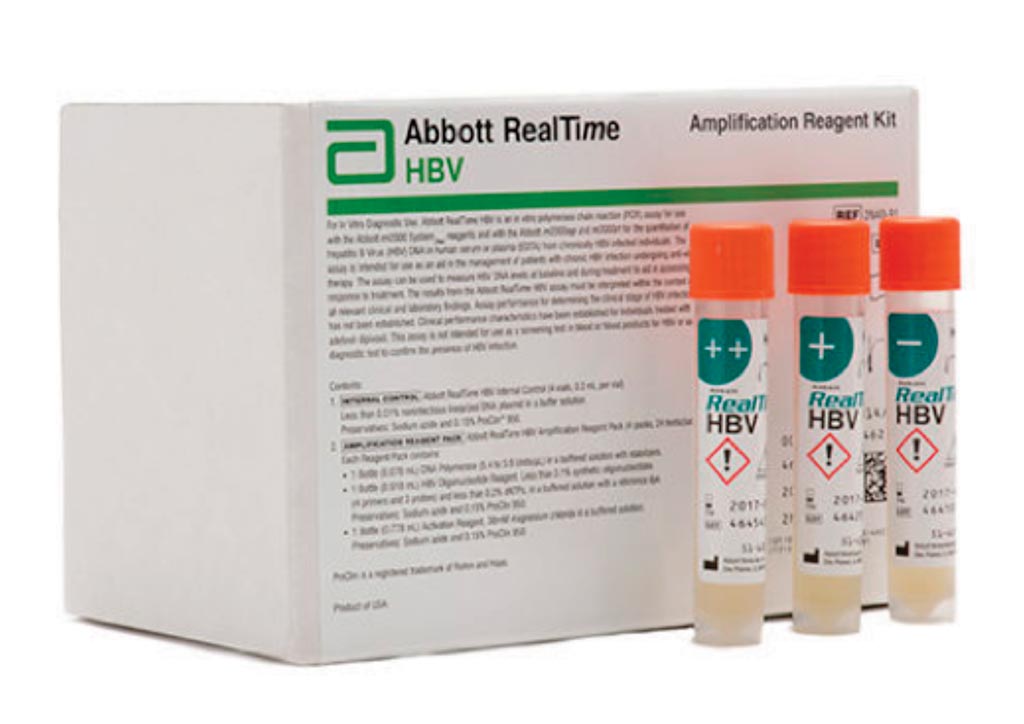 Scientists from the Second Military Medical University (Shanghai, China) enrolled 291 treatment-naïve chronic HBV carriers. Based on the clinical, biochemical, serological, and histological data as well as HBV DNA levels, patients were classified into the following four categories: the immune-tolerant phase (IT, n = 35), HBeAg-positive immune-active phase (EPIA, n = 121), inactive chronic hepatitis B (ICH, n = 58) and HBeAg-negative immune reactive hepatitis (ENH, n = 77).
The parameters and distribution patterns of serum HBV RNA were evaluated in relation to viral replication status, immune phase, disease category and Child-Pugh class. The relationships between serum HBV RNA and other serum hepatitis B viral markers were also analyzed. The HBV RNA was detected by the RNA simultaneous amplification testing method (HBV-SAT) based on real-time fluorescence detection of RNA transcription-mediated nucleic acid amplification using the HBV-SAT kit.
RNA extraction, amplification and detection were processed on an automated Auto SAT system from Shanghai Rendu biotechnology. Serum HBsAg levels were measured by using commercially available kits that has a dynamic range was 0.05–250 IU/mL. Serum HBV DNA was quantified by using the Determination Kit for hepatitis B viral DNA, with a detection range of 5 × 102 copies/mL to 5 × 108 copies/mL.
The team reported that serum HBV RNA levels were significantly lower in the HBeAg-negative patients compared to those in the HBeAg-positive patients, with the lowest levels seen in inactive carriers. In HBeAg-negative patients, serum HBV RNA levels increased if there is reactivation to active hepatitis and showed obvious superiority for the combination of serum HBV DNA (cutoff >3.39 Log copies/mL) and HBsAg (cutoff >2.74 Log IU/mL) in discriminating between 'HBeAg-negative immune reactive' phase and inactive chronic hepatitis B phases of HBeAg-negative chronic HBV infection. Serum HBV RNA levels were positively correlated with serum HBV DNA and HBsAg levels in all chronic HBV-infected patients.
The authors concluded that during the natural course of chronic HBV infection, serum HBV RNA levels vary. Serum HBV RNA can act as a biomarker to predict the natural history of disease in chronic hepatitis B patients. In treatment-naïve HBeAg-negative chronic HBV-infected individuals, serum HBV RNA shows superiority in differentiating the "HBeAg-negative reactive" phase. The study was published on April 16, 2019, in the journal BMC Gastroenterology.
Related Links:
Second Military Medical University