Oral HPV-DNA Persists after Oropharyngeal Cancer Treatment
By Labmedica International staff writers
Posted on 14 May 2019
Head and neck cancers affect some 53,000 people in the USA each year, according to the National Cancer Institute, and human papilloma virus (HPV) has been implicated in many of those cases. The diagnosis of cancer can be confirmed by tissue biopsy.
In general, patients with HPV-positive tumors have higher survival rates than those with HPV-negative tumors. Persistent traces of human papilloma virus DNA after treatment for HPV-positive head and neck cancer are linked to an increased recurrence risk.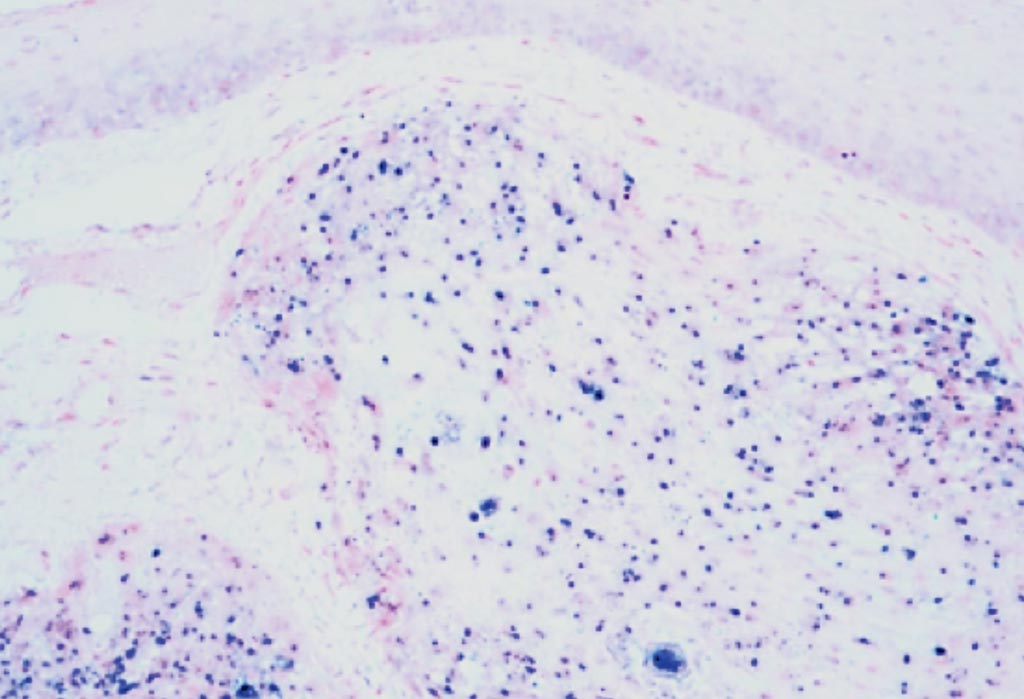 Medical scientists at the Johns Hopkins School of Medicine (Baltimore, MD, USA) and the MD Anderson Cancer Center (Houston, TX, USA) and their colleagues performed a prospective, two-institution, tertiary referral center study of 396 patients with newly diagnosed oral cavity or oropharyngeal head and neck squamous cell carcinoma (HNSCC) from July 11, 2011, to May 7, 2016.
Oral rinse samples were prospectively collected at diagnosis and at completion of primary therapy. Weekly oral rinse samples were collected during radiotherapy. Purified tumor and oral rinse sample DNA were evaluated for 37 HPV types, and viral load was quantified by type-specific real-time polymerase chain reaction. Cancers were stratified by tumor HPV status, and HPV was classified as tumor type if identical to that detected in the tumor or non-tumor type.
The investigators reported that at diagnosis, patients with HPV-positive tumors were significantly more likely to have oral rinse samples positive for HPV than were patients with HPV-negative tumors. In particular, the scientists reported that the detection of any oral HPV DNA had a sensitivity of 84%, a specificity of 88%, a positive predictive value of 88%, and a negative predictive value of 84% for the diagnosis of an HPV-positive tumor. The prevalence of oral HPV DNA, though, went down after treatment. Prior to treatment, the prevalence of HPV DNA in oral rinses that matched that of HPV in the tumor sample was 69%. But after primary surgical resection, it was about 14%. Its prevalence fell similarly for patients who underwent radiotherapy, going from 85% before treatment to 9% after radiotherapy.
As expected, overall and recurrence-free survival was higher for patients with HPV-positive tumors than with HPV-negative tumors. Patients with HPV-positive tumors had a two-year overall survival of 91%, as compared to 75% for patients with HPV-negative tumors. But for a subset of patients with HPV-positive tumors, about 14%, the prevalence of oral HPV DNA did not decline with treatment. These patients were more likely to recurrent disease, with about 45% experiencing disease recurrence within two years. Additionally, this subset had a lower two-year overall survival of 68%.
The authors concluded that the prevalence and viral load of tumor-type HPV DNA decreased rapidly with therapy, and persistent detection was associated with increased risk of recurrence and death. Analysis of tumor type HPV DNA has considerable promise as a biomarker for treatment response and risk of progression. The study was published on May 2, 2019, in the journal JAMA Oncology.
Related Links:
Johns Hopkins School of Medicine
MD Anderson Cancer Center