TB Interferon-Gamma Release Assay Assessed in Children
By Labmedica International staff writers
Posted on 16 Apr 2019
Pediatric tuberculosis (TB) remains a major public health issue with at least one million children newly identified with TB each year, representing 10% to 11% of all TB cases. It was recently reported an estimate of 250,000 deaths among pediatric TB cases, of whom an estimated 50,000 were children living with HIV infection.
Obtaining a definitive TB diagnosis in children is challenging for clinicians due to the lack of specific signs and symptoms consistent with TB, difficulty in obtaining sputum samples in children and the paucibacillary nature of Mycobacterium tuberculosis (Mtb) in the clinical specimens. Therefore, accurate diagnostic tests, which can detect TB infection early would be effective tools for TB programs in controlling TB disease in children.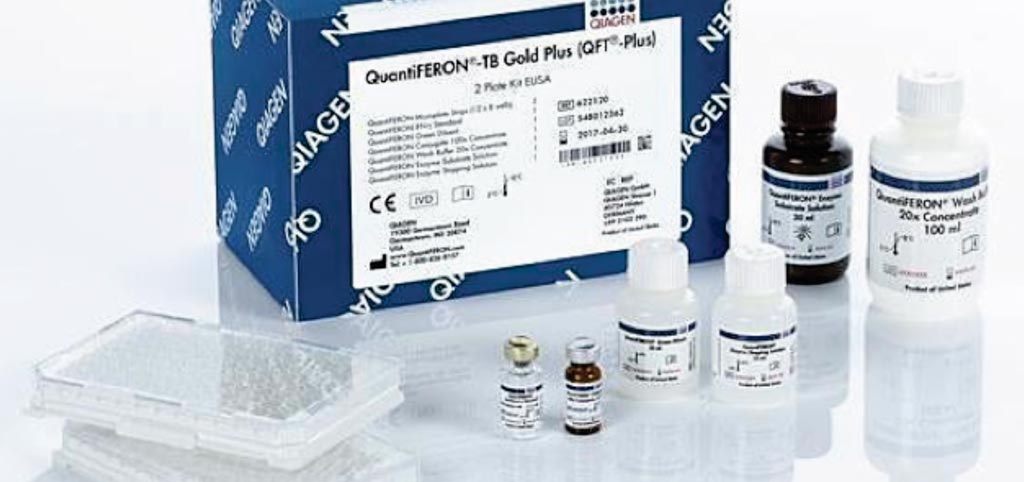 An international team of scientists working with the Houston Methodist Research Institute (Houston, TX, USA) analyzed data from in 738 children admitted to a Department of Pediatrics from April through December 2017, of whom 222 had Interferon-Gamma Release Assay (IGRA) available. The IGRA assay used was the QuantiFERON-TB Gold Plus. Of 33 patients classified as confirmed TB, 18 had QFT-Plus (+) and 15 had QFT-Plus (-). In the remaining 189 patients (unconfirmed or unlikely TB), there were 27 QFT-Plus (+), 161 QFT-Plus (-) and one indeterminate QFT-Plus results. Of note, seven out of 96 (7.3%) unlikely TB patients had a QFT-Plus (+) result and would have met the criteria of the unconfirmed TB category if the QFT-Plus result were used as immunologic evidence for Mtb infection. Sensitivity, both overall and in subgroups of pulmonary TB only (PTB), extra-pulmonary TB (EPTB) only, and both PTB and EPTB were calculated.
In the study, extra-pulmonary TB (EPTB) was confirmed by a histology result suggestive for TB from a sample collected at an extra-thoracic lesion. Patients who had both sputum culture positive for Mtb and a positive histology result were classified as having both Pulmonary TB (PTB) PTB and EPTB. Acid-fast bacilli (AFB) sputum smears were performed using the Ziehl-Neelsen (ZN) method. Sputum cultures were performed with liquid media using the Becton Dickinson BacTec MGIT 960 system. Xpert was performed on a GeneXpert Gx4 device. The QFT-Plus assay was performed on the BioTek ELx800 and ELx50 platforms.
The investigators reported that the overall sensitivity of QFT-Plus in their study (54.5%) was comparable with the sensitivity of QFT-Gold In-Tube (QFT-GIT). QFT-Plus sensitivity in PTB only, EPTB, and both PTB and EPTB patients was 84.2%, 14.3% and 14.3%, respectively. The QFT-Plus sensitivity was poor in pediatric patients with exclusive EPTB and concomitant PTB and EPTB. Although most of the QFT-Plus positive results were identified by both TB1 and TB2 responses, a higher positivity proportion was found with the TB2 antigenic response.
The authors concluded that the performance of QFT-Plus in children with confirmed TB in a high TB prevalence setting. Although the QFT-Plus assay had rather good sensitivity in the subgroup of patients with exclusive PTB, the assay had poor sensitivity in EPTB patients. The findings also indicated that the patient's age, history of previous TB disease, and TB-related abnormalities on chest radiography may be associated with a positive QFT-Plus result. The study was published on March 4, 2019, in the journal PLOS ONE.
Related Links:
Houston Methodist Research Institute