Myoglobin Gene Mutation Causes New Muscle Disease
By Labmedica International staff writers
Posted on 08 Apr 2019
The cause of myoglobinopathy, a newly described disease of the muscles, has been traced to a mutation in the gene that encodes for the protein myoglobin (MB).
Myoglobin, like hemoglobin (Hb), is a cytoplasmic protein that binds oxygen on a heme group. It harbors only one heme group, whereas hemoglobin has four. Although its heme group is identical to those in Hb, MB has a higher affinity for oxygen than does hemoglobin. This difference is related to its different role: whereas hemoglobin transports oxygen, myoglobin's function is to store oxygen. MB also acts as scavenger of free radicals and other reactive oxygen species, helping the cell to avoid damage caused by oxidative stress.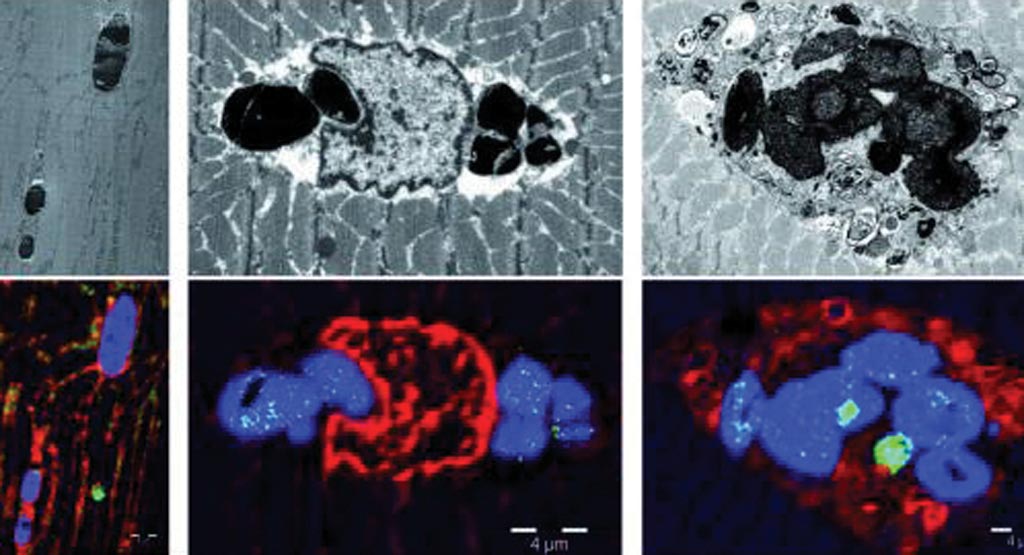 The newly characterized disease called myoglobinopathy manifests between the fourth and fifth decade of life. It causes a progressive weakness of the axial and limb muscles, and in more advanced stages affects the respiratory musculature and the heart.
Investigators at the Bellvitge Biomedical Research Institute (Barcelona, Spain) analyzed the genomes of fourteen members of six unrelated European families who displayed signs of myoglobinopathy. They identified an autosomal dominant myopathy with variable cardiac involvement and characteristic sarcoplasmic inclusions in skeletal and cardiac muscle that was linked to a recurrent substitution mutation in the MB gene.
Biochemical characterization revealed that the mutant myoglobin had altered oxygen binding, exhibited a faster heme dissociation rate, and had a lower reduction potential compared to wild-type myoglobin. Preliminary studies showed that effects of the myoglobin mutation caused elevated superoxide levels at the cellular level.
"This is the first time that a disease caused by a mutation in the myoglobin gene has been identified," said first author Dr. Montse Olivé, a physician and researcher in the institute of neuropathology at the Bellvitge Biomedical Research Institute. "We have identified the same mutation in several members of six unrelated European families, all of whom had the same symptoms and showed very characteristic lesions - called sarcoplasmic bodies - in muscle biopsies."
The genetic basis of myoglobinopathy was discussed in a paper published in the March 27, 2019, online edition of the journal Nature Communications.
Related Links:
Bellvitge Biomedical Research Institute