Paper-Based Technology Enables Malaria Detection
By Labmedica International staff writers
Posted on 21 Mar 2019
Populations living in remote rural communities would benefit from rapid, highly sensitive molecular, DNA-based diagnostics to inform the correct and timely treatment of infectious diseases.
Such information is also becoming increasingly relevant in global efforts for disease elimination, where the testing of asymptomatic patients is now seen as being important for the identification of disease reservoirs. However, healthcare workers face practical and logistical problems in the implementation of such tests, which often involve complex instrumentation and centralized laboratories.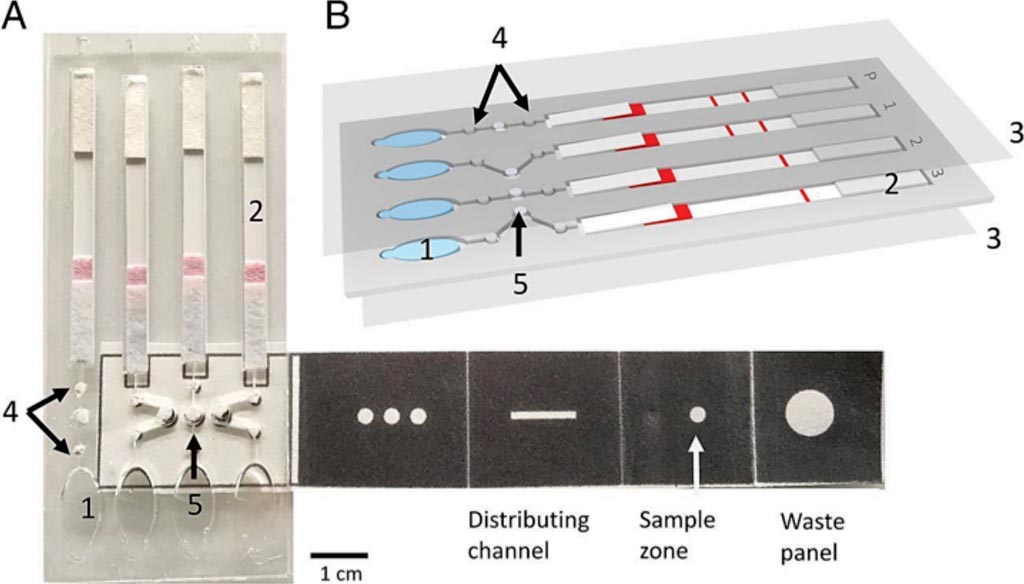 An international team of scientists led by the University of Glasgow (Glasgow, UK) developed a test that consists of origami paper-based microfluidic sample preparation using hot wax printing to form channels that either repel or attract blood moving through the structure by capillary force prior to detecting DNA that is specific to malaria. Almost all the cost for the platform in its current form is for the freeze-dried enzymes and reagents that are used to trigger an isothermal amplification event that makes the device sensitive enough to differentiate between disease pathogens, even when they are present at such low abundance that the individual is asymptomatic.
The investigators evaluated the performance of the device in 67 children age six to 12 in primary schools in districts in Uganda. They compared the effectiveness of the device against two standard field-based techniques, rapid lateral flow immunoassay diagnostic testing and light microscopy, and against a laboratory-based, real-time polymerase chain reaction (RT-PCR) assay conducted retrospectively. The test enabled the diagnosis of malaria species in whole blood.
The microfluidic device proved to be highly sensitive and specific, detecting malaria in over 98% of infected individuals in a double-blind, first-in-human study. The analytical sensitivity of the Plasmodium pan assay, which detects several Plasmodium species (including P. falciparum, P. malariae, P. vivax, and P. ovale), was 105 IU/mL after 45 minutes of amplification. The P. falciparum assay detected this species alone with a similar level of sensitivity as the Plasmodium pan assay. The new method was more sensitive than other field-based, benchmark techniques, including optical microscopy and rapid immunoassay diagnostic tests, both performed by an experienced local healthcare team and which detected malaria in 86% and 83% of cases, respectively.
The authors concluded that their results demonstrated that paper-based microfluidic devices can deliver precision diagnostics for malaria in low-resource, underserved settings with a sensitivity that is higher than that of the current malaria diagnostic tests used in the field (such as microscopy and RDTs) and with performance that is similar to that of a laboratory-based real-time PCR test. The study was published on February 19, 2019, in the journal Proceedings of the National Academy of the Sciences.
Related Links:
University of Glasgow