Lateral Flow RPA Assay Developed for Cryptococcus in CSF
By Labmedica International staff writers
Posted on 06 Mar 2019
The most common presentations of cryptococcosis are meningitis and meningoencephalitis. Cryptococcal meningitis (CM) is a subacute meningoencephalitis and the most common cause of adult meningitis with very high mortality rates as well as vision and hearing loss in survivors.
Early diagnosis and treatment of cryptococcosis reduces mortality. Lumbar puncture, also known as spinal tap, and cerebral spinal fluid (CSF) analysis should be performed in patients with suspected CM. The traditional methods for detecting Cryptococcus spp. such as India ink staining and culture are not ideal. Although sensitive and specific enough, detection of cryptococcal antigen polysaccharide has a high dose hook effect.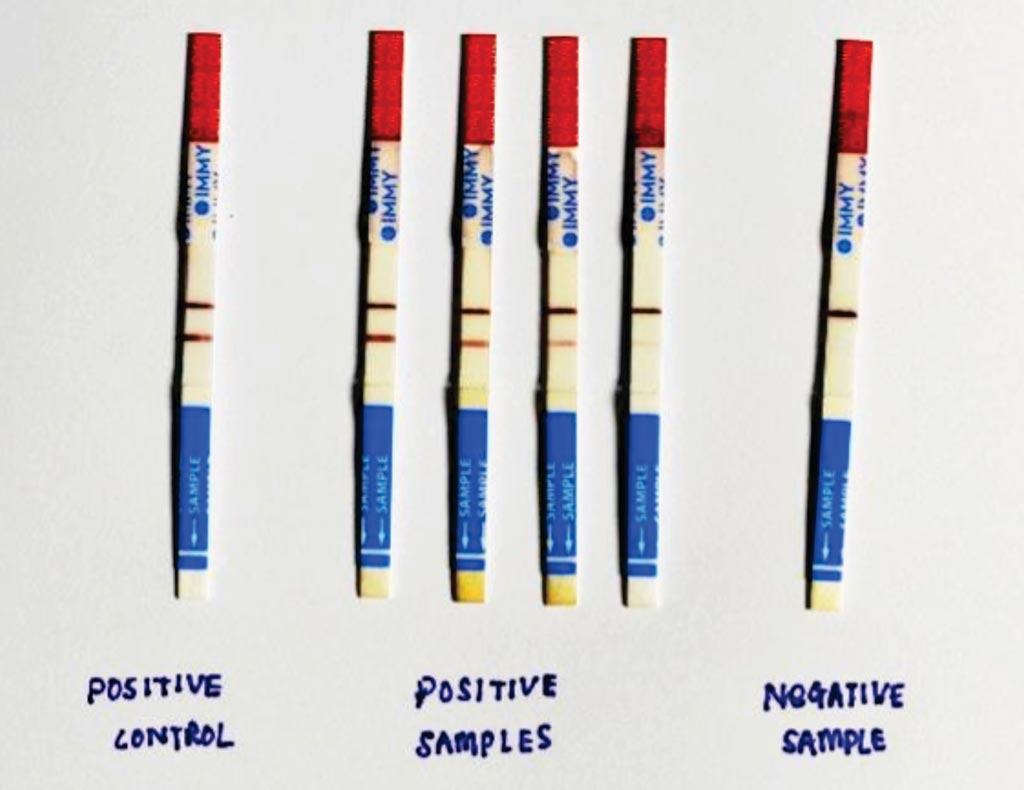 Scientists at the Southern Medical University Shenzhen Hospital (Shenzhen, China) and their colleagues developed and constructed lateral flow strips combined with recombinase polymerase amplification (LF-RPA) assay to detect the specific DNA sequences of C. neoformans and C. gattii. The detection limit was evaluated using serial dilutions of C. neoformans and C. gattii genomic DNA. The specificity was assessed by excessive amount of other pathogens genomic DNA. The optimal detection time and amplification temperature were also analyzed. The diagnostic parameters were first calculated using 114 clinical specimens and then compared with that of other diagnostic method.
The results of LF-RPA assay and "CrAg Lateral Flow Assay" were compared to that of culture and/or India ink staining. India ink staining and "CrAg Lateral Flow Assay" were performed using the "Cryptococcus neoformans stain kit" and "Cryptococcal Antigen Lateral Flow Assay Kit."
The team reported that the LF-RPA assay could detect 0.64 pg of genomic DNA of C. neoformans per reaction within 10 minutes and was highly specific for Cryptococcus spp. The system could work well at a wide range of temperature from 25 to 45 °C. The overall sensitivity and specificity were 95.2% and 95.8% respectively. As amplification template for LF-RPA assay, both cell lysates and genomic DNA produce similar experimental results. The detection limit of LF-RPA assay is slightly higher than that of "CrAg Lateral Flow Assay."
The authors concluded that their LF-RPA system was shown to be a sensitive and specific method for the visible, rapid, and accurate detection of Cryptococcus spp. in cerebral spinal fluid and might be useful for clinical preliminary screening of cryptococcal meningitis. The study was published on January 25, 2019, in the journal BMC Infectious Diseases.
Related Links:
Southern Medical University Shenzhen Hospital