Dengue Severity Predicted by Gene Expression Signature
By Labmedica International staff writers
Posted on 14 Feb 2019
About 400 million individuals annually are infected with any of the four dengue virus (DENV) serotypes and although the majority of symptomatic individuals present with acute dengue fever, a fraction, between ∼5% to 20% of these patients progress to severe dengue infection.
The greatest risk factor for severe dengue is secondary infection with a heterologous DENV serotype causing antibody-dependent enhancement (ADE), with variable contribution of aberrant activation of cross-reactive T cells. However, there are no usable prognostics to accurately predict which patients will progress to severe dengue.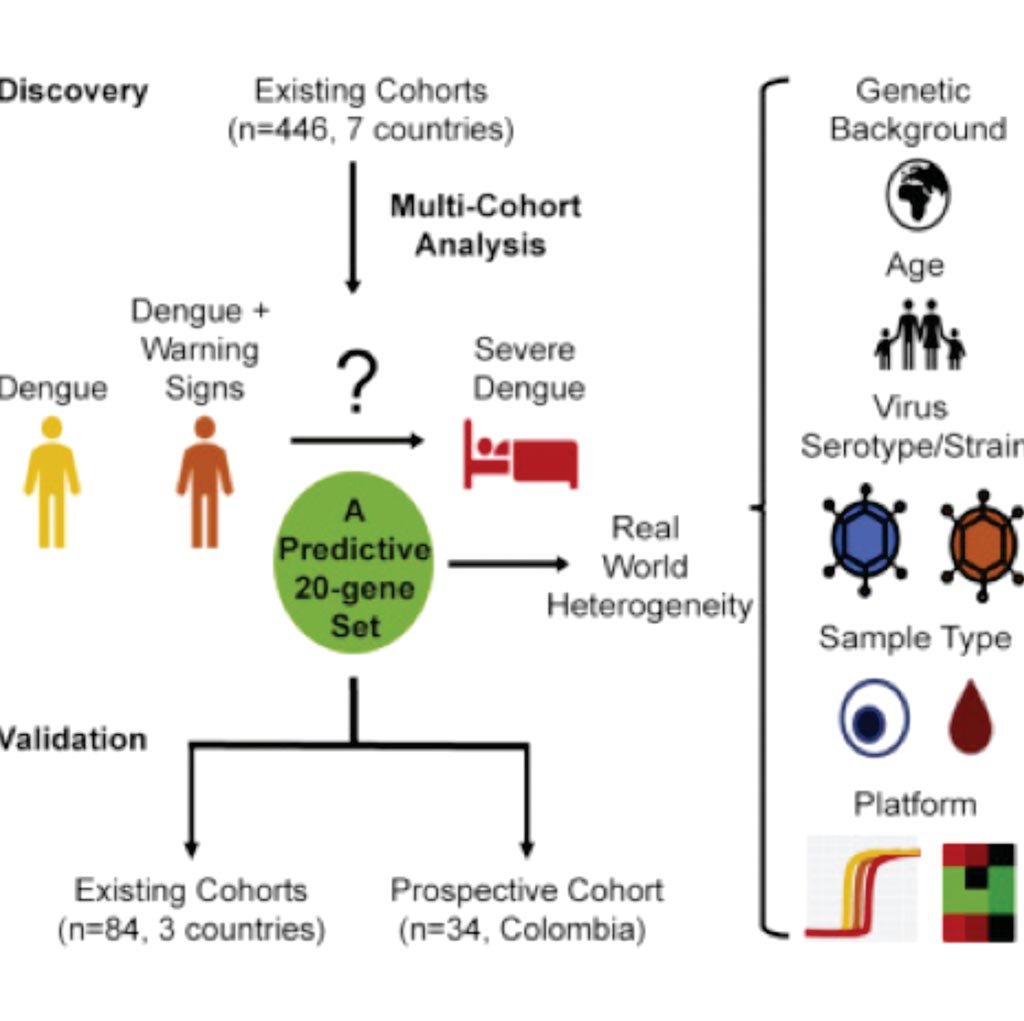 A team of scientists from Stanford University School of Medicine (Stanford, CA, USA) and their colleagues collected blood samples from individuals presenting to the emergency room or clinics in Cali, Colombia between March 2016 and June 2017. A positive dengue IgM antibody and/or NS1 antigen by the SD. BIOLINE Dengue Duo combo device test was included in the enrollment requirements.
To confirm the diagnosis of dengue and differentiate from infection with the co-circulating arboviruses, Zika virus and chikungunya virus, serum samples were screened with a qualitative, single-reaction, multiplex real-time reverse transcriptase polymerase chain reaction (rRT-PCR) that detects Zika, chikungunya, and dengue virus RNA. High-throughput microfluidic qRT-PCR assays was used to quantify the individual transcripts of the signature.
The team found that a 20-gene signature could discern severe dengue cases in retrospective studies involving 84 infected individuals from three countries and in a prospective analysis of longitudinal samples from nearly three dozen dengue patients from Colombia. In those cohorts, the investigators reported, the expression profiles of the 20 genes in question picked up severe dengue cases with 76% percent specificity and 100% sensitivity. If those results hold in future validation studies, they suggested that it may eventually be possible to pursue a prognostic assay that incorporates the blood-based expression signature.
The team concluded that their study revealed a set of 20 genes that are highly associated with the progression to severe dengue early in the disease. This gene expression prognostic approach should be considered for further validation in larger prospective cohorts that could be utilized for the development of the first prognostic assay for use in dengue endemic countries. The study was published on January 29, 2019, in the journal Cell Reports.
Related Links:
Stanford University School of Medicine