Padlock Probe Assay Detects and Subtypes Seasonal Influenza
By Labmedica International staff writers
Posted on 24 Jan 2019
Influenza remains a constant threat worldwide, and it is estimated that it affects 5% to 15% of the global population each season, with an associated three to five million severe cases and up to 500,000 deaths.
Modern influenza diagnostics are dominated by nucleic acid tests, which have replaced virus isolation and immunoassays, owing to their high sensitivity and specificity, and short turnaround times. Several commercial systems for influenza diagnostics are available, most of which are based on real-time polymerase chain reaction (RT-PCR).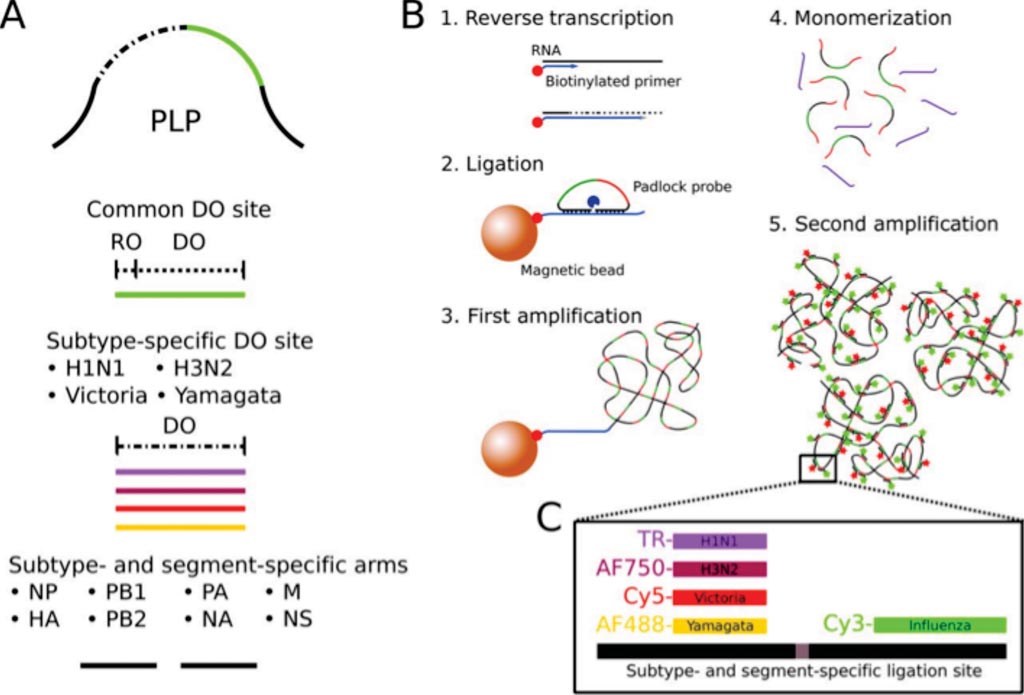 Scientists at Stockholm University (Stockholm, Sweden) and their colleagues developed a multiplexed assay for the detection and subtyping of seasonal influenza based on padlock probes and rolling circle amplification. The team collected 65 patient nasopharyngeal samples during the season 2016 to 2017 as part of routine diagnostics for respiratory virus infections at Karolinska University Hospital (Stockholm, Sweden). Fifteen of these samples were used for assay development, and 50 samples were used for assay validation.
The assay simultaneously targets all eight genome segments of the four circulating influenza variants, A(H1N1), A(H3N2), B/Yamagata, and B/Victoria, and was combined with a prototype cartridge for inexpensive digital quantification. Characterized virus isolates and patient nasopharyngeal swabs were used for assay design and analytical validation. The diagnostic performance was assessed by blinded testing of 50 clinical samples analyzed in parallel with a commercial influenza assay, Simplexa Flu A/B & RSV Direct.
For primer and probe optimization reactions, rolling circle amplification products (RCPs) were quantified by amplified single-molecule detection (ASMD) using the dedicated instrument Aquila 400. The team reported that the assay had a detection limit of 18 viral RNA copies and achieved 100% analytical and clinical specificity for differential detection and subtyping of seasonal circulating influenza variants. The diagnostic sensitivity on the 50 clinical samples was 77.5% for detecting influenza and up to 73% for subtyping seasonal variants.
The authors concluded that they had developed a padlock probe assay combined with an inexpensive digital readout for the detection and subtyping of seasonal influenza strains A and B. The demonstrated high specificity and multiplexing capability, together with the digital quantification, established the assay as a promising diagnostic tool for seasonal influenza. The study was published in the December 2018 issue of the journal Clinical Chemistry.
Related Links:
Stockholm University
Karolinska University Hospital