Dengue Virus IgM Serotyped by ELISA
By Labmedica International staff writers
Posted on 03 Jan 2019
Dengue virus (DENV) is an arthropod-borne flavivirus that is endemic in tropical and subtropical regions, causing hundreds of millions of infections annually. It is subdivided into four serotypes, DENV-1–4. After infection, patients have lifelong immunity against the homologous serotype but remain susceptible to infections with the others.
Such secondary infections have been shown to be a risk factor for severe dengue with life-threatening clinical manifestations, including dengue hemorrhagic fever or dengue shock syndrome. Thus, monitoring the serotype is essential for outbreak management, epidemiologic studies, and patient care. Analyses are often performed by using direct virus detection methods, such as polymerase chain reaction (PCR) and nonstructural protein 1 (NS1) antigen capture.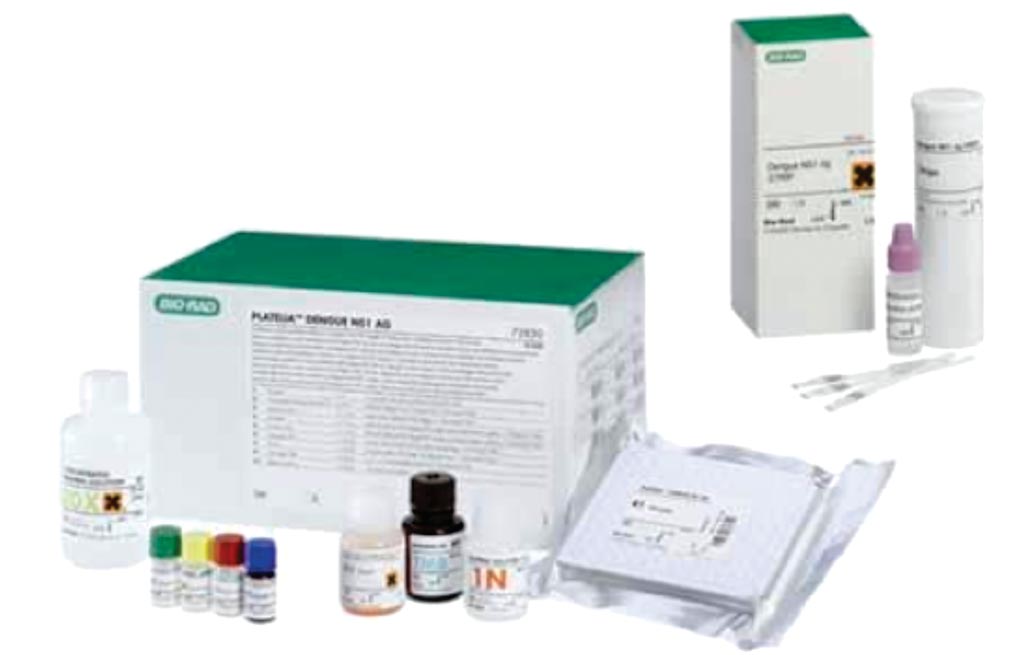 An international team of scientists collaborating with the Fraunhofer Institute for Cell Therapy and Immunology (Leipzig, Germany) acquired DENV PCR–confirmed and, thereby, serotype-classified serum samples that were divided into two groups: 45 returning travellers to Germany and Italy; and from persons residing in the DENV-endemic countries of 43 from Sri Lanka, 24 from Vietnam, five from Venezuela, and two from Brazil. They also had a set of 14 DENV PCR–negative, but NS1-positive serum samples from patients in Vietnam.
The team tested all serum samples with a DENV-specific enzyme-linked immunosorbent assay (ELISA) that used four recombinant DENV envelope proteins (one per serotype) containing four point mutations in and near the conserved fusion loop (called Equad proteins). All samples were positive for DENV immunoglobulin M (IgM). This Equad-based ELISA was previously shown to be capable of discriminating DENV from other flaviviruses.
The investigators reported that their results showed one dominant serotype for 91.1% of serum samples from returning travelers and 86.5% of serum samples from residents of DENV-endemic countries. Compared with samples from Vietnam, 15% fewer samples from Sri Lanka had a dominant serotype. Serum samples from patients in Sri Lanka cross-reacted only between serotypes 1 and 2. Overall, for 102/105 (97.1%) of samples with a dominant serotype, ELISA results corresponded with PCR results; for patients residing in endemic regions, 100% (64/64) of the sample results corresponded, and for returning travelers, 38/41 (92.7%) of the sample results corresponded.
The authors concluded that their results suggest that specific IgM serotyping can be achieved with an ELISA-based format when using as antigens DENV envelope proteins reduced in cross-reactivity. The test can be optimized further by, for example, varying the serum dilutions tested. By using IgM-based serologic tests, which have broad diagnostic windows, one can more accurately report epidemiologic outbreak findings. The study was published in the January 2019 issue of the journal Emerging Infectious Diseases.
Related Links:
Fraunhofer Institute for Cell Therapy and Immunology