POC Immune Response Test Cleared for Europe
By Labmedica International staff writers
Posted on 21 Nov 2018
A single-use, disposable test identifies patients who have a clinically significant underlying infection and aids in the differentiation of viral and bacterial acute respiratory infection (ARI) through the rapid detection of both Myxovirus resistance protein A (MxA) and C-reactive protein (CRP).
MxA is an intracellular protein that becomes elevated in the presence of acute viral infection and CRP is a nonspecific inflammatory protein that is elevated in the presence of any clinically significant infection. Thus, unlike a standalone CRP test, MxA confers specificity to the test through the combined interpretation of the results.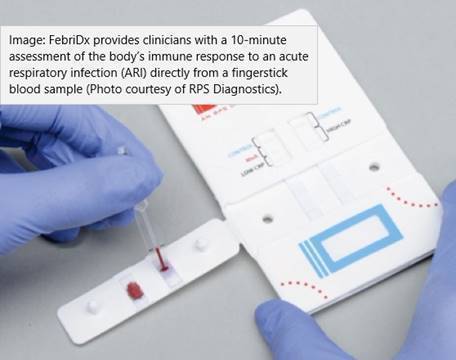 The FebriDx test (RPS Diagnostics, Sarasota, FL, USA) provides clinicians with a 10-minute assessment of the body's immune response to an acute respiratory infection (ARI) directly from a fingerstick blood sample. The updated FebriDx test incorporates an all-in-one plastic housing technology that includes a built-in safety lancet, blood collection and delivery system, and integrated push button buffer delivery feature, which together, improve test convenience. The FebriDx test requires no additional equipment to perform or to interpret results.
Through comprehensive analytical testing as well as a multicenter precision and reproducibility study, RPS Diagnostics successfully demonstrated equivalency to the previously CE marked version of the product. The timely FebriDx test results provide clinicians the ability to formulate a targeted clinical management and therapeutic decision plan during the initial patient encounter. Antibiotic misuse is a complex global problem that leads to antibiotic resistance, avoidable adverse events, and contributes to rising healthcare costs, largely driven by diagnostic uncertainty and patient pressure. More than 50% of all antibiotic prescriptions are unnecessary and are generated in the outpatient primary and urgent care setting. In a recent study in the UK, FebriDx was shown to alter clinical management decisions in 48% of patients tested and to reduce unnecessary antibiotic prescriptions by 80%. Each day that goes by without the implementation of a cost effective solution is exacerbating the current global antibiotic crisis.
The updated CE mark of the FebriDx test is clearing the way for its immediate launch in the European Union and all countries recognizing the CE mark. Robert Sambursky, MD, president and chief executive officer of RPS, said, "The elegance of the FebriDx test lies in its simplicity. It's equally important not to miss treating an underlying bacterial infection as it is withholding unnecessary antibiotics from patients with clinically insignificant or viral infection. FebriDx utilizes the body's own immune system to provide a broad, fast, accurate, and cost-effective method to identify patients who may benefit from appropriate antibiotic therapy."
Related Links:
RPS Diagnostics