Molecular Influenza and Streptococcus Tests Get FDA Clearance
By Labmedica International staff writers
Posted on 07 Nov 2018
Each year, a combination of influenza A and B virus strains circulate within the USA. The burden of influenza in the USA is currently estimated to be 9 to 36 million cases per year. The disease and its complications cause as many as 140,000 to 710,000 hospitalizations and 12,000 to 56,000 deaths annually. Influenza also poses a significant economic burden including medical care expenses and loss of productivity.
Pharyngitis, or inflammation of the pharynx causing sore throat, is diagnosed in 11 million patients in USA emergency departments and ambulatory settings annually. Group A Streptococcus (GAS) is the most common bacterial cause of acute pharyngitis, accounting for 15% to 30% of cases in children and 5% to 20% of cases in adults. GAS is easily and frequently spread among families and other close contacts via respiratory secretions, and infection peaks in the late winter and early spring.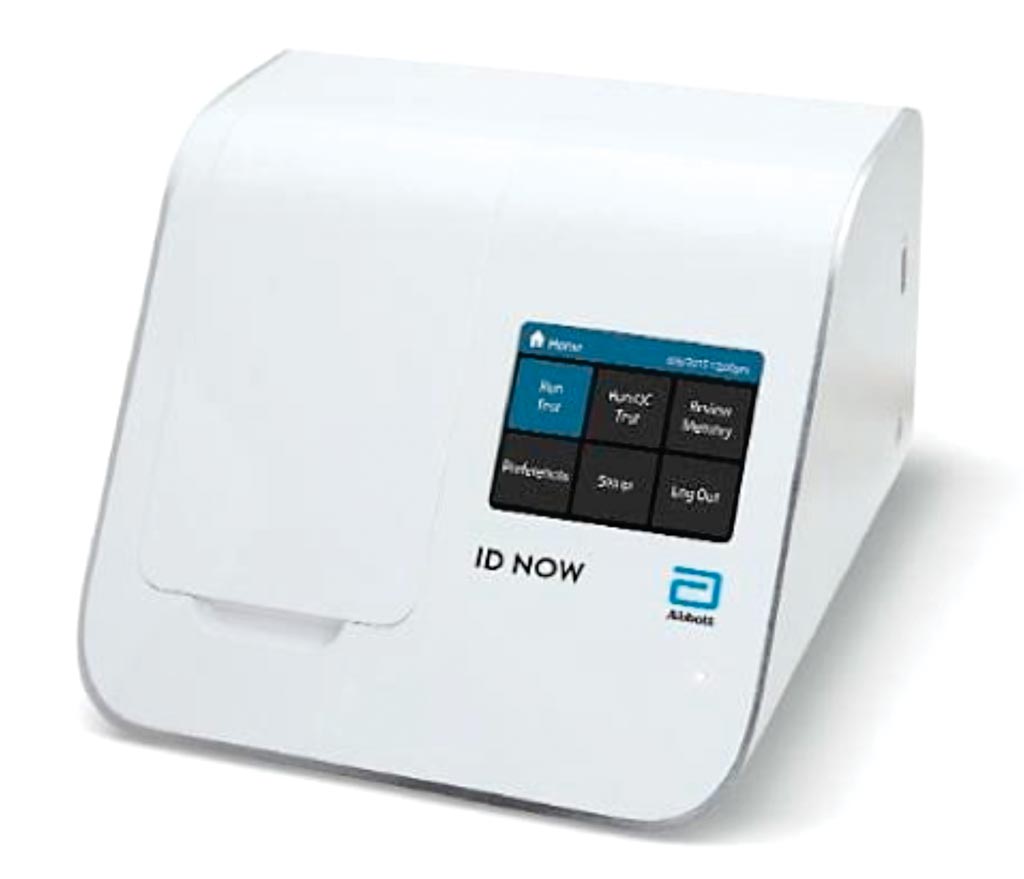 The US Food and Drug Administration (Silver Springs, MS, USA) have cleared next-generation Influenza A & B 2 and Strep A 2 molecular assays for point-of-care testing. The new assays enable fast time-to-results for molecular influenza A & B and Strep A testing at the point of care. Both assays have also been granted CLIA waivers and are available for use with the Abbott ID Now platform, formerly the Alere I, a rapid, instrument-based, isothermal nucleic acid amplification system for the qualitative detection of infectious diseases.
The Influenza A & B 2 assay provides point-of-care molecular detection and differentiation of influenza A and B virus in 13 minutes or less, and it calls out positive results in five minutes. The assay enables room temperature storage of all test components, which simplifies and streamlines test ordering and storage. The Strep A 2 test provides molecular detection of group A Streptococcus bacterial nucleic acid, the primary cause of bacterial pharyngitis, or sore throat, in six minutes or less, and it calls out positive results in two minutes. Culture confirmation is not required for negative results.
Gregory Berry, PhD, D(ABMM), director of molecular diagnostics at Northwell Health Laboratories (Lake Success, NY, USA), said, "Rapid testing may also help reduce improper antibiotic usage, which can occur when treatment is based exclusively on a patient's symptoms, and contributes to antibiotic resistance."
Related Links:
US Food and Drug Administration
Northwell Health Laboratories

Latest Microbiology News