Detection Method for Soil-Transmitted Helminth Eggs Optimized
By Labmedica International staff writers
Posted on 31 Oct 2018
Soil-transmitted helminths are a group of intestinal parasitic worms that infect humans through contact with infectious stages present in the soil. The main species are the giant roundworm (Ascaris lumbricoides), the whipworm (Trichuris trichiura), and the two hookworms (Necator americanus and Ancylostoma duodenale).
Standard diagnosis of human soil-transmitted helminth (STH) infections is based on the microscopic detection of helminth eggs in stool and supports programmatic decision-making in control programs. However, the current standard diagnostic techniques still show a number of limitations.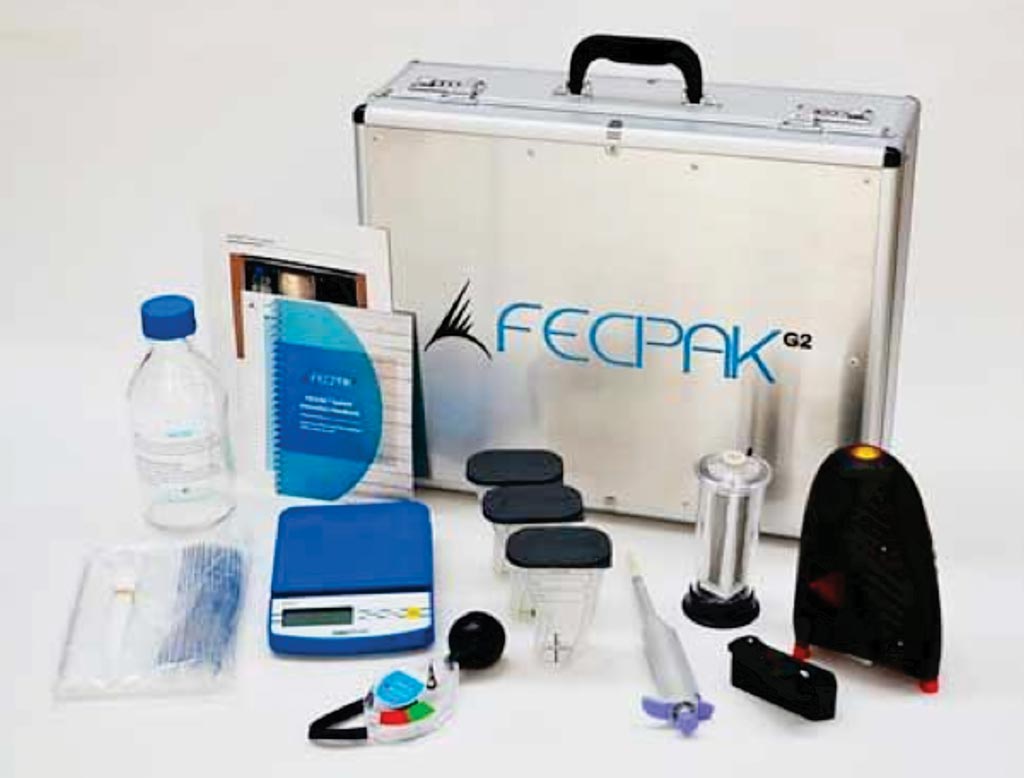 An international team of scientists working with those at Ghent University (Merelbeke, Belgium) collected stool samples from school-aged children (aged 5 to 14 years) from Brazil, Ethiopia, Laos and Tanzania and the stool samples were homogenized thoroughly using a spatula. After this, samples were screened for the presence of STH eggs and the fecal egg counts (FEC; expressed as eggs per gram of stool (EPG)) for the different STHs were determined using a single Kato-Katz thick smear.
The team optimized the sedimentation and accumulation steps in the FECPAKG2 procedure (Techion, Mosgiel, New Zealand) for the detection of human helminth eggs using stool samples from naturally infected children. The study evaluated two important steps in the FECPAKG2 SOP. Both the optimal sedimentation time in the FECPAKG2 sedimenter and the accumulation time in the FECPAKG2 cassettes of human STH eggs were determined.
The authors reported that the highest number of eggs were present in the slurry of the sedimenter after overnight sedimentation (Ascaris: 95.7%, Trichuris: 89.8% and hookworm: 94.2% of the eggs). A minimum of 24 minutes was needed to ensure the accumulation of at least 80% of the eggs from all three STH species in the FECPAKG2 cassette (Ascaris: 96.1%; Trichuris: 88.2% and hookworm: 87.6%).
Although more than 80% of the eggs of all three STH species had sedimented after one hour of sedimentation, the highest egg recovery rate was observed after overnight (ON) sedimentation. With exception of hookworms, with a borderline significance, the ON sedimentation time provided significantly higher egg recovery numbers compared to one hour sedimentation. However, recommending ON sedimentation in the FECPAKG2 standard operating procedure (SOP) for detecting STH eggs in human stool has some important practical implications that may not be ideal in a programmatic setting. The protocol established allows for a thorough and objective evaluation of the system as a diagnostic tool that shows potential for implementation in future STH control programs. The study was published on October 15, 2018, in the journal PLOS Neglected Tropical Diseases.
Related Links:
Ghent University
Techion

Latest Microbiology News