Urine Test Detects River Blindness Filarial Worm
By Labmedica International staff writers
Posted on 11 Sep 2018
River blindness is a filarial disease, like elephantiasis, and occurs when the parasitic worm Onchocerca volvulus takes up residence in the skin. Adult worms deposit microfilaria at an alarming rate, which are ultimately re-spread by blackfly bites.
The microfilariae can migrate to the eye and die, releasing toxins and causing inflammation. People with the disease will slowly go blind without medical intervention. The current gold standard for detecting the parasitic worms is a "skin snip" biopsy. However, snips are generally insensitive indicators of infection, and the sensitivity of the skin snip decreases as the density of microfilaria in the skin decreases. Other tests cannot distinguish between past and current infections.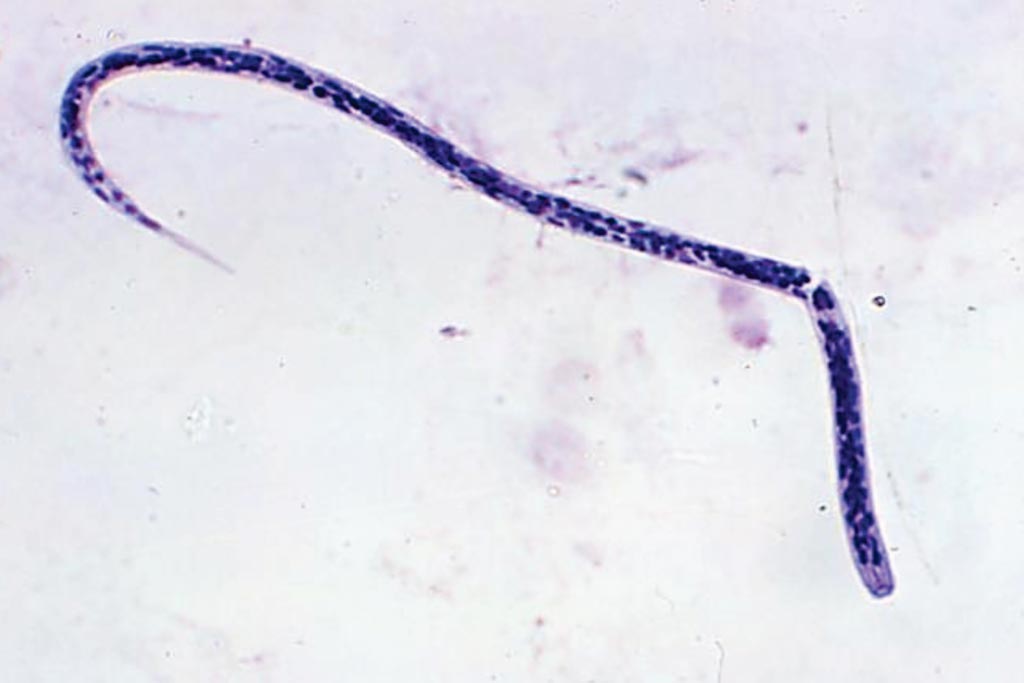 Scientists at the Scripps Research Institute had previously reported the discovery of the biomarker N-acetyl-tyramine-O-glucuronide (NATOG) in human urine samples and its ability to track treatment progression between medicated patients relative to placebo; they also established its capability to monitor disease burden in a jird model. NATOG is a human-produced metabolite of tyramine, which itself is produced as a nematode neurotransmitter.
The team took over 10 years to develop a new lateral flow assay (LFIA), but it is now ready for manufacturing and testing in the field. The key to the assay's success was in the making of designer antibodies to detect a unique biomarker that only shows up when a human host has metabolized a worm neurotransmitter called tyramine. Humans then secrete this biomarker in urine. A negative on the "dipstick" test shows a colored line in the test. If the patient has the parasite, the test would show no lines. The urine LFIA for onchocerciasis accurately identified 85% of analyzed patient samples.
Kim D. Janda, PhD, a Professor of Chemistry and senior author of the study, said, "Unlike the skin snip biopsy, this non-invasive test is the first to use a metabolite produced by adult worms. Moreover, the dipstick's inexpensive design, coupled with smartphone apps, would offer automatic image processing, which ultimately could translate to address critical gaps in the surveillance and treatment of river blindness." The study was published on August 24, 2018, in the journal ACS Infectious Diseases.
Related Links:
Scripps Research Institute