Ultra-Sensitive Rapid Test Evaluated for Malaria
By Labmedica International staff writers
Posted on 05 Apr 2018
In low prevalence regions, subpatent Plasmodium falciparum malaria infections have become an issue of increasing concern. As malaria endemic countries shift from control to elimination, the proportion of low-density P. falciparum infections increases.
Current field diagnostic tools, such as microscopy and rapid diagnostic tests (RDT), with detection limits of approximately 100 to 200 parasites/µL (p/µL) and 800 to1000 pg/mL histidine-rich protein 2 (HRP2), respectively, are unable to detect subpatent infections.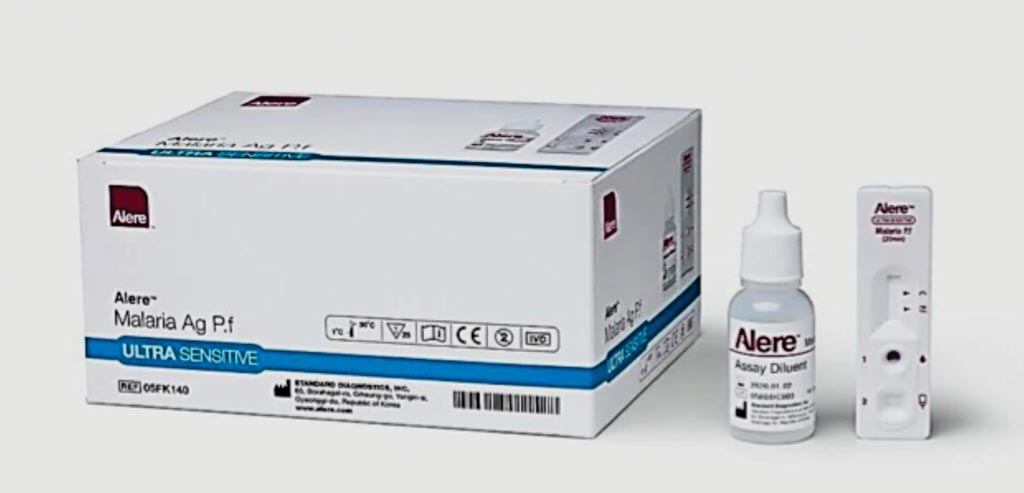 Scientists at Diagnostics Program, PATH (Seattle, WA, USA) tested two commercial available RDTs. The two RDTs are immunochromatographic membrane strip tests, but differ in that the ultra-sensitive (uRDT) one uses biotinylated and carboxyl-modified latex fragment antibodies (FAbs) and polystreptavidin bound to the test line to detect P. falciparum-specific HRP2 in whole blood. The uRDT test requires 5 µL of whole blood specimen and the blood is applied to the sample port in the test followed by application of four drops of assay diluent. Twenty minutes after application of the specimen, the result is interpreted from the result window.
The uRDT used was the Alere Malaria Ag P.f RDT and was compared to the BIOLINE Malaria Ag P.f RDT. The team reported that the uRDT detected dilutions of P. falciparum recombinant strains, as well as cultured strains, diluted in whole blood down to 10 to 40 pg/mL HRP2, depending on the protein tested. The uRDT specificity was 100% against 123 archived frozen whole blood samples. The commercial SD-RDT and uRDT detected pfhrp2 positive strains down to 49 and 3.13 p/µL, respectively. The pfhrp2 deletion strains were detected down to 98 p/µL by both tests.
The authors concludes that the performance of the uRDT was variable depending on the protein, but overall showed a greater than 10-fold improvement over the SD-RDT. The uRDT also exhibited excellent specificity and showed the same cross-reactivity with HRP3 as the SD-RDT. Together, the results support the uRDT as a more sensitive HRP2 test that could be a potentially effective tool in elimination campaigns. The study was published on March 17, 2018, in the Malaria Journal.
Related Links:
Diagnostics Program, PATH

Latest Microbiology News