Portable Quadruplex PCR System Unveiled
By Labmedica International staff writers
Posted on 08 Mar 2018
An early-access program for a portable real time quantitative polymerase chain reaction (qPCR) system has been launched. The platform weighs one kilogram and can run quadruplex qPCR on each of four samples simultaneously.
The system combines low-light complementary metal–oxide–semiconductor, or CMOS, biosensors with microfluidics to miniaturize medical devices at a reduced cost. The system is initially targeting the platform toward the research and applied markets, and eventually diagnostics.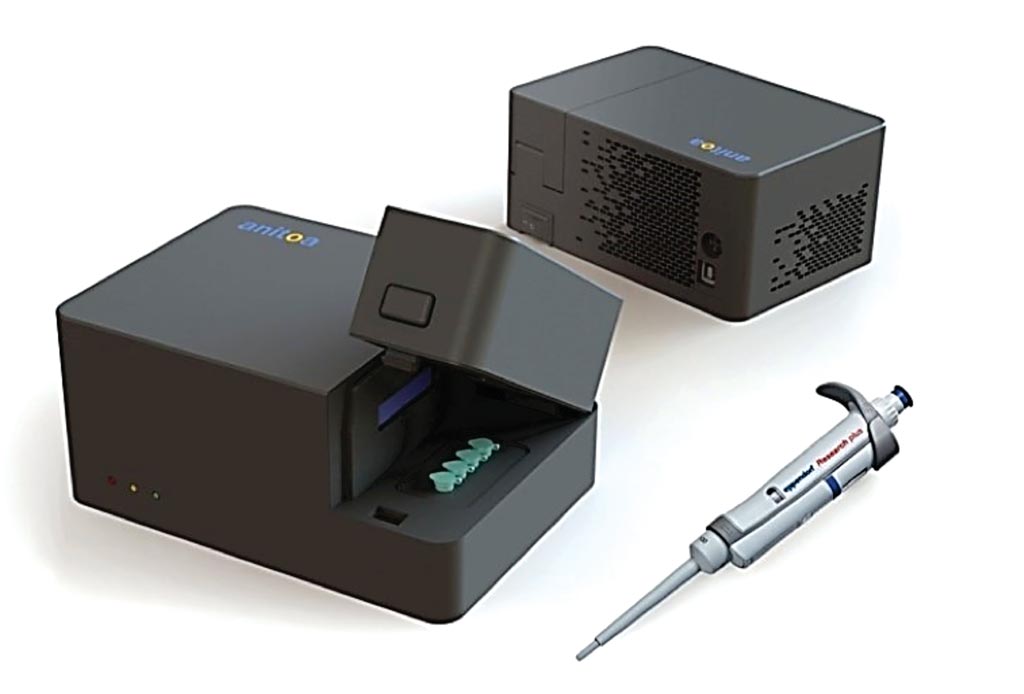 The system is called Maverick (Anitoa Systems, Menlo Park, CA) and is an ultra-portable, Bluetooth(R) 2.0 enabled qPCR system that is compatible with standard qPCR assays, with up to 4-channel multiplexing. Target applications are rapid, on-the-site nucleic acid test of infectious diseases; blood screening; food safety and environmental monitoring. Maverick features a 4-channel fluorescence optical system based on Anitoa ULS24 Ultra-low light Bio-imaging chip. With no internal moving parts, Maverick is rugged and requires no calibration to operate.
In terms of the thermal cycler itself, the instrument uses standard Peltier cycling, but Anitoa has adapted techniques from the computing industry to miniaturize its systems. For example, it used technologies to manage heat that are commonly used in handset manufacturing, and heat sink innovations from the personal computing industry. Overall, the system can heat at 5° C per second and cool at 4° C per second, enabling a sub-30-minute test cycle. The Maverick is different from some of the other available systems in that it is real-time PCR, so it is quantitative, and it can be multiplexed with optical channels enabling detection of up to four targets per tube. The company plans for a commercial release of the Maverick in the summer, and is currently supplying beta products as part of its early-access program.
Zhimin Ding, PhD, the CEO of Anitoa Systems, said, "Our system is a direct imaging system, so there is no need for calibration in the field. Subsequent image analysis software quantifies the reaction. In contrast, in systems that use a photodiode to pick up signal, alignment of the diode and tubes needs to be accurate, and re-calibrated if the machine is jolted or shaken. Compared to other systems, the Maverick is lighter and more portable, and, since Anitoa controls the manufacture of its optical components, it can be more cost competitive than a number of other systems. It will cost between USD 3,500 and USD 6,000, depending on the number of optical channels a customer needs in the instrument." The device was shown at the Molecular Medicine Tri-Conference held February 11-16, 2018, in San Francisco, CA, USA.
Latest Microbiology News