Immunoassay Monitors Parasite Persistence in Chagas Disease
By Labmedica International staff writers
Posted on 01 Mar 2018
The Trypanosoma cruzi parasite is the causative agent of Chagas disease, and infects about six million individuals in more than 20 countries. Monitoring parasite persistence in infected individuals is of utmost importance to develop and evaluate treatments to control the disease.
In the absence of specific clinical signs, several techniques have been proposed to evaluate the treatment efficacy of Chagas disease including serological assays and the detection of the parasite in blood by polymerase chain reaction (PCR). Among these techniques, PCR has shown promising results for assessment of anti-parasitic therapy failure, but not therapy efficacy.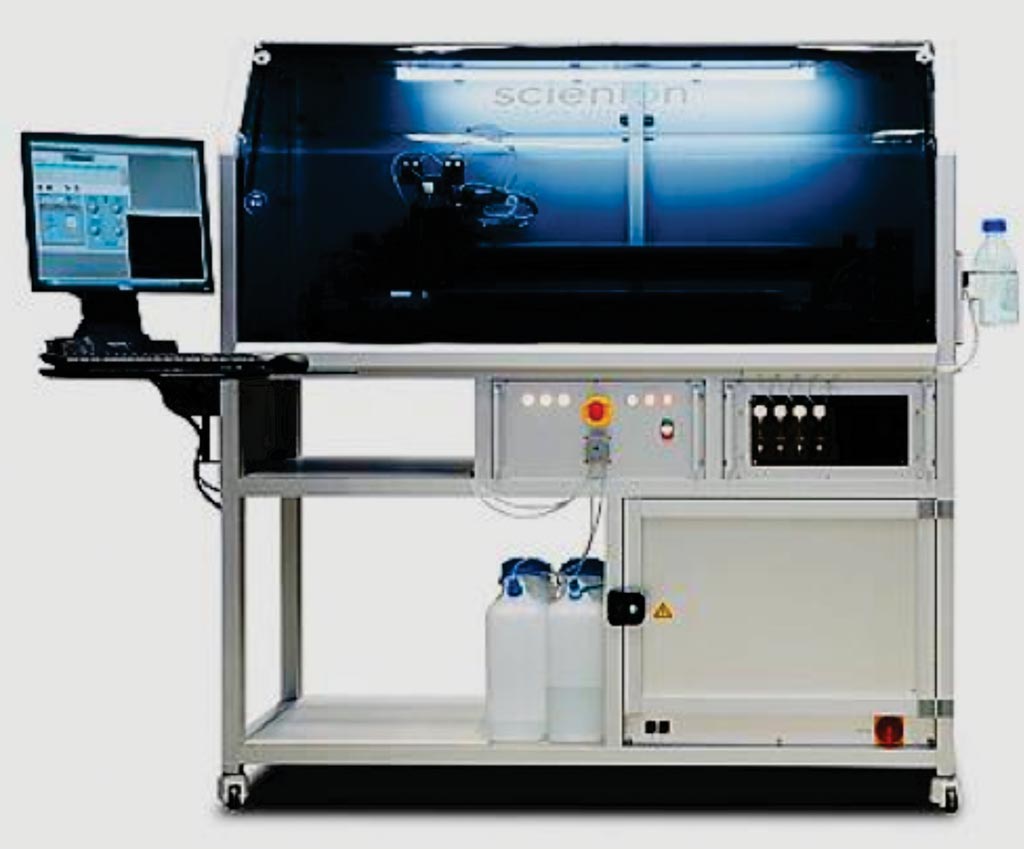 An international team of scientists led by those at INFYNITY BIOMARKERS SAS (Lyon, France) designed a multiplex serology assay, an array of fifteen optimized T. cruzi antigens, to evaluate antibody diversity in 1,654 serum samples from chronic Chagas patients. This included 1,199 patients without self-reported previous treatment or 455 with a history of benznidazole (BZN) treatment. Among these treated patients, the reported treatment history ranged from one year to ten years prior to accrual.
The assay used in the study was an extended version of the MultiCruzi confirmatory assay. The team used the sciFLEXARRAYER system (SCIENION, Berlin, Germany) to print fifteen T. cruzi antigens, selected for their proven immunogenic properties, in duplicates in each well of a 96-well plate. The coating of antigens and the enzyme-linked immunosorbent assay (ELISA) were carried out. The target-capture real-time (RT) PCR assay used in this study was developed based on the PCR method that targets satellite T. cruzi DNA. DNA extraction and concentration was improved through use of a target capture step that employed magnetic beads coated with T. cruzi-specific 20-mer capture oligonucleotides.
The scientists found one specific antibody response (antibody 3, Ab3) showed a strong correlation with T. cruzi parasite persistence as determined by T. cruzi PCR positive results. High and sustained Ab3 signal was strongly associated with PCR positivity in untreated patients, whereas significant and progressive decline in Ab3 signals was observed in BZN-treated patients who cleared parasitemia based on blood PCR results. Ab3 was reactive in 98% of T. cruzi seropositive (PCR negative and PCR positive) samples.
The authors concluded that Ab3 is a new surrogate biomarker that strongly correlates with parasite persistence in chronic and benznidazole-treated Chagas patients. They hypothesized that Ab3 is induced and maintained by incessant stimulation of the immune system by tissue-based and shed parasites that are not consistently detectable by blood based PCR techniques. Hence, a simple immunoassay measurement of Ab3 could be beneficial for monitoring the infectious status of seropositive patients. The study was published on February 9, 2018, in the journal Public Library of Science Neglected Tropical Diseases.
Related Links:
INFYNITY BIOMARKERS
SCIENION

Latest Microbiology News