Immunoassay Developed for Acute Typhoid Fever
By Labmedica International staff writers
Posted on 05 Jul 2017
Salmonelloses are a group of potentially fatal bacteremias caused by different serovars of Salmonella enterica. Typhoid fever (TF) caused by the human-specific serovar S. typhi, is a global health problem, especially in developing countries.
Accurate diagnosis of salmonellosis remains a challenge in endemic settings. Clinically, initial presentation with typhoid or non-typhoid Salmonella (NTS) disease is usually with non-differentiating fever alone, and often without symptoms of gastroenteritis that would indicate a Salmonella infection.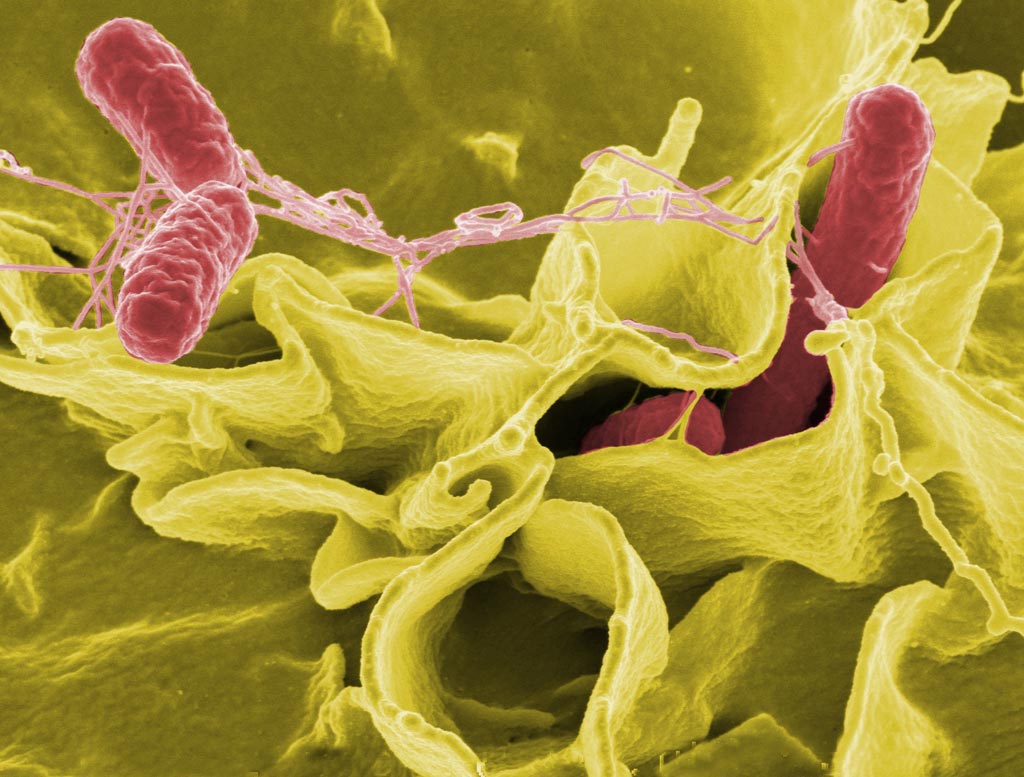 An international team of scientists led by those at the University of California Irvine (Irvine, CA, USA) designed a retrospective study was using a convenience series of sera samples from Nigerian pediatric febrile cases and healthy controls, as well as other infectious diseases from other locations outside Nigeria. The Nigerian samples were collected between 2009 and 2014 from children aged eight months to 13 years (median approximately 4 years) who presented to primary or secondary health centers in central and northwest Nigeria with an acute febrile illness and other symptoms that were suggestive of bacteremia.
Blood was obtained aseptically from a peripheral vein for blood culture and simultaneously an aliquot for serum separation was saved. Bacteria were identified by morphology, and for Enterobacteriacae, by use of an API 20 E rapid identification system. Lipopolysaccharides microarrays were obtained from various species and printed on Oncyte Avid nitrocellulose-coated glass slides using an Omnigrid 100 array printer, and printed at a concentration of 0.1 μg/mL. Immunoglobulin A (IgA), IgM and IgG enzyme-linked immunosorbent assays (ELISAs) using S.enterica serovar Typhi (S. typhi) lipopolysaccharide (LPS) and hemolysin E (t1477) protein were conducted.
The scientists found that the most expedient discrimination was achieved between TF and healthy children. LPS-specific IgA and IgM provided receiver operator characteristic areas under the curve (ROC AUC) values of 0.963 and 0.968, respectively, and 0.978 for IgA+IgM combined. Similar performance was achieved with t1477-specific IgA and IgM (0.968 and 0.968, respectively; 0.976 combined). Importantly, discrimination between TF and children with other infections was maintained by LPS-specific IgA and IgM (AUC = 0.903 and 0.934, respectively; 0.938 combined), and slightly reduced for IgG (0.909), while t1477-specific IgG performed best (0.914).
The authors concluded that the key finding concerns LPS. This is a common cell-wall component present in many bacterial species. Yet despite this, S. Typhi LPS-specific IgA and IgM are excellent markers of acute TF in Nigerian children, and insensitive to other non-salmonelloses. This surprising finding suggests a rapid point-of-care test for TF can be developed based on detection of LPS-specific IgA+IgM. The study was published on June 22, 2017, in the journal Public Library of Science Neglected Tropical Diseases.
Related Links:
University of California Irvine
Latest Microbiology News