Paper Strip Test Detects Hypothyroidism Using Small Drop of Blood
By LabMedica International staff writers
Posted on 22 May 2023
The thyroid hormone plays a crucial role in infants' brain and nervous system development, facilitating normal functions of the heart, muscles, and other organs. It also regulates energy usage and storage within the body, as well as growth. In cases of congenital hypothyroidism, where the thyroid gland is underactive or non-existent, the body attempts to compensate by overproduction of thyroid-stimulating hormone (TSH). Early detection of congenital hypothyroidism in newborns can be the deciding factor between a normal, healthy life and a life marred by disabilities. Now, a new low-cost screening tool has been developed that is capable of detecting unusually high TSH levels, indicating dysfunction pointing to congenital hypothyroidism.
Thyroxine (T4) is fundamental to the growth of all body systems, including brain and muscle development. A T4 deficiency in early life could cause permanent developmental delays if not treated promptly, underscoring the importance of early detection. Unfortunately, affordable and easily accessible testing solutions are scarce in many resource-poor areas worldwide. Babies with congenital hypothyroidism appear normal at birth, devoid of any apparent disorder symptoms, which makes the absence of widespread screening programs a significant impediment to treatment in resource-limited settings.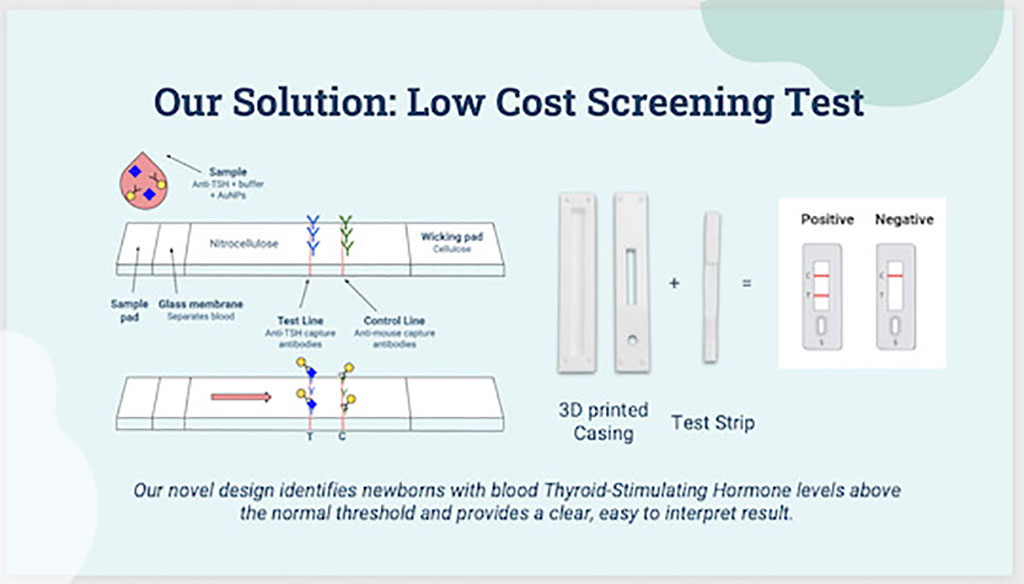 In order to find a diagnostic solution to this disease that severely impacts children born in regions lacking adequate testing, a team of students at Rice University (Houston, TX, USA) came together and designed a point-of-care, paper-based test that could aid those in resource-poor areas globally. Drawing on the design of the at-home COVID-19 test, the team developed an easy-to-interpret test that only needs a small blood sample. They also designed a 3D-printed case to enhance portability and minimize infection risk.
In resource-poor areas, the lack of infrastructure for widespread infant testing complicates early detection in terms of both cost and access. This device could potentially reduce the overall cost of screening and offer a versatile platform capable of facilitating accessible screening for other forms of thyroid dysfunction that can occur later in life. A remarkable aspect of this screening tool is its adaptability to various ages and other conditions apart from congenital hypothyroidism.
According to Jasmine Nejad, the team's faculty mentor and a global health lecturer at the Rice360 Institute for Global Health Technologies, the point-of-care, paper-based test "has the potential to impact the lives of thousands of people every year, especially in low-resource areas, allowing for early treatment and preventing the permanent disabilities that can result from untreated congenital hypothyroidism."
Related Links:
Rice University 
Other channels