Genetics Influence Risk for Spontaneous Coronary Artery Dissection
By LabMedica International staff writers
Posted on 14 Sep 2020
Spontaneous coronary artery dissection (SCAD) is an increasingly recognized cause of myocardial infarction (MI) in young and otherwise healthy women, for which the etiology is incompletely understood.
SCAD is defined as a non-traumatic, non-iatrogenic, and non-atherosclerotic separation of the coronary arterial wall by intramural hemorrhage, most often elicited by spontaneous intimal tear or rupture of vasa vasorum, causing accumulation of intramural hematoma that compresses the true arterial lumen, resulting in compromised coronary artery blood flow and MI.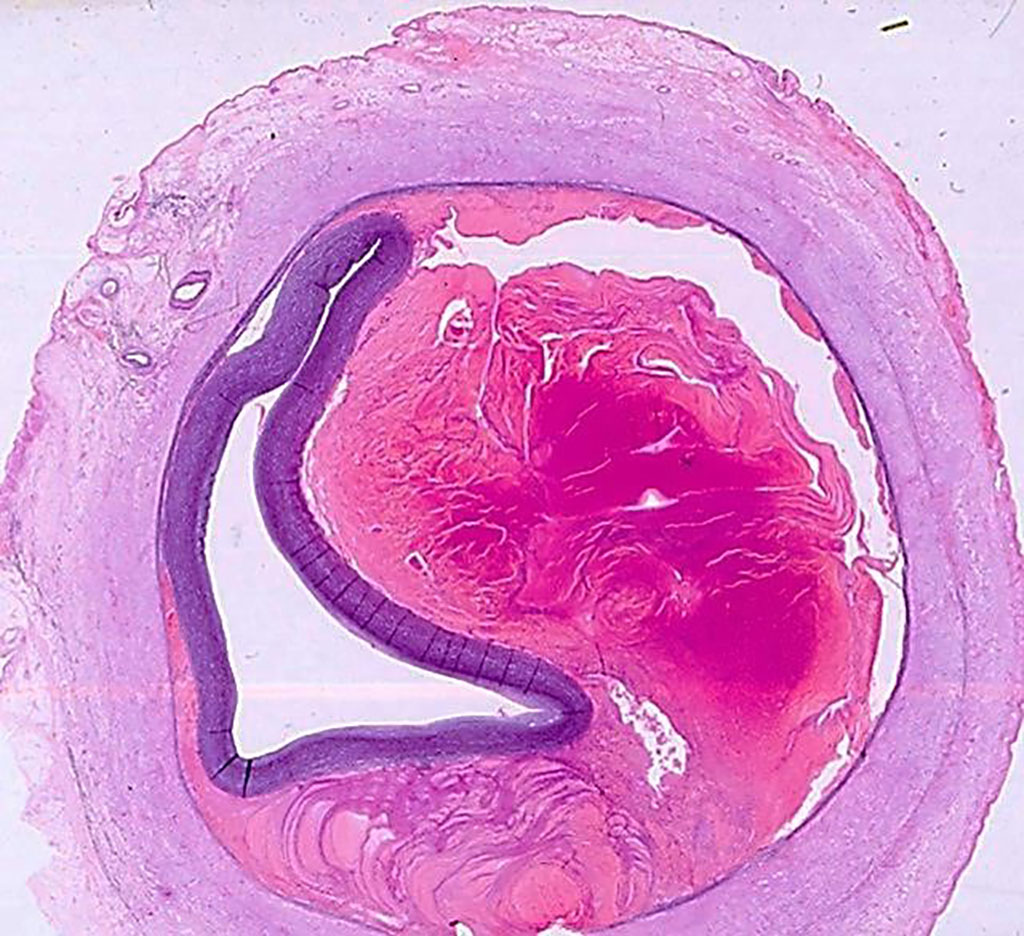 Cardiologists at the University of Michigan Medical School (Ann Arbor, MI, USA) and their international colleagues performed a genome-wide association study, analyzing millions of genetic markers in patients with SCAD and healthy controls. Genotyping of the different cohort samples were conducted by the University of Michigan DNA Sequencing Core using the Illumina Infinium HTS Assay Protocol, a semi-custom Infinium CoreExome-24v1.1 BeadArray with 607,778 SNP markers, and the Illumina GenomeStudio v2011.1 (Illumina, San Diego, CA, USA).
The investigators found a significant association of several specific genetic regions associated with SCAD, which further implicated specific genes influenced by the identified genetic variants. They identified and replicated an association of rs12740679 at chromosome 1q21.2 influencing
ADAMTSL4
expression. In addition, they reported that the genetic risk factors for SCAD also predict SCAD among individuals with fibromuscular dysplasia, or FMD, a vascular disease that may affect any artery in the body and is found in some patients with SCAD. Many people with FMD also lack traditional risk factors underlying atherosclerosis, like high blood pressure and diabetes, but still may be at risk for vascular complications such as arterial aneurysms and dissections. The SCAD risk alleles were positively associated with migraine headache, which highlights a shared genetic basis for migraine headache and SCAD.
Santhi Ganesh, MD, an Associate Professor of Internal Medicine and senior study author, said, "As a physician caring for patients with both FMD and SCAD, it is gratifying to see results from our studies that are beginning to uncover the genetic architecture and risk for these diseases about which so little is known."
Jacqueline Saw, MD, FRCPC, FACC, an Interventional Cardiologist at the Vancouver General Hospital (Vancouver, BC, Canada) and co-lead author of the study, said, ""Identifying these genetic risk alleles helps further advance our understanding of risks of SCAD. Whether these findings have implications for SCAD in high-risk populations, such as those with peripartum SCAD is an important next step to study."
The authors concluded that their findings support a hypothesis of vascular pleiotropy with sex-dimorphic effects and warrant further investigation to understand targets for mitigating MI risk due to diverse vascular pathobiology. The study was published on September 4, 2020 in the journal
Nature Communications.