HbA1c Point-of-Care Test Reliably Diagnoses Diabetes
By Labmedica International staff writers
Posted on 11 Apr 2019
Glycated hemoglobin is a form of hemoglobin that is covalently bound to glucose. It is formed in a non-enzymatic glycation pathway by hemoglobin's exposure to plasma glucose.
By measuring glycated hemoglobin (HbA1c), clinicians are able to get an overall picture of what the average blood sugar levels have been over a period of weeks/months. Point-of-care (POC) hemoglobin A1c (HbA1c) testing has advantages over laboratory testing, but some questions have remained regarding the accuracy and precision of these methods.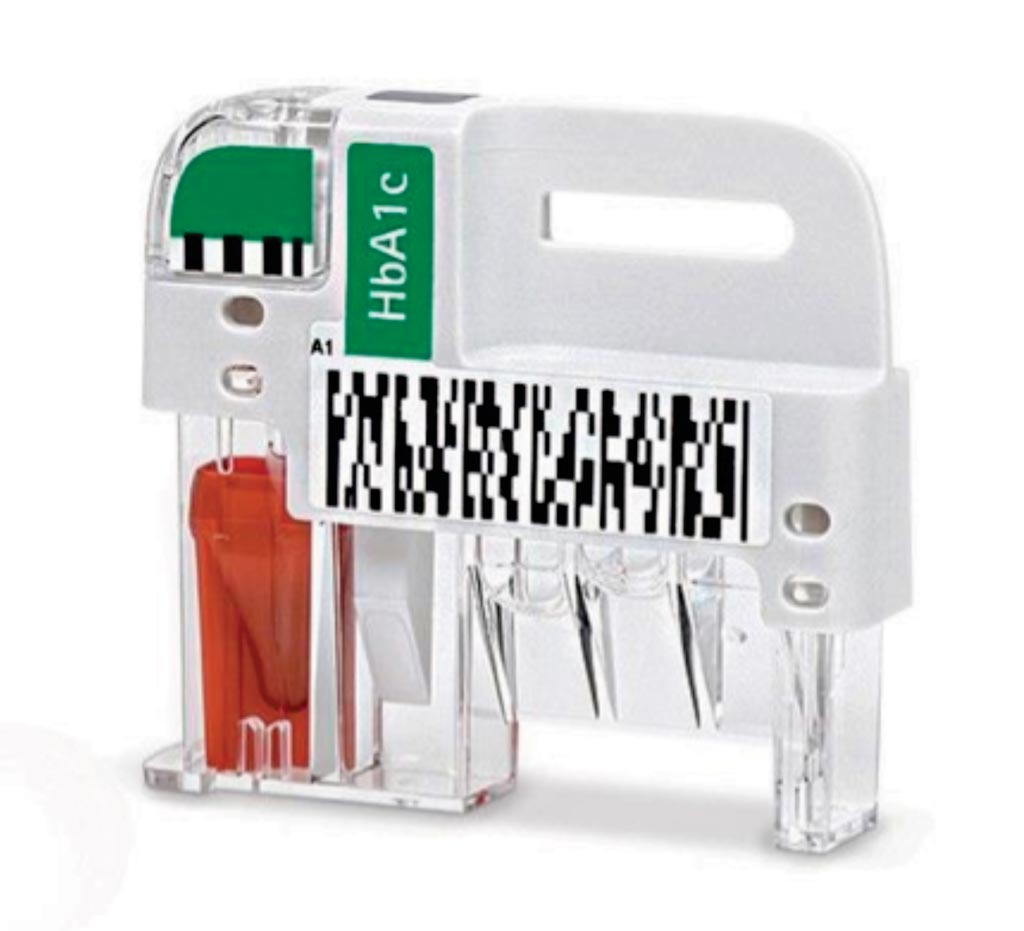 Scientists collaborating with Abbott Rapid Diagnostics (San Diego, CA, USA) carried out a prospective and observational study using samples from 120 adults (mean age, 57 years; 56% women) across a range of HbA1c levels (4%-15%) that were taken by finger stick at three clinical sites in the USA. Four groups were formed based on HbA1c levels and categorized as low (4%-5.99%), threshold (6%-6.99%), medium (7%-9.99%) and high (more than 10%).
Venous blood samples were also taken from each participant, and three from each HbA1c group were analyzed using a POC test. The POC test assessed in the study was the Afinion HbA1c Dx test (Alere Technologies, Waltham, MA, USA). The precision of the POC test using venous blood was evaluated from samples run in four replicates on each of three test cartridge lots, twice per day for 10 consecutive days. The SD and CV by study site and overall were calculated.
The investigators found that using the point-of-care test with finger-stick and venous blood samples was "highly correlated" with the National Glycohemoglobin Standardization Program (NGSP) values. They also noted small bias results when comparing point-of-care testing by finger-stick testing (mean differential bias, –0.021%) and venous blood samples (mean differential bias, –0.005%). In addition, 97.5% of results from the finger-stick point-of-care tests and 97.1% of the venous blood point-of-care tests fell within 6% of the reference method from the Diabetes Control and Complications Trial. At least 92.5% of results are currently required to fall within this range by the NGSP, although the program will adjust the requirements to be 90% within 5% of the reference result this year. They noted that 95% of the finger-stick point-of-care test results and 93.3% of the venous blood POC test results fell within 5% of the reference in these new requirements.
The authors concluded that point-of-care HbA1c testing has the potential to expand patient access to diabetes diagnostic testing and expedite medical decisions and interventions aimed at the prevention of diabetes and its complications, particularly for those who face challenges in accessing traditional health care settings or attending multiple laboratory and physician follow-up appointments. The study was published on March 10, 2019, in the Journal of Diabetes Science and Technology.
Latest Clinical Chemistry News