Liquid Biopsy Potential Tested with ddPCR Technology
By Labmedica International staff writers
Posted on 10 Apr 2019
Droplet digital polymerase chain reaction (ddPCR) technology has been used to investigate the benefits of tracking drug-resistance mutations in the circulating DNA (ctDNA) of patients with hormone receptor-positive (HR+) metastatic breast cancer.
Mutations in PIK3CA and ESR1 have been implicated in resistance to endocrine therapy in HR+ metastatic breast cancer. The clinical significance of PIK3CA and ESR1 mutations from ctDNA and Formalin-Fixed Paraffin-Embedded (FFPE) samples from patients treated with abemaciclib plus fulvestrant and placebo plus fulvestrant has been assessed.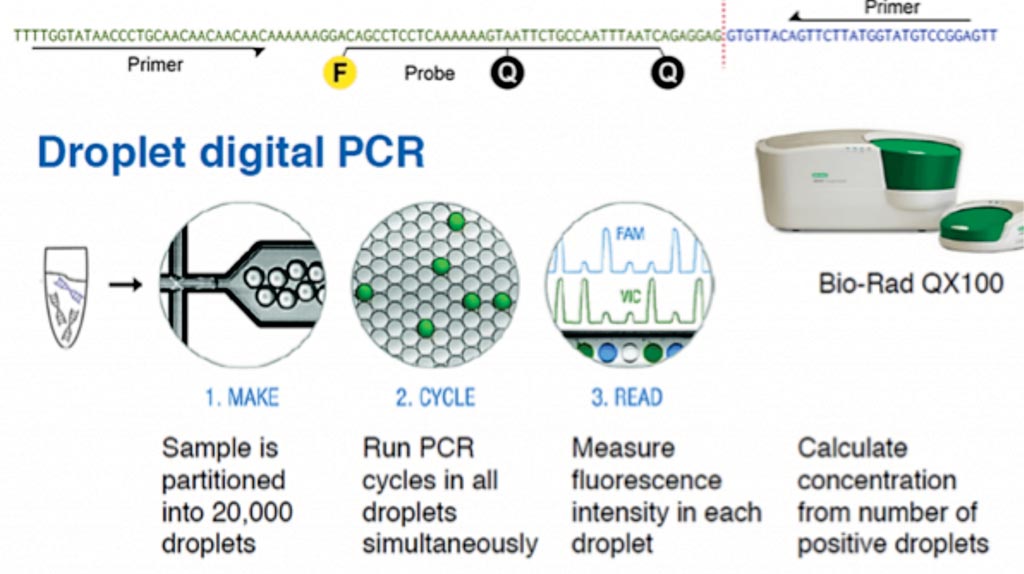 Scientists at the Dana-Farber Cancer Institute (Boston, MA, USA) and their associates obtained 334 baseline plasma samples and 434 FFPE tumor samples from 669 patients enrolled in MONARCH 2 were analyzed. Extracted DNA was analyzed by droplet digital PCR for four hotspot mutations of PIK3CA (E542K; E545K; H1047L; H1047R) and ESR1 (D538G; Y537C; Y537N; Y537S). Samples that failed DNA quality control (QC) or where mutation status could not be determined were excluded from analysis.
The team detected PIK3CA mutations in 96 (40.3%) of 238 plasma samples and 133 (39.9%) of 333 FFPE samples. H1047R was the most frequent mutation followed by E545K, E542K, and H1047L. The concordance of PIK3CA mutations in ctDNA and FFPE samples was 62.8%. ESR1 mutations were detected in 190 (64.4%) of 295 plasma samples and 15 (4.4%) of 344 FFPE samples. D538G was the most frequent mutation followed by Y537C, Y537N, and Y537S. The concordance of ESR1 mutations in ctDNA and FFPE samples was 37.1%; this rate of detection of ESR1 mutations in ctDNA and FFPE samples is explained in part by the site of the biopsy (primary versus metastatic). Co-mutations in PIK3CA and ESR1 were observed in 86 (36.1%) plasma and five (1.5%) FFPE samples.
The authors concluded that PIK3CA and ESR1 mutations in ctDNA, but not in archived FFPE samples, correlated with response to abemaciclib, confirming the potential use of ctDNA analysis. The addition of abemaciclib to fulvestrant in MONARCH 2 demonstrated improvement in progression free survival (PFS) regardless of PIK3CA or ESR1 status; however, the magnitude of benefit was numerically greater for patients with tumors harboring PIK3CA/ESR1 mutations. The study was presented at the American Association for Cancer Research (AACR) Annual Meeting held March 29 to April 3, 2019, in Atlanta, GA, USA.
Related Links:
Dana-Farber Cancer Institute