Novel Rapid Test Developed for Detecting Carbapenemase
By LabMedica International staff writers
Posted on 02 Apr 2020
As a potent β-lactamase, carbapenemase can degrade almost all β-lactam antimicrobial drugs, including the carbapenems, regarded as the last line of therapy for many life-threatening infections. If uncontrolled, the spread of these carbapenemases is expected to increase therapeutic failure and leave many patients with no effective treatment options.
Despite the urgency, timely carbapenemase detection remains a challenge for microbiology laboratories. Phenotypic assays are inexpensive and easily performed, but their use requires 24–48 hours and many lack sensitivity or specificity. The widespread use of other assays (e.g., molecular tests of carbapenemase genes, mass spectrometry detection of carbapenem hydrolysis) is impeded by the expertise required to perform them and their cost.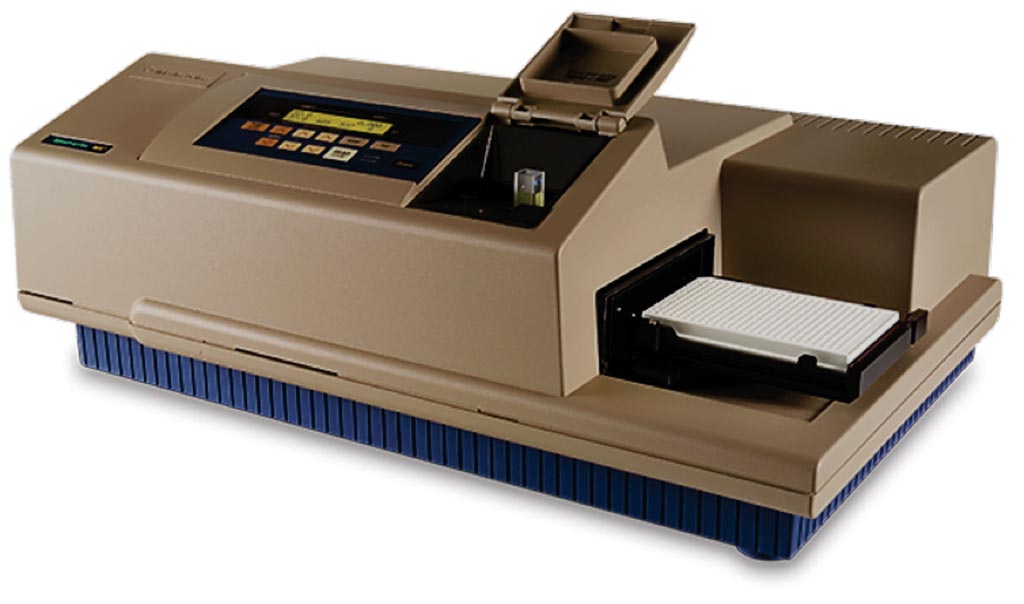 Scientists affiliated with the Massachusetts General Hospital (Boston, MA, USA) demonstrate that by using fluorescence identification of β-lactamase activity (FIBA), carbapenemase production in bacteria can be detected sensitively and specifically in 10 minutes, with only one step. FIBA uses a dark fluorescence probe, β-LEAF (β-lactamase enzyme–activated fluorophore), which turns fluorescent when cleaved by β-lactamases, including penicillinases, extended-spectrum β-lactamases (ESBL), AmpC β-lactamases, and carbapenemases.
The team tested FIBA on 76 randomly selected infection isolates. To start the assay, 25 μL of 1 × 10
10
CFU/mL bacterial suspension made by colonies grown overnight on BHI agar is added to each well. To monitor the increase rate, fluorescence measurement is then performed at 37 °C at 10-second intervals for 10 minutes with Ex/Em 450/510 nm in the Spectramax M5 plate reader (Molecular Devices, San Jose, CA, USA).
Genetic test results for β-lactam resistance were provided with the isolates. Among these, 55 were carbapenemase positive, carrying the major epidemic carbapenemase types including Klebsiella pneumoniae carbapenemase, imipenem-hydrolyzing β-lactamase, metallo-β-lactamase, New Delhi metallo-β-lactamase, oxacillinase, Serratia marcescens enzyme, São Paulo metallo-β-lactamase, Verona integron-encoded metallo-β-lactamase, and New Delhi metallo-β-lactamase oxacillinase. The other 21 isolates expressed noncarbapenemase β-lactamases.
The authors concluded that FIBA can be performed ≈10 times faster than the most rapid carbapenemase test commercially available while maintaining comparable sensitivity and specificity. Its automated analysis improves turnaround time and reduces operator variability. With a reagent cost/assay of approximately USD 1.00, FIBA is close in price to phenotypic tests but substantially faster and less labor intensive. The study was published in the April, 2020 issue of the journal
Emerging Infectious Diseases.
Related Links:

Massachusetts General Hospital
Molecular Devices
Latest Lab Tech. News