Pocket-Sized Zinc Deficiency Test Evaluated
By LabMedica International staff writers
Posted on 10 Oct 2019
Easy-to-perform, relatively inexpensive blood diagnostics have transformed at-home healthcare for some patients, but they require analytical equipment and are not easily adapted to measuring other biomarkers.
The requirement for reliable quantification in complex sample types, such as blood, has been a critical roadblock in developing and deploying inexpensive, minimal-equipment diagnostics. A pocket-sized zinc deficiency test has been developed that could be taken to remote regions where masses are malnourished with no complex transport or preservation necessary.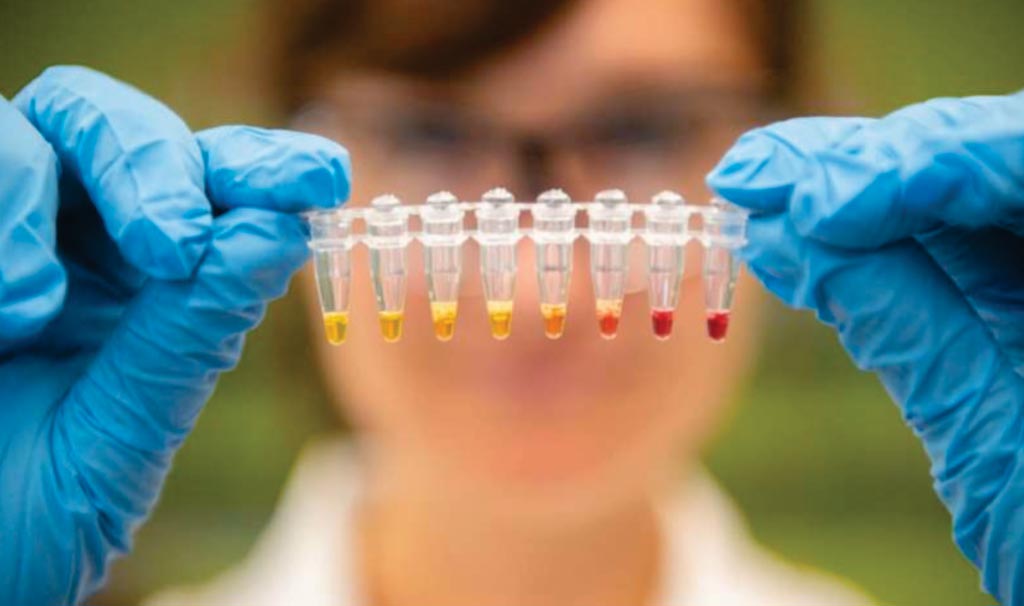 A team of scientists working with the Georgia Institute of Technology (Atlanta, GA, USA) developed a platform for inexpensive, easy-to-use diagnostics that uses cell-free expression to generate colored readouts that are visible to the naked eye, yet quantitative and robust to the interference effects seen in complex samples. The platform includes plasmids, which are loops of DNA. They are not the same DNA strands behind reproduction and cell construction, but function instead like nano-organs with genetic programs that normally guide bacterial cell processes. The team engineered their own plasmids to direct other parts extracted from bacteria to make the blood test work.
The test uses a signal molecule that is partly a big sugar and starts out yellow, but once the plasmid makes an enzyme that cleaves the sugar, the molecule turns purple. Zinc levels regulate how much enzyme is made more zinc means more enzyme and more purple. If the test remains yellow, zinc is perilously low. The new technology showed high potential as a basis for an inexpensive, easy malnutrition test for use in the field that could be expanded to include many vital nutrients and other health indicators.
The new test is freeze-dried to a powder that is kept at room temperatures, could be read in the field, and may be suitable for precise analysis with an applicable smartphone app. It could overcome the clinical and logistical travails of other tests, including refrigerated transport to the field or back to a laboratory, as well as lost time. The test not only detects zinc, but also quantifies its clinically relevant levels, which is necessary to detect malnourishment and is one of the new test's main innovations. Aid agencies could use a field version of the test to get immediate information to quickly influence policy decisions on nutritional interventions.
Mark P. Styczynski, PhD, an associate professor and first author of the study, said, "In the developing world today, many people may get enough calories but miss out on a lot of nutrients. You can look at someone and tell if they're getting enough calories but not if they're getting sufficient amounts of developmentally important nutrients. The impact is greatest on pregnant mothers, as well as children under the age of 5, which is when they have the highest mortality." The study was published on September 4, 2019, in the journal Science Advances.
Related Links:
Georgia Institute of Technology