Liquid Biopsy Device Selectively Captures Circulating Tumor Cells
By Labmedica International staff writers
Posted on 12 Aug 2019
A new type of antigen-independent liquid biopsy captures device exploits the preferential attachment of circulating tumor cells (CTCs) to the surface of carbon nanotubes.
The nanotube-CTC-chip is a novel 76-element microarray that combined carbon nanotube surfaces with microarray batch manufacturing techniques for the capture and isolation of tumor-derived epithelial cells.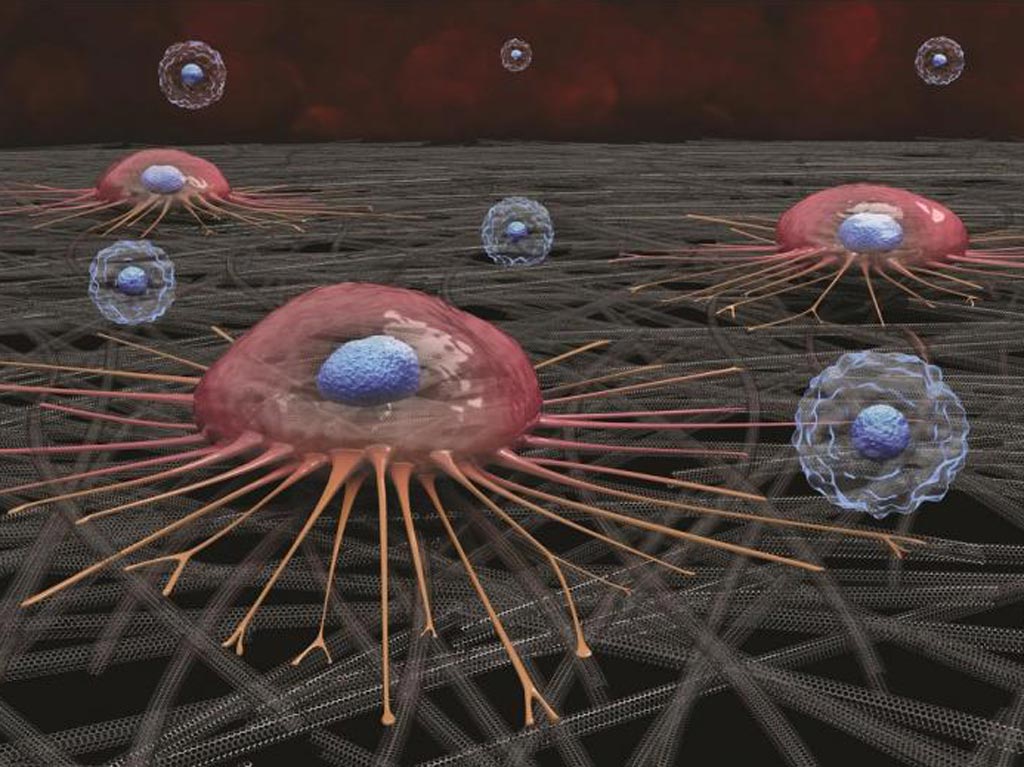 Investigators at the Worcester Polytechnic Institute (MA, USA) and several other institutions collaborated to prepare the chips by using materials and batch fabrication techniques similar to those used to make semiconductors. The current generation is configured as a 76-element array of test wells on a glass and silicon wafer. CTCs captured by the carbon nanotube chip remain viable and can be cultured. Furthermore, as the chips are transparent, it is possible to stain and study captured cells without removing them.
By combining lysis of red blood cells (RBC) with the carbon nanotube's preferential adherence capabilities, the investigators demonstrated the capture and enrichment of CTCs with a five-log reduction of contaminating white blood cells (WBCs). Electron microscopy (EM) studies showed focal adhesion with filaments from the cell body to the nanotube surface.
The nanotube-CTC-chip successfully captured CTCs in the peripheral blood of breast cancer patients (stage 1–4) with a range of four to 238 CTCs per 8.5 millileters blood or 0.5–28 CTCs per milliliter. CTCs (based on CK8/18, Her2, and EGFR biomarkers) were successfully identified in seven out of seven breast cancer patients, and no CTCs were captured from two healthy controls. CTC enumeration based on multiple markers using the nanotube-CTC-chip enabled dynamic views of metastatic progression and could potentially have predictive capabilities for diagnosis and treatment response.
"Isolating CTCs with high purity is a significant challenge, akin to finding a needle in a haystack," said senior author Dr. Balaji Panchapakesan, professor of mechanical engineering at the Worchester Polytechnic Institute. "These cells comprise as few as one to 10 cells among a billion blood cells, and the shedding of CTCs from tumors is a highly discontinuous process."
"These initial clinical studies," said Dr. Panchapakesan, "in which we were able to capture and identify individual CTCs of varying phenotypes, show that this device could become an important tool not only for tracking the progression of cancers and their response to radiation or chemotherapy, but also in making predictions about the likely course of the cancer, which could help physicians identity the most effective course of therapy. This potentially life-saving technology could have multiple beneficial applications. It could help shed light on the complex biological and genetic processes at play in cancer. It could detect cancers at a very early stage by capturing the cells that nascent tumors shed into the blood. It could identify CTCs with metastatic potential before new tumors even begins, and it could help shape treatments customized to each person's cancer."
The nanotube-CTC-chip liquid biopsy device was described in the May 3, 2019, online edition of the journal Lab on a Chip.
Related Links:
Worcester Polytechnic Institute

Latest Lab Tech. News