Smartphone-Based Device Used for Influenza Virus Detection
By Labmedica International staff writers
Posted on 05 Aug 2019
A simple and inexpensive smartphone-based device was able to detect influenza virus particles in clinical samples with almost 100 times greater sensitivity than commercial rapid influenza diagnostic tests.
Droplet-based digital bioassays enable highly sensitive and quantitative analysis of biomolecules. However, digital bioassays generally require fluorescence microscopy techniques for detection, which are too large, expensive, and slow for point-of-care testing.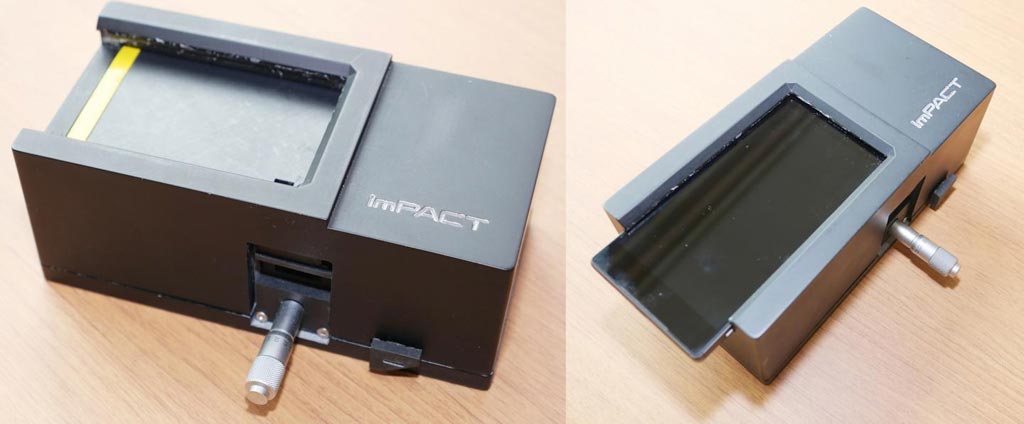 Investigators at the University of Tokyo (Japan) recently descibed an alternative method for detection of viruses in clinical samples. For this purpose, they developed a simple smartphone-based mobile imaging platform (23 × 10 cenitmeters × seven centimeters high) for digital point-of-care bioassays.
The device was designed to trap virus particles on a clear surface in microwells of 48 femtoliters capacity illuminated by an LED lamp. When a virus became trapped inside the microwell, the incident light from the LED was redirected upwards into the camera lens, manifesting as a bright pixel in an otherwise dark field.
The investigators used the smartphone device for digital influenza virus counting (DIViC) based on a fluorogenic assay for neuraminidase activity of the virus. Distinct fluorescence spots derived from single virus particles were observed. The number of detected fluorescence spots correlated well against the virus titer, suggesting that high sensitivity and quantification were achieved. On the other hand, the mobile platform detected only about 60% of influenza virus particles that could be identified by conventional fluorescence microscopy. Nonetheless, digital influenza virus counting with the mobile imaging platform still demonstrated 100 times greater sensitivity than could be obtained with a commercial rapid influenza test kit.
"I wanted to produce a useful tool for inaccessible or less-affluent communities that can help in the fight against diseases such as influenza," said first author Dr. Yoshihiro Minagawa, chief researcher in the faculty of engineering at the University of Tokyo. "Diagnosis is a critical factor of disease prevention. Our device paves the way for better access to essential diagnostic tools."
"Given two equal samples containing influenza, our system detected about 60% of the number of viruses as the fluorescence microscope. But it is much faster at doing so and more than adequate to produce good estimates for accurate diagnoses," said Dr. Minagawa. "What is really amazing is that our device is about 100 times more sensitive than a commercial rapid influenza test kit, and it is not just limited to that kind of virus. We also wish to add other biomarkers such as nucleic acids -- like DNA -- to the options of things the device can detect. This way we can maximize its usefulness to those on the front line of disease prevention, helping to save lives."
The smartphone-based virus detector was described in the July 17, 2019, online edition of the journal Lab on a Chip.
Related Links:
University of Tokyo

Latest Lab Tech. News