Microfluidic Motility Device Indicates Likelihood of Breast Tumor Metastasis
By Labmedica International staff writers
Posted on 10 Jun 2019
A novel microfluidic motility test was shown to accurately predict a breast tumor's likelihood to generate metastases.
The difficulties involved in predicting which patients with breast cancer will develop metastases leads to the overtreatment of patients with benign disease and to the inadequate treatment of aggressive cancers. To meet this predictive challenge, investigators at Johns Hopkins University (Baltimore, MD, USA) development a microfluidic assay that quantified the abundance and proliferative index of migratory cells in breast cancer specimens, for the assessment of their metastatic propensity and for the rapid screening of potential anti-metastatic therapeutics.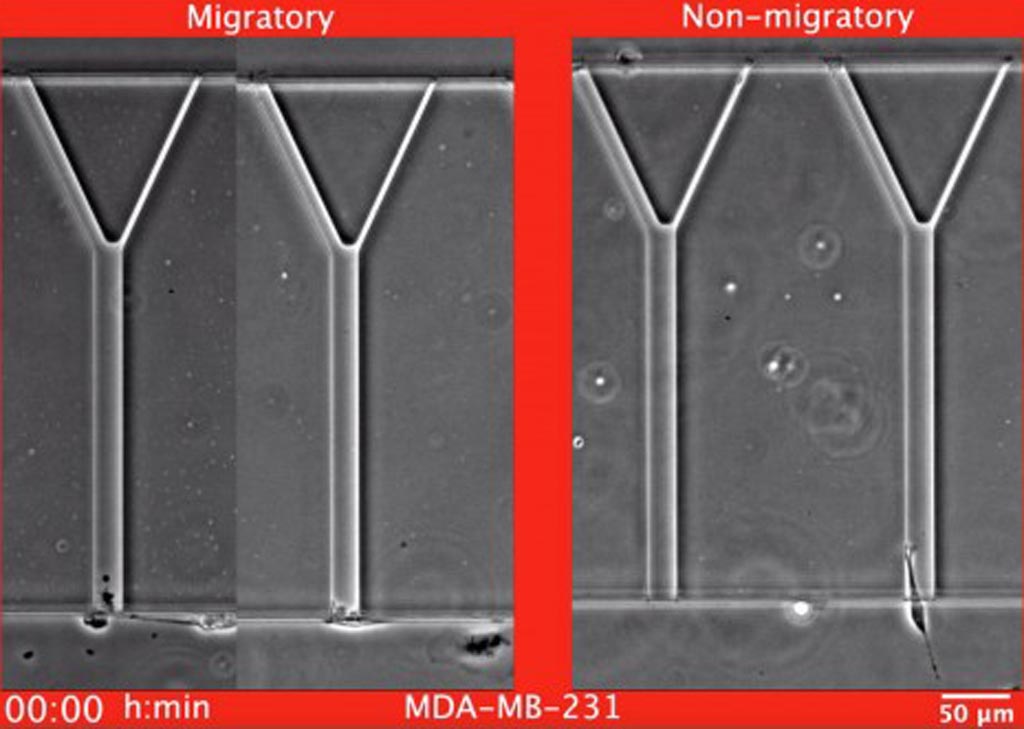 The device comprised Y-shaped microchannels with dimensions chosen to mimic aspects of the complexity and variety of the cross-sectional areas of tissue tracks found in or along different locations in the body. This Microfluidic Assay for quantification of Cell Invasion (MAqCI) was designed to evaluate three key features of metastasis: cancer cells' ability to move, their ability to compress in order to enter narrow channels, and their ability to proliferate.
The MAqCI device, which is now patented in the United States, was used in conjunction with a computerized inverted microscope having phase contrast and fluorescence imaging capabilities. Cell migration was monitored in real time via time-lapse phase contrast microscopy. Results of experiments conducted with the MAqCI device revealed that compared to an unsorted population of cancer cells, highly motile cells isolated by the device exhibited similar tumorigenic potential but markedly increased metastatic propensity in vivo.
RNA sequencing of the highly motile cells revealed an enrichment of motility-related and survival-related genes.
"When a lump is detected in a patient's body, the doctor can determine if the mass is benign or malignant through a biopsy, but they cannot really say with confidence if a malignant tumor is going to be highly aggressive and metastasize to other locations," said senior author Dr. Konstantinos Konstantopoulos, professor of biomedical engineering and oncology at Johns Hopkins University. "Although liquid biopsies or circulating tumor DNA measurements can be very good at monitoring a patient's response to therapy after it is administered, they do not provide a means to help physicians select optimal drugs to prevent spread."
Use of the MAqCI device was described in the May 6, 2019, online edition of the journal Nature Biomedical Engineering.
Related Links:
Johns Hopkins University

Latest Lab Tech. News