Increased Bleb Formation Characterizes Metastatic Cancer Cells
By Labmedica International staff writers
Posted on 04 Jun 2019
A recent paper described an inexpensive fluid biopsy device that is able to distinguish highly metastatic prostate cancer cells from moderately metastatic prostate cancer cells and normal cells.
Since most prostate tumor cells that survive current treatment regimens become metastatic, there is an urgent need for new tools to detect metastatic prostate cancer that do not rely on prostate specific antigen (PSA) measurements, which cannot accurately identify cells with metastatic potential.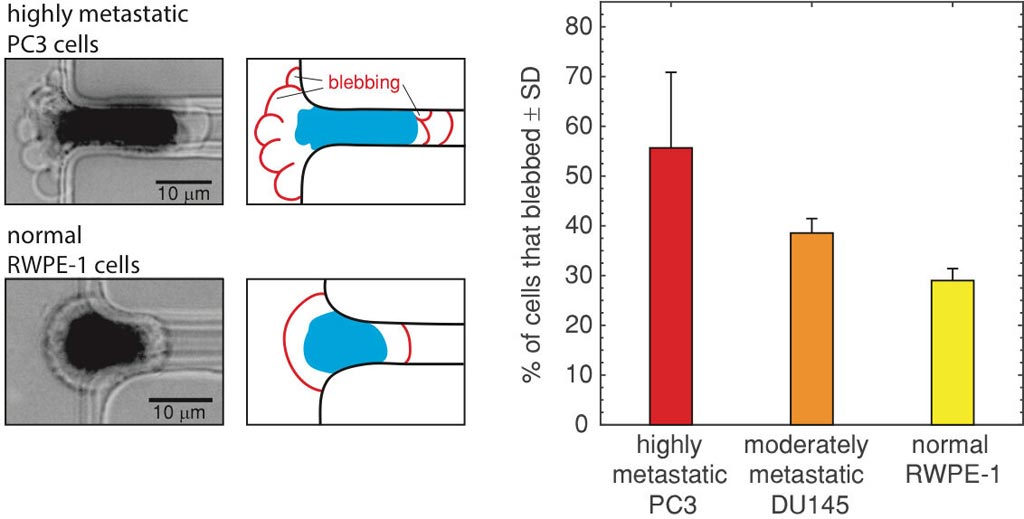 Plasma membrane blebbing (in which portions of the cell's outer layer bulges outward from the more rigid inner layer) is known to provide important metastatic capabilities to cancer cells by aiding cell detachment from the primary tumor site and increasing cell deformability to promote cell migration through the extracellular matrix. In fact, highly metastatic prostate cancer cells flowing through a microfluidic channel form 27% more plasma membrane blebs than normal cells and have a lower stiffness (about 50%).
Taking advantage of this property, investigators at Texas Tech University (Lubbock, USA) developed an instrument that measured bleb formation as the device forced cell samples through minute channels less than 10 microns wide. Results obtained by this method revealed that highly metastatic prostate cancer cells exhibited more blebbing than did moderately metastatic or normal cells. Of the highly metastatic cells 56% produced blebs, whereas only 29% of normal cells and 38% of moderately metastatic cells did.
Mechanistically, increased blebbing by highly metastatic cells was attributed to low levels of the protein F-actin, which resulted in a reduced number of binding sites for proteins that normally anchor the cell's plasma membrane to the inner cortex.
"This is a potentially significant finding which may provide simple and inexpensive diagnostic methods for detecting early and advanced cancer, particularly metastatic cancer," said senior author Dr. Fazle Hussain, professor of mechanical engineering at Texas Tech University.
The fluid biopsy device for detection of highly metastatic prostate cancer cells was described in the May 21, 2019, online edition of the journal Biomicrofluidics.
Related Links:
Texas Tech University

Latest Lab Tech. News