Technology Developed to Capture Tumor Cells
By Labmedica International staff writers
Posted on 28 May 2019
The roles and clinical values circulating tumor cells (CTCs) are under intensive investigation, yet most studies are limited by technical challenges in the comprehensive enrichment of intact and viable CTCs with minimal white blood cell (WBC) contamination.
CTCs break away from cancerous tumors and flow through the bloodstream, potentially leading to new metastatic tumors. The isolation of CTCs from the blood provides a minimally invasive alternative for basic understanding, diagnosis and prognosis of metastatic cancer.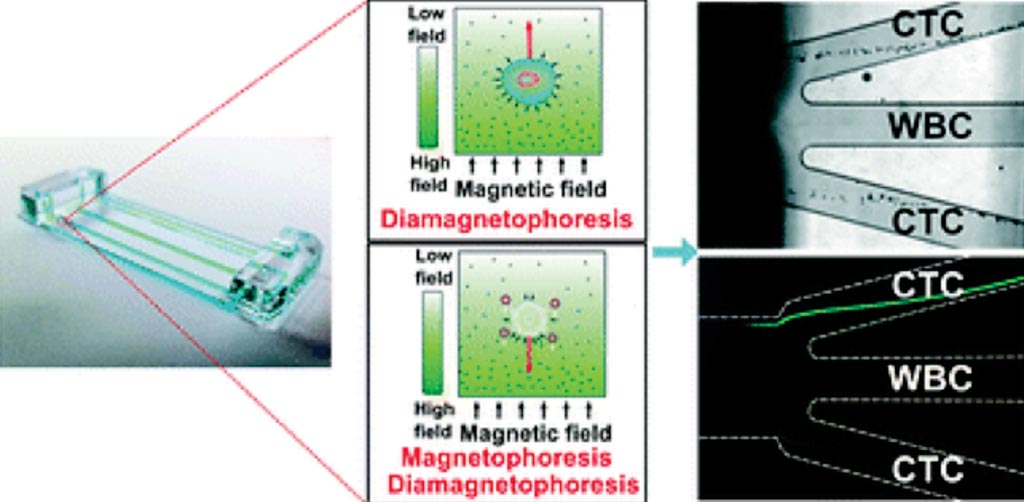 Chemists at the University of Georgia (Athens, GA, USA) and their collaborators developed a device, about the size of a USB drive, works by funneling blood through channels smaller in diameter than a human hair. To prepare blood for analysis, the team adds micron-sized magnetic beads to the samples. The white blood cells in the sample attach themselves to these beads. As blood flows through the device, magnets on the top and bottom of the chip draw the white blood cells and their magnetic beads down a specific channel while the circulating tumor cells continue into another channel.
The novel method based on contrast of cell magnetization in biocompatible ferrofluids (a colloidal magnetic nanoparticle suspension), termed as integrated ferrohydrodynamic cell separation (iFCS), that enriches CTCs in a tumor antigen-independent and cell size variation-inclusive manner, achieves a high throughput (12 mL per hour), with a high recovery rate (99.08% at down to ∼10 cells per mL spike ratio), and low WBC contamination (533 cells for every one milliliter blood processed) and is biocompatible.
Melissa B. Davis, PhD, an assistant professor and co-author of the study, said, "Physicians can only treat what they can detect. We often can't detect certain subtypes of CTCs, but with the iFCS device we will capture all the subtypes of CTCs and even determine which subtypes are the most informative concerning relapse and disease progression." The study was published on April 27, 2019, in the journal Lab on a Chip.
Related Links:
University of Georgia

Latest Lab Tech. News