New Microfluidics Device Detects Cancer Cells in Blood
By Labmedica International staff writers
Posted on 12 Mar 2019
The ability to successfully isolate cancer cells is a crucial step in enabling liquid biopsy where cancer could be detected through a simple blood draw. This would eliminate the discomfort and cost of tissue biopsies, which use needles or surgical procedures as part of cancer diagnosis.
Liquid biopsy could also be useful in tracking the efficacy of chemotherapy over the course of time, and for detecting cancer in organs difficult to access through traditional biopsy techniques, including the brain and lungs. However, isolating circulating tumor cells from the blood is no easy task, since they are present in extremely small quantities.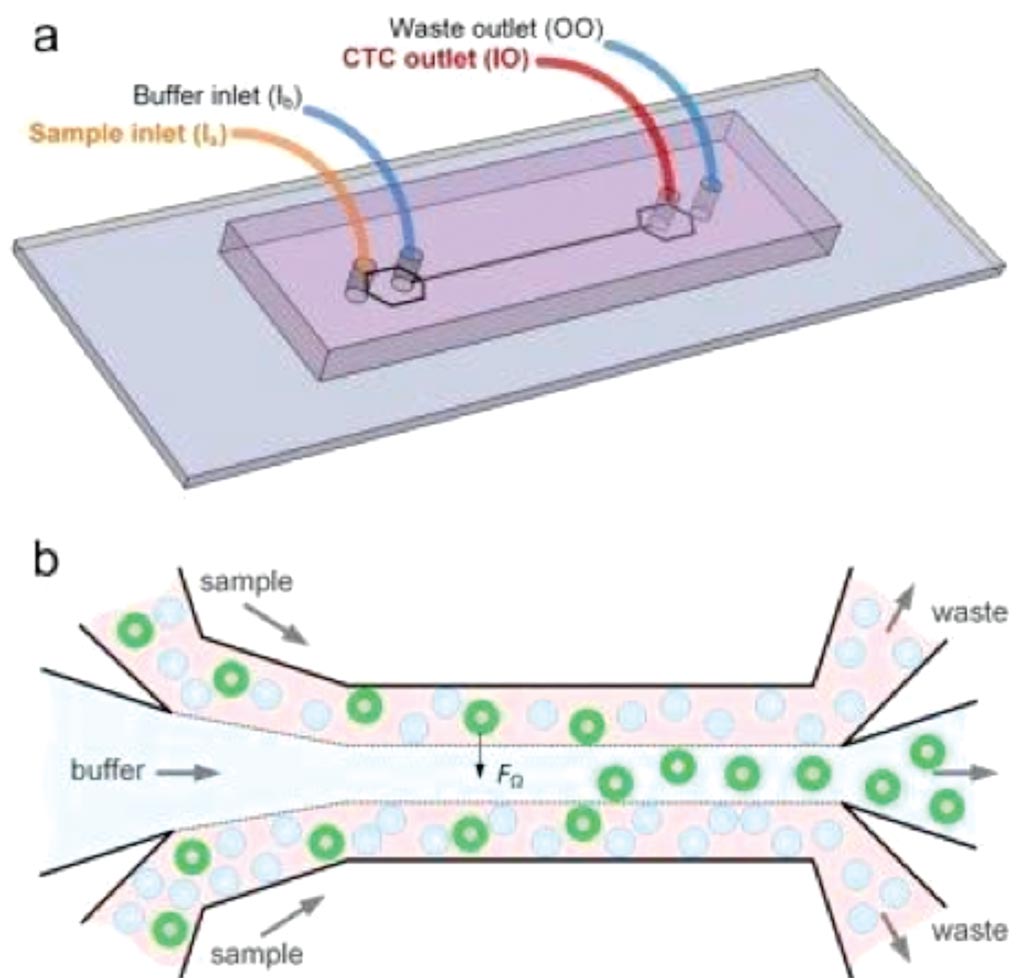 Bioengineers collaborating with those at the University of Illinois Cancer Center (Chicago, IL, USA) have developed a device that can isolate individual cancer cells from patient blood samples. The microfluidic device works by separating the various cell types found in blood by their size. The device may one day enable rapid, cheap liquid biopsies to help detect cancer and develop targeted treatment plans.
The scientists 'spiked' 5 mL samples of healthy blood with 10 small-cell-lung cancer cells and then ran the blood through their device. They were able to recover 93% of the cancer cells using the microfluidic device. Previously developed microfluidics devices designed to separate circulating tumor cells from blood had recovery rates between 50% and 80%. When they ran eight samples of blood taken from patients diagnosed with non-small-cell lung cancer, they were able to separate cancer cells from six of the samples using the microfluidic device, while none for five healthy control subjects.
Ian Papautsky, PhD, a Professor of Bioengineering and senior author of the study, said, "Using size differences to separate cell types within a fluid is much easier than affinity separation which uses 'sticky' tags that capture the right cell type as it goes by. Affinity separation also requires a lot of advanced purification work which size separation techniques don't need. Without having to dilute, the time to run samples is shorter and so is preparation time." They used whole blood in their experiments as well as blood diluted just three times, which is low compared to other protocols for cell separation using devices based on inertial migration. The study was published on February 25, 2019, in the journal Microsystems & Nanoengineering.
Related Links:
University of Illinois Cancer Center

Latest Lab Tech. News