Storage Tubes for Analysis of Circulating NAs Evaluated
By Labmedica International staff writers
Posted on 26 Feb 2019
Circulating nucleic acids such as microRNAs (miRNAs) and cell-free DNA (cfDNA) have become increasingly important in serving as potential novel biomarkers for a variety of human diseases.
If cell-free nucleic acids are to become routinely used in diagnostics, the difference in plasma miRNA and cfDNA levels between healthy and diseased subjects must exceed pre-analytical and analytical variability. Liquid biopsies have many advantages compared to conventional diagnostic techniques, including their non-invasive nature and the possibility to perform repetitive sampling during the course of disease.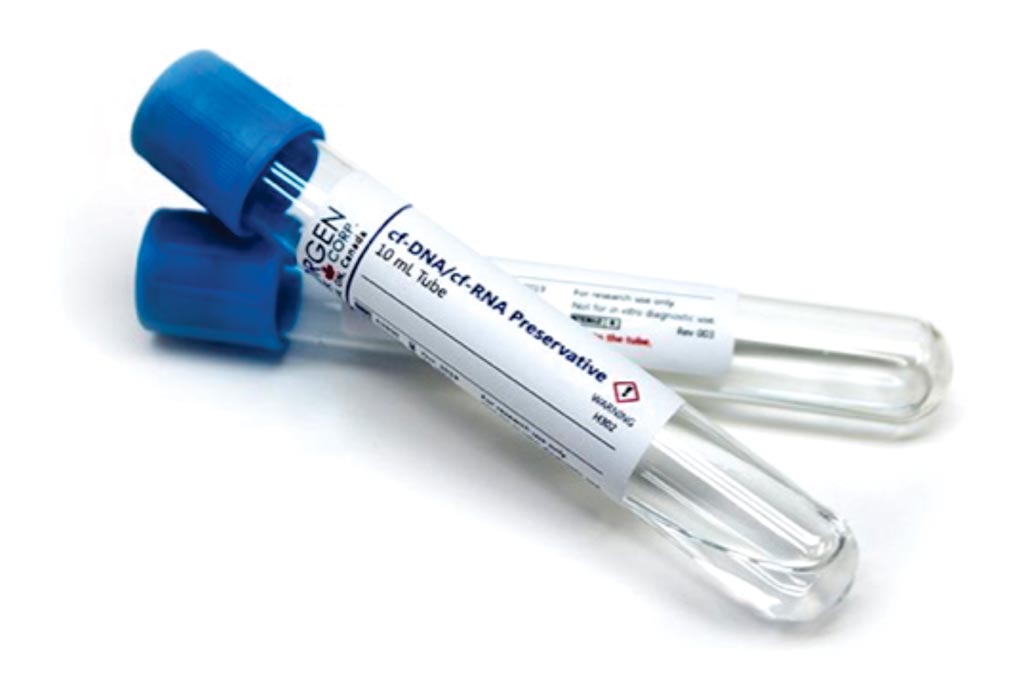 Medical scientists at the University Hospital of Heidelberg (Heidelberg, Germany) assessed the ability of different blood storage tubes (BST) developed by four manufacturers to preserve blood samples under time-based conditions. More specifically, they wanted to find the tool that best stabilized hemolysis and breast cancer-associated cf-miRNA biomarkers, in addition to two cancer-associated genes for potential downstream clinical diagnostic applications. Initially, the scientists tested the limits of conventional EDTA tubes used for conventional testing over a 12-hour period.
Blood was drawn from healthy individuals of different ages, genders, and ethnicities by standard venipuncture directly into 9-mL K3 EDTA S-monovettes. In a second study, blood samples were drawn into long-term storage blood collections tubes from four different manufacturers: Streck; Roche Diagnostics; PreAnalytiX; and Norgen Biotek Corp. using the Sarstedt BloodCulture Adapter Universal.
The group analyzed several biomarkers, including miR-16 and MiR-451, which act as hemolysis markers, and miR-148b, -652, -376c, and -200c, which act as breast cancer biomarkers. For samples stored at room temperature, the team saw a significant increase in miR-148b and -652 in half of the samples after 18 hours, which did not occur in samples stored at 4°C. However, the team found that circulating miRNAs were relatively stable when stored in tubes for up to 12 hours before processing them for downstream applications.
While the total cf-miRNA content remained stable in blood stored for up to seven days in Streck, PAX, and Norgen's tubes, the team noticed that Roche tubes had a slight increase in hemolysis after five days, and then a significant jump in miR-451 after seven days. In terms of cf-DNA stability, the team found that Norgen outperformed the other manufacturers in the amount of isolated DNA. While Norgen's tubes can extract both cf-DNA and cf-miRNA, the study authors noted BSTs from other companies require scientists to use separate tubes for mi-RNA extraction, making other companies' tubes more expensive not only financially but also in terms of the sample amount available. The study was published on February 6, 2019, in the International Journal of Molecular Sciences.
Related Links:
University Hospital of Heidelberg

Latest Lab Tech. News