Rapid Malaria Diagnostic Test Detects Placental Infection
By Labmedica International staff writers
Posted on 19 Dec 2018
Malaria remains one of the most important parasitic infections in humans. It is endemic throughout the tropical and subtropical regions of the world and is responsible for more than 200 million clinical cases and more than 400,000 deaths each year.
Plasmodium falciparum infected erythrocytes sequestering in placental tissue release Plasmodium lactate dehydrogenase (pLDH) and histidine-rich protein-II (HRP-II). These proteins can be detected in peripheral blood using monoclonal antibody-based rapid diagnostic tests (RDTs).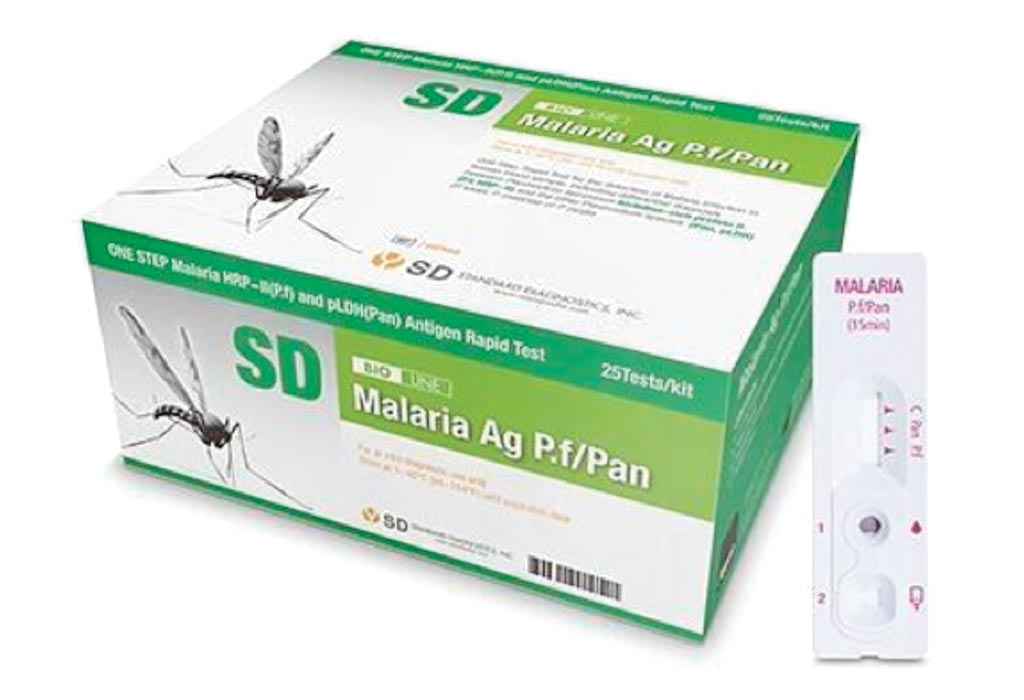 Scientists affiliated with the University of Yaoundé 1 prepared Giemsa-stained blood smears for peripheral blood smear (Pbs), placental intervillous space (IVS) blood smear and placental tissue impression smear (PTIS) from HIV-negative women during delivery. If parasites were not detected after examining 200 microscopic fields of thick smears, the sample was considered malaria negative; however, when parasites were detected, parasitaemia was estimated per microliter of blood. Both thin film and impression smear were used to determine parasite species.
Hemoglobin (Hb) levels in maternal blood were determined using the URIT-3300, Coulter Counter and a woman was diagnosed as anemic if her Hb was less than 11 g/dL. The One Step HRP-II and pLDH RDT SD Bioline malaria antigen P.f/pan was used to diagnose malaria infection in the peripheral blood samples.
The scientists reported that the prevalence of malaria was 16%, 7.5%, 11.5%, 8% and 13% for One Step malaria HRP-II and pLDH RDTs, peripheral blood smear, IVS blood and placental tissue impression smears, respectively. The proportion of women positive by One Step malaria pLDH RDT and Pbs increased with parasite density in PTIS, while One Step malaria HRP-II RDT detected high proportion of infected women even with low parasite density. The sensitivity of One Step malaria HRP-II and pLDH RDTs were 96.15% and 61.53%, respectively, compared to 80.76% for Pbs. The specificity of these RDTs was 96.49% and 100%, respectively, compared to 100% for Pbs.
The authors concluded that their results depict One Step malaria HRP-II RDT to be better in detecting placental P. falciparum infection in pregnant women compared to Giemsa-stained peripheral thick blood smear. This is important for better case management since microscopic examination of PTIS cannot be employed during pregnancy. The study was published on December 4, 2018, in the Malaria Journal.
Related Links:
University of Yaoundé 1

Latest Lab Tech. News