Inexpensive Biosensor Provides Rapid Diagnosis of Bacterial Infections
By Labmedica International staff writers
Posted on 11 Dec 2018
Bacterial infection is a common problem throughout hospitals around the worlds. Every hour of delay in antibiotic treatment increases the mortality rate of patients by 7.6% with sepsis and septic shocks.
The failure to diagnose early and critical stages of bacterial infections can be detrimental to a patient's health and potentially fatal. The existing methods of diagnosing infections and performing antibiotic susceptibility testing (AST) suffer from a time-consuming and laborious process, typically taking up to 2 to 5 days to obtain accurate and reliable results.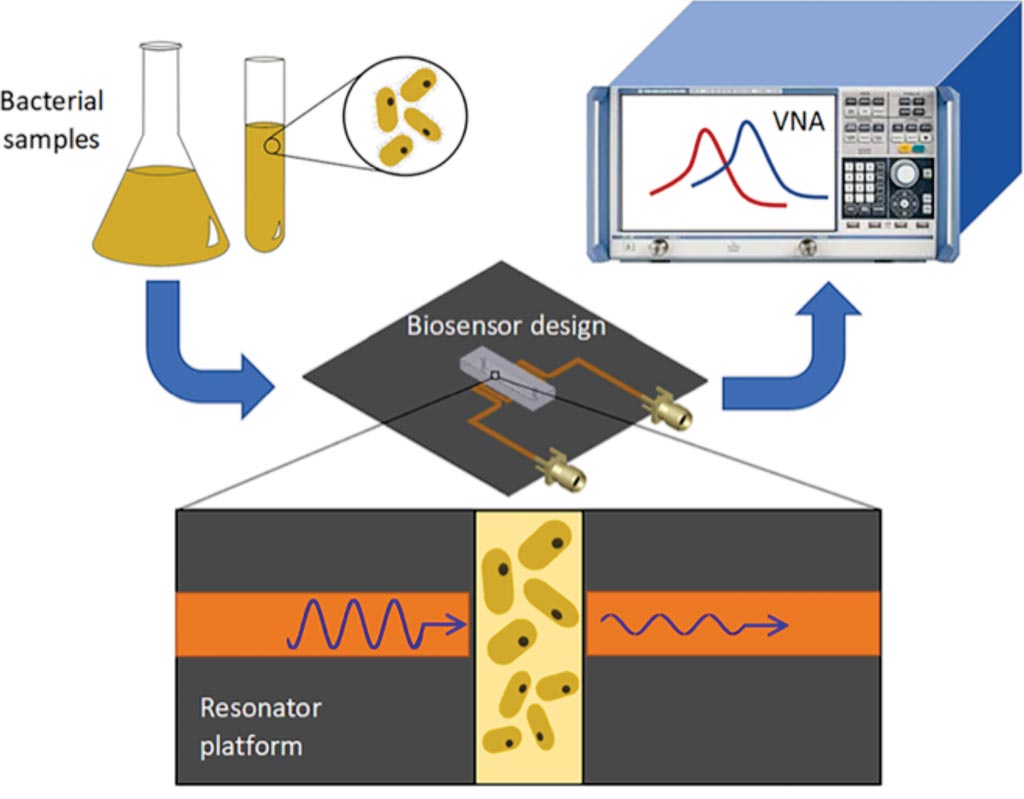 Canadian bioengineers working with the University of British Columbia Okanagan (Kelowna, BC, Canada) have developed a microwave-microfluidic biosensor for rapid, contactless and non-invasive device for testing the concentration and growth of Escherichia coli (E. coli) in medium solutions of different pH to increase the efficacy of clinical microbiology practices. The team tested their device by tracking the amount of bacteria present in a variety of samples under various scenarios. The scenarios resembled those encountered in clinical microbiological laboratories.
The thin layer interface between the microfluidic channel and the microwave resonator significantly enhanced the detection sensitivity. The microfluidic chip, fabricated using standard soft lithography, was injected with bacterial samples and incorporated with a microwave microstrip ring resonator sensor with an operation frequency of 2.5 GHz and initial quality factor of 83 for detecting the concentration and growth of bacteria. The resonator had a coupling gap area on of 1.5 × 1.5 mm2 as of its sensitive region.
The presence of different concentrations of bacteria in different pH solutions was detected via screening the changes in resonant amplitude and frequency responses of the microwave system. The sensor device demonstrated near immediate response to changes in the concentration of bacteria and maximum sensitivity of 3.4 MHz compared to a logarithm value of bacteria concentration. The minimum prepared optical transparency of bacteria was tested at an OD600 value of 0.003. A highly linear response was demonstrated for detecting bacteria concentration at various pH values.
Mohammad Hossein Zarifi, PhD, an assistant professor and co-author of the study, said, "The device is able to rapidly detect bacteria and in addition, it screens the interaction of those bacteria with antibiotics. The combined results give health care practitioners more information than they currently have available, helping them move forward to determine accurate treatments. This biosensor is a significant step forward in improving the complex antibiotic susceptibility testing workflow and provides a rapid and automated detection of bacteria as well as screening the bacteria proliferation in response to antibiotics." The study was published on October 25, 2018, in the journal Scientific Reports.
Related Links:
University of British Columbia Okanagan

Latest Lab Tech. News